When it comes to truck accessories for water lovers, kayak racks are certainly at the top of the list. If water sports are your thing and you love trips to the lake, river, or ocean, then you should read this. A kayak rack is a must when carrying a kayak or canoe on/behind your vehicle. It helps you transport your water sport equipment safely and securely from one place to another, and with maximum convenience. Kayak racks make loading and unloading safe and easy.
Kayak Racks: Types
What types of kayak racks are nowadays available? In fact, kayak racks can be fitted to virtually any type of a vehicle. There are kayak racks that hook to the crossbars of a truck and typically have a J-shape conforming to most kayak styles. The J-cradles are mostly used with touring kayaks or composite kayaks.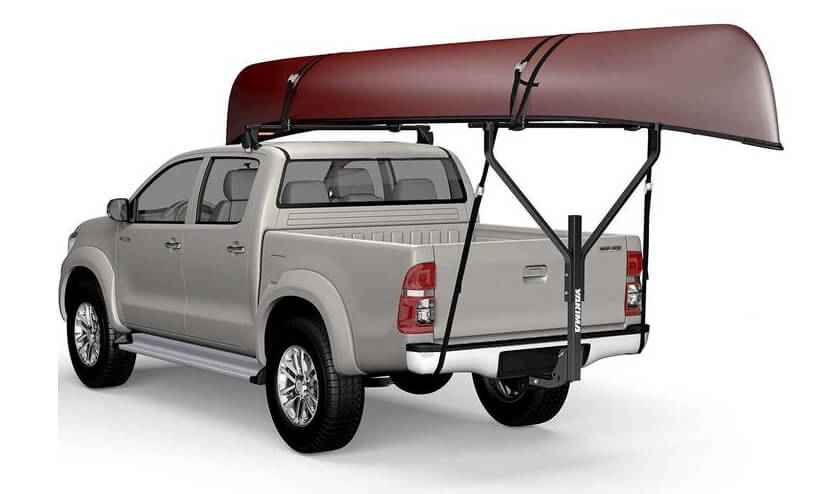 However, there are kayak racks that mount in the truck bed.
Horizontal bed extenders offer a lot of flexibility and versatility. As a rule, a bed extender is a stable fixture that sticks out the back of the truck bed and hooks into the trucks' hitch. One of the biggest benefits of horizontal bed extenders is that the amount of space offered can be easily set to the length of your kayak. Also, bed extenders are great for heavier vessels that, if carried on the roof of your pickup truck, would cause noise and wind resistance. The downside of such extenders is that they make your truck longer as they stick out the bed of your truck bed. So, be careful when parking so as not to damage your kayak and tie a flag to the kayak's end to warn other drivers on the road that there is a kayak/canoe/etc. that extends beyond your vehicle.
Vertical bed extenders allow for lifting a kayak above the roof of a truck. With these extenders, the weight of your kayak is evenly distributed between the vertical extender and the cab roof, and the kayak looks altogether more secure on the trucks' back. Vertical bed extenders usually come with hitch receivers that can haul everything from canoes and kayaks to paddleboards, and more. However, the downside of vertical extenders is that they are likely to create additional noise and wind resistance. The problem with bed extenders is that they do not leave room for a tonneau cover.
A utility rack will give you an added element of versatility. It is a more permanent solution than vertical/horizontal bed extenders and a more practical option as they allow for carrying more boats at a time than extenders.
The best Kayak Racks available online
access store as a guest and check price
Canoe and Kayak Carriers: Things to consider
Transporting a kayak from your home to the water destination may be a dilemma. That's when a kayak rack comes into play. It not only helps you smoothly get from water to the road and vice versa, but also keeps your kayak with you as you speed down the highway. Actually, there are dozens of things to consider before deciding on the prefect kayak rack that would work for you and your pickup truck. So there is always an option of selecting a quality Kayak rack out of those available on the market, or you can build one by yourself.
If a "How to Build a Kayak Rack for Truck" project is not for you, you can discover a wide range of kayak rack options provided by many aftermarket brands. If you want to get the most out of your passion, you need the right gear. In the outdoor gear industry, Thule is the name to trust. It develops and builds the world's most complete line of premium quality kayak racks and numerous other accessories for your outdoor adventures.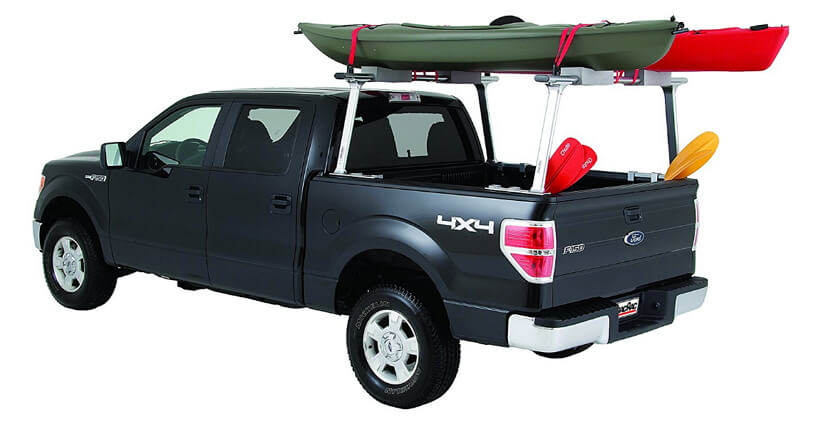 The best Thule kayak racks for trucks
access store as a guest and check price


Thule kayak racks are available in a range of styles and sizes to hold most kayaks. Thule racks are stylish and functional accessories ready to withstand almost everything the elements and road have to offer. To ensure that your kayak rack is installed the right way, you can always refer to your fitting instruction provided with the product. In addition to an impressive collection of kayak racks, Thule also offers locks and locking straps – a justifiable security measure with great benefits.