Bully Chrome Mirror Covers
Give your vehicle the right touch of shine with mirror covers by Bully! Choose from triple chrome plated ABS plastic and stainless steel options, all designed to add refinement to your car, truck, or SUV. Easy peel-and-stick application directly over the existing factory mirror ensures you'll be able to upgrade your vehicle's look in no time flat.
Features:
Add a custom look to your vehicle;
Quality construction and finish;
Cover the existing OEM mirrors;
Simple installation with no cutting or drilling required.
Shiny mirror covers make a marked difference in your vehicle's look. Styling cues come and go, but chrome seems to be timeless. Want to complement the existing chrome trim or just add a slight touch of chrome to your vehicle?
Customize it with chrome mirror covers by Bully, made from high grade ABS plastic and triple chrome plated for a beautiful, durable finish.
These accessories dramatically improve the look of your OEM mirrors virtually in seconds – just peel, stick, and go! Bully mirror covers manufactured from T304 stainless steel are also available. Door mirror covers are precisely crafted for each specific application, so you won't have to worry about fitment. Bully products are covered with a solid warranty.
Access our store as a guest!
Chevrolet Mirror Covers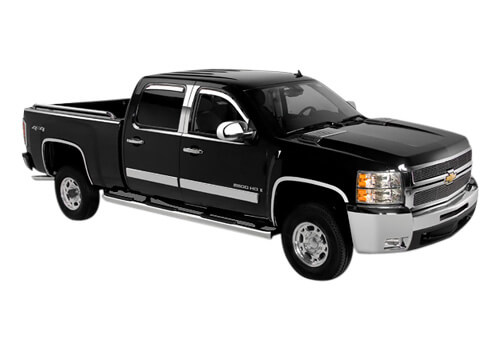 Chevrolet, simply called Chevy by its fans, is an American auto manufacturer that has been present on the market since 1911. Chevrolet vehicles are distributed in more than 130 countries around the globe. The U.S. is the leading market for the brand where the number of annual sales reaches over 2 million vehicles. A division of General Motors, Chevrolet represents 45% of total global volume of its parent company.
Chevy vehicles deliver quality, durability, and performance that leave competitors standing behind. As a matter of fact, Chevrolet has earned more J.D. Power Initial Quality and Dependability awards for the year 2016 than any other automaker. On the list of class-leading models appeared such vehicles as the Malibu (mid-size car), the Equinox (compact SUV), the Silverado (light / heavy-duty truck), the Camaro (mid-size sports car), the Tahoe (full-size SUV), and the Spark (city car).
Maximize your Chevy's stylish look with our Chevrolet mirror covers designed to perfectly fit your automobile. We carry a range of eye-catching accessories to help you endow your Chevy with a desired appearance that will perfectly match your sense of style. Bully mirror covers for Chevrolet are easy to install, so you won't have to deal with any technical issues.
Dodge Mirror Covers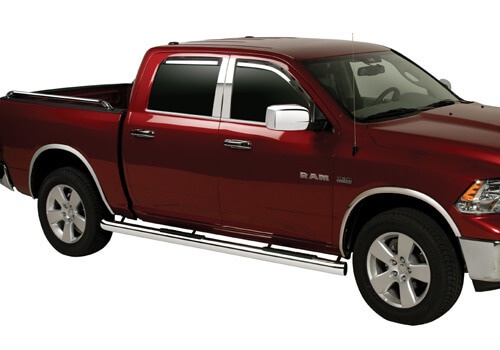 The history of Dodge started in late 1900, when it was established as the Dodge Brothers Company by two Michigan machinists. Although the company was originally selling auto parts, by 1914, it changed its specialty and released its first vehicle, the Model 30. Two years later, the Dodge Main Plant adopted Henry Ford's moving assembly line and the production process was significantly enhanced. By 1938, the company started producing autos with a full steel body replacing the conventional wood-and-fabric construction. At the time of the Second World War, Dodge was actively manufacturing military-spec truck models that proved to be highly versatile and durable.
Dodge has been manufacturing trucks for many years, starting from the 1946 Power Wagon and 1964 A-100 Pickup and moving on to the well-recognized models such as the Dodge Ram and Dakota. Dodge vehicles are recognized for their unsurpassed quality and smartly-crafted design, being number-one choice for numerous customers all over the world.
Outfitting your Dodge with new mirror covers is a great way to upgrade your vehicle and make it look even more attractive. Bully mirror covers for Dodge are designed according to your needs: the products possess a thick shiny finish, so they will serve as an eye-catching decoration for your truck for years to come. Moreover, tool-free installation of our Dodge mirror covers is fast and easy, so you will get the maximum pleasure of using this accessory.
Ford Mirror Covers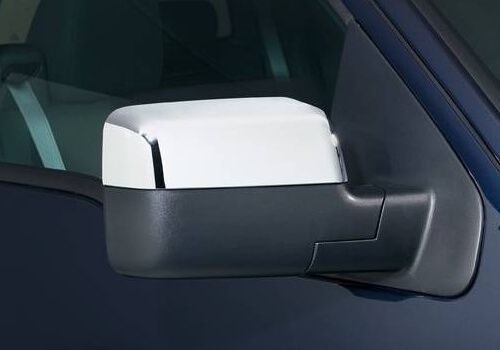 Ford Motor Company is a global automaker headquartered in Dearborn, Michigan. With about 201,000 employees and 67 plants worldwide, the manufacturer proves to be highly successful dating its history to 1903. The company specializes in designing, manufacturing, marketing, and servicing a wide range of Ford cars, trucks, SUVs, electric autos and luxury vehicles under the Lincoln brand.
Since the adoption of the assembly line concept, Ford has always been standing at the forefront of automotive engineering. Recently, Ford has been passionately working on its Smart Mobility Plan, developing new technologies that address quickly growing transportation challenges and forging meaningful partnerships with the aim to become a leader in mobility and connectivity. Ford never stops evolving following its inspiring slogan "go further".
Your Ford truck probably possesses a stylish exterior, just like any Ford model. But if you still want to customize your vehicle and endow it with one-of-a-kind look that will reflect your sense of style, look through our assortment of Ford mirror covers. This accessory will help you make your Ford unique without putting much effort. Bully mirror covers for Ford are designed to give a brilliant custom look that will catch admiring glances on the road.
GMC Mirror Covers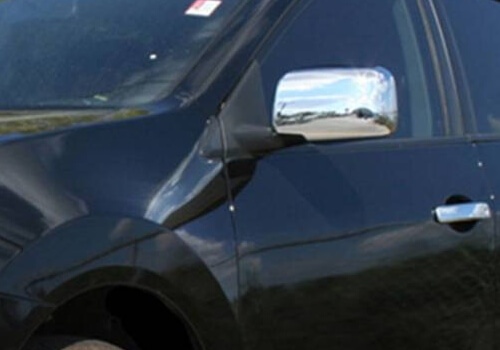 GMC has a rich history as one of the first and largest divisions of General Motors, an American multinational auto corporation based in Detroit, Michigan. The brand appeared as a result of merging of the Reliance Motor Car Company and the Rapid Motor Vehicle Company in 1912. Throughout a century, the company managed to remain on the leading positions in the auto industry, earning the reputation of a reliable automaker with numerous loyal customers all over the globe. Labeling a great number of various pickup trucks and utility vehicles, the Dodge nameplate stands for quality, dependability, performance, and value.
Among the company's most recent achievements are such models as the GMC Sierra, Canyon and Yukon. These remarkable trucks feature a powerful combination of capability, refinement, and efficiency, featuring cutting-edge technologies intended to exceed all expectations.
Such small accessories as mirror covers can easily enhance your truck's look. Moreover, Ford mirror covers we offer are fast and simple to install requiring no additional equipment, so your Ford truck will gain a custom look in no time. Look through our collection of Bully mirror covers for Ford and pick the product according to your taste, we're sure you'll find here something to your liking.
RAM Mirror Covers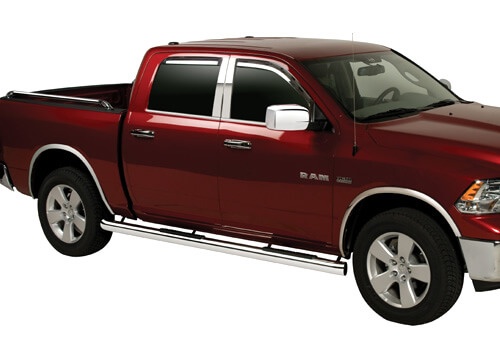 When Ram was separated from Dodge in 2009 to become a stand-alone truck division, the majority was quite skeptical about this decision: while other makes were consolidating brands to offer one complete lineup, Chrysler was adding a new one. Five years later, it became obvious that despite all obstacles, Ram Trucks justified the expectations of its parent company. By endowing its vehicles with unique innovative features and competitive pricing, the manufacturer managed to take over a large part of the full-size truck market dominated previously by GM and Ford. Nowadays, the brand has a large number of loyal customers among real truck fans, marketing its products not only in North America, but also in the Middle East, Brazil, Chile, and Peru.
The Ram 1500, one of the greatest representatives of Ram's lineup, has received numerous awards over the years. It was chosen as the Full-size Pickup Truck of Texas for two years in a row, appeared on Wards' list of 10 Best Engines for three times, and was awarded as Pickup Truck of the Year by Four Wheeler magazine.
Among all exterior accessories available for your Ram truck, mirror covers are probably one of the easiest to get and to install. Bully mirror covers for Ram possess a custom design intended to make your vehicle unique. Ram mirror covers, namely chrome products, have a beautiful shiny finish so this accessory might become the exact stylish feature you were missing.
FITMENT: SMC-901L • SMC-901S • SMC-903L • SMC-903S • SMC-908L • SMC-908S • SMC-909L • SMC-909S • SMC-910S • SMC-912L • SMC-912S • SMC-913S • SMC-915L • SMC-915S • SMC-916L • SMC-916S • SMC-917S • SMC-919L • SMC-919S • SMC-922L • SMC-922S • SMC-924L • SMC-924S • SMC-925L • SMC-925S • SMC-928S • SMC-930L • SMC-930S • SMC-932L • SMC-932S • SMC-935S • SMC-944L • SMC-944S • SMC-949S • SMC-953S • SMC-958S • SMC-960S • SMC-984S • SMC-988S
Best Chrome Mirror Covers
Bully Mirror Covers Reviews
Bully Chrome Mirror Cover
Average rating:
2 reviews
Jan 30, 2018
Location (Sity, State):
Louisville, KY
I love the way they look on my 2009 Expedition. The material seems nice, it has been a week since I installed them and I hope they will last.
Jul 21, 2017
Location (Sity, State):
New York, NY
Fit great right out of the box. An inexpensive upgrade that looks right on my Ford-150. I was a little anxious about taking my truck through a car wash but they have remained in place and look as good as before.