Bully Gas Doors
A Bully fuel door is a quick and easy upgrade for your truck or SUV. Choose from billet aluminum and stainless steel options, all designed to give your vehicle a custom look in a simple and cost-effective way.
Features:
Quality aluminum / stainless steel construction;
Offered in several finishes;
Locking fuel doors available for added security;
Installs easily with no drilling or cutting required;
Stainless steel hardware included where applicable.
Every last detail matters when it comes to a perfect look. Whether your old gas door was rusted through and you are searching for a replacement, or if you want to give the finishing touch to your vehicle's new look, we have the accessory that features quality construction and finish and is priced right. Bully offers both replacements for stock fuel doors as well as fuel door covers. The latter are manufactured from T-304 stainless steel with polished or brushed finish. Just peel and stick to apply your new gas door cover over the factory side gas door.
Billet aluminum fuel doors by Bully offer the choice of several finishes, including black powder coated, anodized, and chrome plated. Chrome fuel doors come in lockable and non-lockable options. Bully fuel doors install easily using the included stainless steel hardware, with no cutting or drilling needed. Factory gas caps are still required for some applications.
Access our store as a guest!
Chevrolet Fuel Doors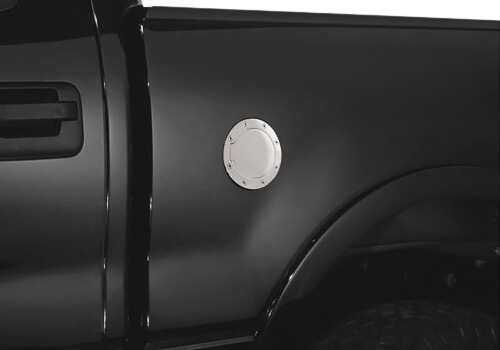 Chevrolet was founded in 1911 by a racer, Louis Chevrolet, and an engineer, William C. Durant. Their first vehicle was the Series C Classic Six. It was a large automobile with a 4.9L six-cylinder engine good for 40 hp that could reach a top speed of approximately 65 mph. The model was expensive, however, it was praised for comfort, style, and precision. The Series C Classic Six was sold for $2,150 that is equal to about $50,000 nowadays.
Chevrolet also manufactured a smaller and more affordable vehicle named the Little. Both cars were successful. In 1914, the company introduced the Model L and Model H, constructed on the rebuilt Little platform. Thanks to a reasonable price and powerful 4-cylinder engine, they also achieved success and the company focused on the entry-level market segment. Today, Chevy is the fourth-largest automotive brand worldwide.
In our catalog you will find a collection of Chevrolet fuel doors. Offered in various styles, they will complete the look of your vehicle. You can also get a fuel door with a lock to maximize security. If you want to enhance the utility of your Chevy truck or SUV, look through our inventory of Bully hitch accessories.
---
FITMENT: GD-101C • GD-101CK • GD-102C • GD-102CK • GD-102CKP • GD-103CK
Dodge Fuel Doors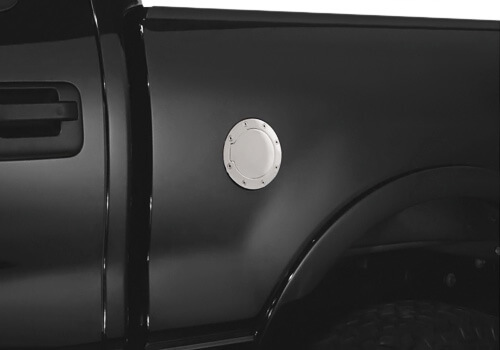 Dodge was founded back in 1900 by two brothers, John and Horace Dodge. Their first car, the Model 30, was launched in 1914. It introduced some innovative features that are taken for granted today like a sliding-gear transmission, all-steel body construction, 12-volt electrical system, and others.
The car was more expensive than the Ford Model T, however, it was accepted very well. Dodge Brothers was the second largest carmaker in the USA in 1916.
The vehicles by Dodge Brothers were used by the U.S. Army during the well-known Pancho Villa Expedition. This largely contributed to the popularity of Dodge vehicles as they have proven to be tough and reliable. Thanks to their dependability and smart design, present-day Dodge vehicles are demanded in the United States and beyond.
Installing a custom fuel door is a good way to upgrade your vehicle without bringing major changes to it and without breaking the bank. We carry a range of Dodge fuel doors made of quality materials to deliver durability for years to come. Our inventory is comprehensive, so you will surely find the product to suit your taste.
---
FITMENT: GD-301C • GD-301CK • GD-302C • GD-302CK • GD-303CKP
Ford Fuel Doors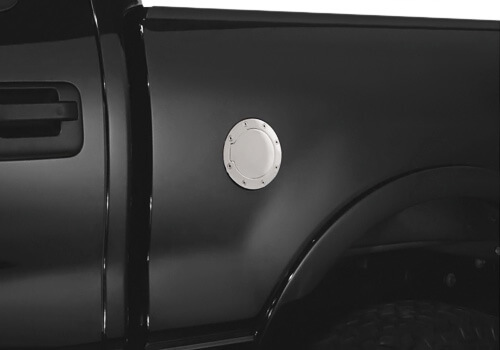 Ford Motor Company was set up in 1903 in a converted factory. Originally they produced cars by hand, with a small group of employees (two or three men) working on each automobile. Ford assembled only few vehicles a day and hundreds or few thousands cars a year at that time. Ten years later, in 1913, they introduced a moving assembly line and it enabled Ford to manufacture millions of vehicles per year. Besides, mass production cars were more affordable. This fact largely contributed to high popularity of Ford automobiles, especially the Model T.
During its history Ford introduced numerous innovations, such as the first automobile to feature safety glass in the windshield (Model A), the first affordable car with a V8 engine (Model 18), deep-dish steering wheel, child-proof door locks, rear seatbelts, seatbelt reminder light, and others. As of 2016, three vehicles by Ford are in the list of ten best-selling cars of all time.
Ford models are usually produced in vast numbers, that's why you can often see the vehicle just like yours driving along the highway. Though, there is an easy and affordable way to make your Ford a bit different – install an aftermarket fuel door. Here you will explore a collection of Ford fuel doors manufactured of high grade materials to provide long-lasting durability.
---
FITMENT: GD-201C • GD-201CK • GD-202CKP • GD-203CKP
GMC Fuel Doors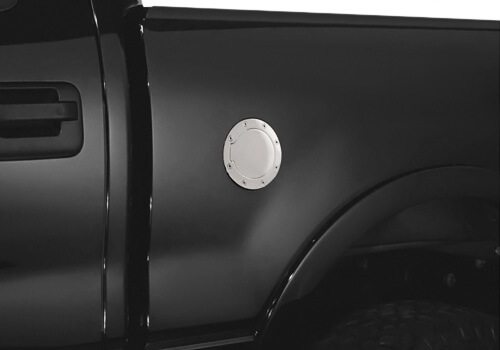 A division of General Motors, GMC has been producing vehicles for more than a century, since 1912. The company started with the launch of the first mass production trucks (about 22,000 units were made). In 1936, the Parade of Progress was held in the USA to show the vehicles that featured the latest and most advanced technologies. GMC was given the honor of providing their models for the parade twice.
They were GMC vans and the Futurliner range, exhibited in 1936 and 1941 respectively. For the following decades, GMC trucks have proven their durability and during World War II the company was honored to produce vehicles for the United States Armed Forces. More than 600,000 trucks were manufactured in total. GMC is well-known for providing innovations. For instance, the brand developed and sold some of the first electrical vehicles in the 1910s and introduced the front center airbag in 2012.
Consider installing an aftermarket fuel door on your GMC truck, SUV, or van if you want to add a touch of custom style to your vehicle without changing its look drastically. Besides, the accessory won't break the bank thanks to its reasonable price. Apart from GMC fuel doors, we also carry a variety of Bully truck steps, tonneau covers and other accessories for your truck.
---
FITMENT: GD-101C • GD-101CK • GD-102C • GD-102CK • GD-103CK
RAM Fuel Doors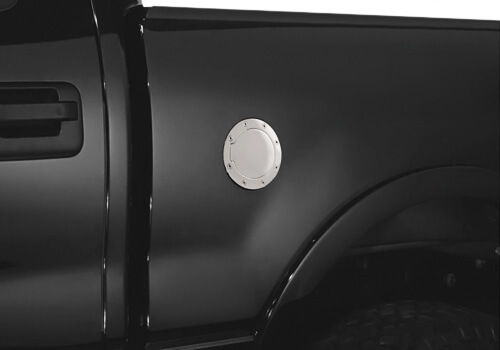 A division of Chrysler, Ram Trucks is a "young" brand established in 2010. It was spun off from another Chrysler division, Dodge, because of high popularity of the Dodge Ram pickup truck. Ram Trucks is focused on the production of pickups and commercial vehicles. The brand's logo appeared back in the 1930s, when Dodge used the ram head hood ornament to accentuate the durability of their trucks. Dropped in the 1950s, the logo was revived in 1981 with the launch of the Dodge Ram.
With the course of time, Rams became more upmarket and their popularity increased greatly. In 2015, trucks by Ram set the world record for the longest parade of pickup trucks, with 451 vehicles participating in it. The record was certified by Guinness World Records.
Rams are demanded, hence they are produced in high volumes. That's why it is not a big deal to meet the truck that is just like yours. To add a distinctive look to your vehicle, consider installing a custom fuel door. We carry a variety of Ram fuel doors made form premium materials to deliver long-lasting durability. You can get a fuel door with a lock to provide maximum security. On our website you can also find Bully tonneau covers, truck steps, tailgate locks, and other useful accessories.
---
FITMENT: GD-103CKP
Lincoln Fuel Doors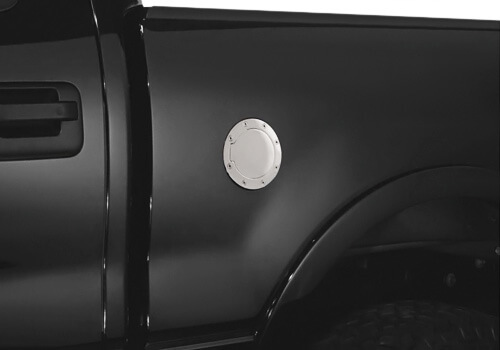 The Lincoln Motor Company was set up back in 1917 by Henry and Wilfred Leland. The company was named after Abraham Lincoln, the first presidential candidate Henry Leland voted for. Originally Lincoln mainly assembled aircraft engines (Liberty V12) for the military needs, however car production was also part of their activity. The first automobile by Lincoln was the Model L, it was marketed as a luxury vehicle and utilized a V8 engine.
After the end of the First World War, Lincoln focused on car manufacture. In 1922, the company was acquired by Ford and since that time it has been the subsidiary of Ford Motor Company. Nowadays, Lincoln still produces luxury vehicles and is recognized in many countries worldwide. The current model line includes not only classic passenger cars, but also SUVs.
If you want to add a touch of custom style to your luxury vehicle, browse our range of Lincoln fuel doors. They are available in various finishes, so you can get the one to fit your car or SUV best. We also offer fuel doors for your Lincoln with an integrated lock to ensure maximum security. Made from premium materials, our products will surely meet your quality requirements. You can easily install them by yourself in a matter of minutes.
---
FITMENT: GD-201C • GD-201CK
JEEP Fuel Doors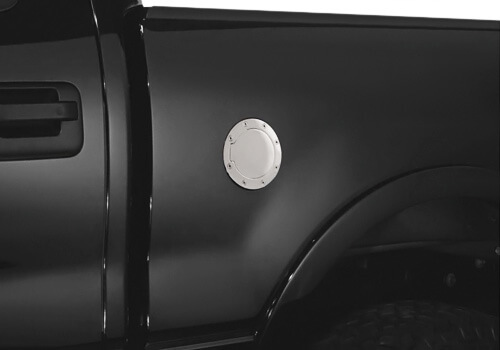 Jeep is a division of Chrysler, headquartered in Toledo, Ohio. First Jeep models produced by Willys MB were launched in 1941 specifically for the military needs. They are considered the first mass production four-wheel drive vehicles by some automotive historians. The Willys MB Jeep was the primary light vehicle of the U.S. Army and the Allies during the Second World War and the postwar period. The first Jeeps for civilian use appeared in 1945 and inspired the introduction of numerous other light utility vehicles.
Jeep saw numerous changes in ownership during its history. Since 1987, the brand has been a subsidiary of Chrysler. Nowadays the Jeep lineup features exclusively off-road vehicles and SUVs, however earlier they also manufactured pickup trucks.
Your Jeep is a distinctive vehicle, though you can make it a bit different from other similar models. Install a custom fuel door and complete the look of your tough off-roader. A variety of finishes enables you to get something special. Besides, you can get a Jeep fuel door with an integrated lock for maximum security.
---
FITMENT: GD-801CK
Hummer Fuel Doors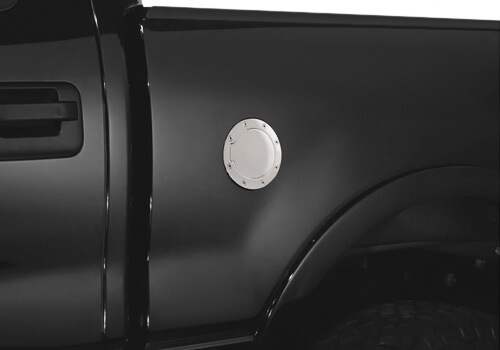 Hummer was a manufacturer of trucks and SUVs established back in 1992. The company produced just a few models, however, they gained high popularity. The first vehicle by Hummer was the H1, a civilian version of the HMMWV military truck, more commonly known as the Humvee. In 1998, the brand was acquired by General Motors.
Apart from the Hummer H1, GM marketed the H2 and H3, full-size and mid-size SUV respectively, that were constructed on smaller platforms. There were four special models marketed by the company, the H2 SUT, H3X, H3T, and H3 Alpha. Hummer was discontinued by GM in 2010, however, their models still have a noticeable presence on the road.
Your Hummer is a distinctive vehicle that features a masculine look. Though, you can add some custom style to your off-road vehicle by installing an aftermarket fuel door on it. In our catalog you will find a variety of fuel doors made from high grade materials and therefore delivering quality and durability. They can be installed quickly and effortlessly without cutting or drilling. Our inventory of Hummer fuel doors includes a number of finish and color options allowing you to get the accessory to fit your taste and your vehicle best.
---
FITMENT: GD-110C
Best Fuel Doors for Trucks
Bully Hitch Balls & Mounts Reviews
Bully Fuel Door
Average rating:
2 reviews
Jan 15, 2018
Location (Sity, State):
New York
Product does not work without modification and different hardware do not buy for use on a hummer h2
Jul 21, 2017
Location (Sity, State):
San Bernardino, CA
Looks pretty good on my Cadillac Escalade. I would recommend it to those who look for an inexpensive yet stylish and noticeable exterior upgrade. Good price for that look and quality.