Bully Door & Window Chrome Trim
Made from high-strength T-504 stainless steel and polished to a mirror finish, door and window trim strips by Bully render high durability and deliver just the right amount of shine to upgrade the look of your vehicle. Enhance the appearance of your car, truck, or SUV with the right set of high luster strips.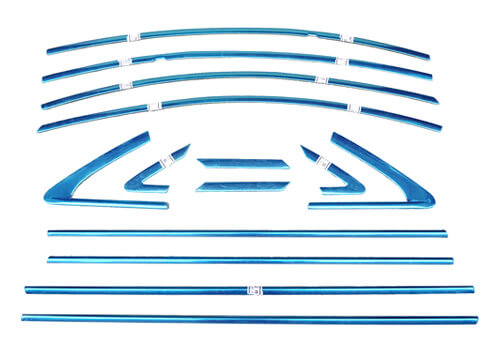 Features:
Add a touch of gloss to your vehicle;
Durable T-504 stainless steel construction;
Custom designed for each make and model;
Peel-n-stick automotive tape for easy installation;
No matter what vehicle you own, whether it is a compact everyday driver or a big tow-ready machine, adding mirror-polished stainless steel or chrome trim to it is a great way to complement its looks in a cost-effective, fast, and easy way. Such small accents can have a huge impact on the overall look of your vehicle, giving it a whole new definition. Each strip is precision cut from premium grade T-504 stainless steel for maximum durability and perfect fit to each specific application.
Door and window trim by Bully will match the curves and proportions of your car, truck, or SUV, accenting its sleek lines. No need in any modifications like cutting or drilling. Just stick it and enjoy a unique look that you gave your vehicle without a hitch and in a matter of minutes! If you want to add some extra shine to its appearance, check other products like Bully mirror covers, fuel doors, chrome grilles, and more.
Access our store as a guest!
Chevrolet Chrome Trim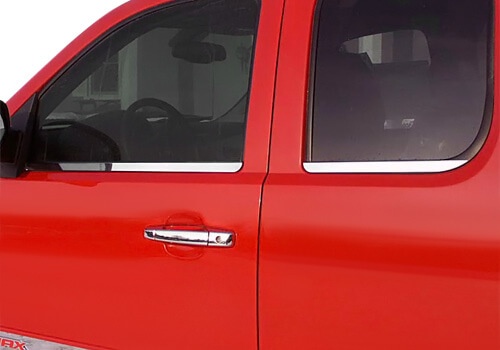 A division of General Motors since 1917, Chevrolet was established as a standalone company back in 1911. It was founded by William C. Durant and Louis Chevrolet. Chevrolet was a pioneering engineer, mechanic and racer, known for setting a land-speed record (111 mph, 1905) and Durant was an ousted founder of another vehicle maker, General Motors. The company started with the expensive Series C Classic Six model and then they launched a more affordable Little. The two were successful, though Chevrolet (Chevy for short) focused on entry-level vehicles. In 1914, they introduced the Model H and Model L based on the upgraded Little platform and both vehicles became popular very soon.
Today, Chevy's "bowtie emblem" is recognized in more than 140 countries around the globe. Among their most popular vehicles are the Camaro, Silverado, Impala, and Suburban.
Millions of Chevy models are on American roads nowadays. If you want to make your vehicle more special, we have a lot to offer. In our selection of Chevrolet door & window trim accessories you will find a number of products designed to add some custom look to your vehicle. We carry various options, so you can get some special accessory for your Chevy and make it more distinctive.
---
FITMENT: ST-172 • ST-173 • ST-174 • ST-175 • TGH65550 • TGH65551
Listed as a perfect fit for Chevrolet: C1500 Suburban 1996-1999 • C2500 Suburban 1996-1999 • K1500 Suburban 1996-1999 • K2500 Suburban 1996-1999 • Silverado 1996-1998 • Suburban 1500 1996-1999.

Honda Chrome Trim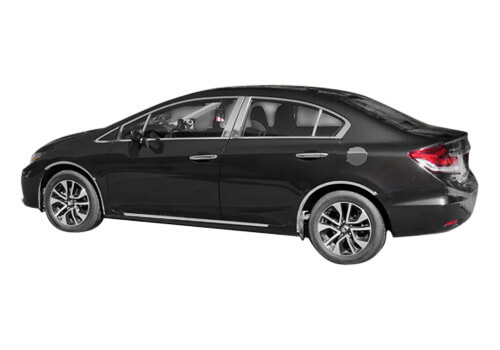 Honda was established in 1948 by Soichiro Honda and Takeo Fujisawa. Originally, the company produced motorcycles and since 1959 it has been the largest motorcycle maker in the world. Besides, Honda is the world's largest manufacturer of internal combustion engines by volume with more than 14 million units made per year.
The first production vehicle by Honda saw the world in 1963. It was a mini pickup truck, named the T360, that came with a 356-cc straight-4 gasoline engine under the hood. The same year they introduced a sports car, the S500, offered in a 2-door roadster body style. Nowadays, the company is the eighth largest automaker in the world and the second largest in Japan. The current lineup consists of passenger cars, SUVs, minivans, and pickup trucks.
Your Honda is a refined and attractive vehicle, though you can easily make it more distinctive with our Honda door & window trim accessories. They are made from high grade materials and therefore provide high quality. Our selection is comprehensive, that's why you will surely find a special accessory for your special vehicle. Besides, you can make your Honda more convenient with the help of Bully hitch steps and other useful accessories.
---
FITMENT: TGH65557 • TGH65558
Listed as a perfect fit for Honda: Pilot 2003-2011.

Best Window Trim Strips
Bully Chrome Trim Reviews
Bully Chrome Trim
Average rating:
1 reviews
Jan 26, 2018
Location (Sity, State):
Knoxville, TN
Well, I put these on my 2010 Silverado. Strips install easily but you need to be careful. The trim made the truck look nice, I got many compliments on it.