Chevrolet Step Bars
Whether you own the Suburban or any other Chevy SUV or truck, our collection of Chevrolet step bars might come in handy. This accessory, as one of the types of truck steps, will be a perfect add-on for your Chevy, making it more functional and giving it a complete look. Featuring solid construction, our Chevrolet step bars are thoroughly designed by our specialists to serve you for years to come.
Best Side Steps for Chevy
Truck Black Powder Coated Side Step Set

made of cast aluminum for superior strength;

universal fit for most vehicles.

5" Stainless Steel Oval Curve 2-Piece Side Step Bar Set

polished stainless steel end caps;

extra wide step pad for easy access;

mandrel bent curved ends provide OEM look.

Polished Stainless Steel Universal Fit Adjustable Side Step Set of 2 [for trucks and SUVs]

cog gear design for the perfect height adjustment;

mirror polished T-304, 3 inch stainless steel;

polished die-cast T-16 aluminum brackets;

non-slip high impact plastic step pad.

Polished Aluminum Universal Fit Side Step Set of 2 [for Trucks and SUVs]

billet aluminum for superior strength with no welded seams;

steps provide easy, safe access to a cab;

universal fit for most vehicles;

supports up to 200 lbs capacity.

Stainless Steel Step Bar [Set of 2 Steps]

3 inch round stainless steel bars;

mandrel bent for a smooth appearance;

no drilling or cutting required;

adds a rugged finished appearance to your truck.
---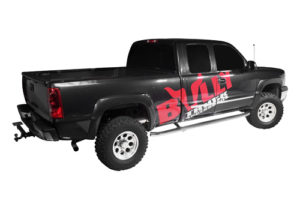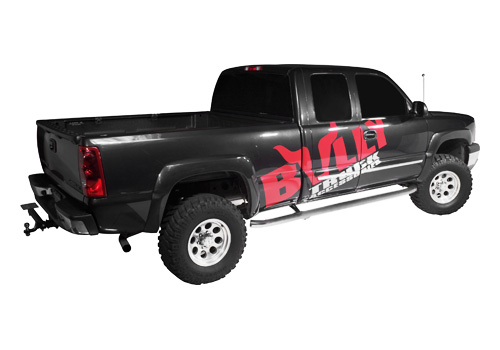 Over a 100-year-long presence on the market, Chevrolet produced more than 500 million vehicles. Among the iconic cars that helped define the brand on the U.S. market are the 1957 Bel Air Nomad, the 1964 Impala, the 1969 Camaro, the 1970 El Camino SS, and the 1996 Impala SS. These autos embody a true spirit, dependability, and style of Chevrolet; most of them are nowadays a matter of pride for numerous passionate auto collectors and Chevy fans. Today, vehicles with a well-recognized Chevy "bowtie" can be seen on the roads of 2/3 of the world.
The Chevrolet Suburban is a remarkable representative of Chevy's SUV family. It is the longest-running nameplate in history debuted on the market in 1935. Aiming to deliver a great level of passenger comfort and cargo capacity, the model remained a solid choice on the SUV market.
---
Customer Reviews
Average rating:
6 reviews
Jun 5, 2022
Location (Sity, State):
Midland, TX
Very sturdy and it comes with all the hardware you would need regardless of truck type. I have 2009 F150 and had to drill new holes for installation.
Jun 5, 2022
Location (Sity, State):
Fargo, ND
Good deal for the money. These black steps were installed on my 2011 F-250 (Style "A" in the instructions). The powder coat was not perfect, however, you have to keep in mind that these are very inexpensive, much more cost-effective than running boards.
Jun 5, 2022
Location (Sity, State):
Eden Prairie, MN
I certainly recommend these and would definitely buy them again, but seriously doubt I'll need to.
Jun 5, 2022
Location (Sity, State):
Temecula, CA
Installed on my new Chevy truck in 2002 and still looks great after twenty years with no rust as is stainless. The only sign of wear is the driver's rubber step.
Jun 5, 2022
Location (Sity, State):
Bridgeport NY
The steps look great. One problem, the three pamphlets that came with steps are in Spanish.