Chevrolet Side Steps
Side steps have become increasingly popular among people who have a large truck or an SUV, and for a good reason. They not only add a sporty look to the sides of a vehicle but also make it easier to get in and out of that big truck or SUV. We carry an extensive selection of premium quality Chevrolet side steps at very attractive prices. They come in a variety of shapes and finishes and take minimal effort to install. Our digital shelves are packed with top-notch side steps, including Bully side steps for Chevrolet. So, browse our online catalog and choose the side steps that will work best for you.
Best Side Steps for CHEVY
Truck Black Powder Coated Side Step Set

made of cast aluminum for superior strength;

universal fit for most vehicles.

Truck Black Powder Coated Side Step Set [1 Pair]

includes mounting brackets;

reliable non-slip step area.

Polished Stainless Steel Universal Fit Adjustable Side Step Set of 2 [for trucks and SUVs]

cog gear design for the perfect height adjustment;

mirror polished T-304, 3 inch stainless steel;

polished die-cast T-16 aluminum brackets;

non-slip high impact plastic step pad.

Polished Aluminum Universal Fit Side Step Set of 2 [for Trucks and SUVs]

billet aluminum for superior strength with no welded seams;

steps provide easy, safe access to a cab;

universal fit for most vehicles;

supports up to 200 lbs capacity.

Polished Aluminum Universal Fit Truck Side Steps [Set of 2 Steps]

constructed from single-piece aluminum cast;

uses a matte finish for a universal look;

side step is 12.3 in. long, 10.75 in. wide and 6 in. high.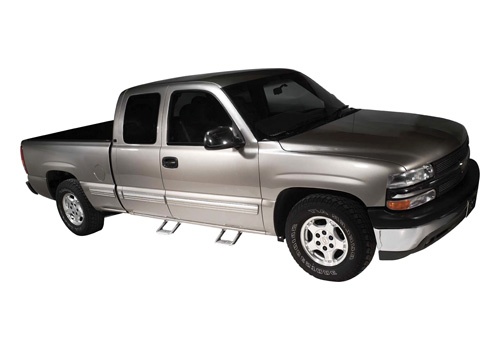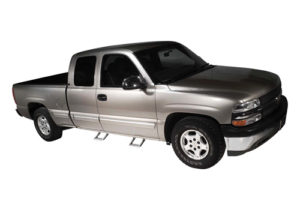 Chevrolet is an American automobile manufacturer, a division of GM. The brand was established in November 1911 in Detroit by famous racer Louis Chevrolet and Billy Durant. Three years later, the Chevy "bowtie" logo appeared for the first time.
The brand grew at a fast pace and in 1917 it joined the GM family. Soon Chevrolet vehicles became some of the best-selling autos in the USA.
Today Chevy manufactures virtually everybody's styles including sedans, coupes, sports cars, hatchbacks, etc. that deliver performance, safety, economy, and technology to satisfy customers' needs all over the globe.
---
Bully Side Steps Reviews
Average rating:
6 reviews
Jun 5, 2022
Location (Sity, State):
Menoken, ND
Installation wasn't exactly a piece of cake, although it was a simple process. Drilling the mounting holes was the problem. Installed them on a 2006 F-150.
Jun 5, 2022
Location (Sity, State):
Oklahoma City, OK
Easy to install and they look great. They are sturdy as well as a great price for both.
Jun 5, 2022
Location (Sity, State):
Colorado Springs
I installed these Bully steps on my 2004 F250 Crew Cab. I must say, that the installation appeared to be somewhat more complicated than I expected. There are existing holes on the truck frame that make installation a little easier, but still, you will have to drill out more holes on your truck. Plus, you need to drill out extra holes in the steps to mount these bad boys. Don't think for a second these things are "plug and play."

However, if you're semi-okay working around tools, this job is not too difficult and a bit fun. Nothing too complicated or something that will direct you to the body shop and will make you pay several hundred for installation. When the job's complete, you will wonder why it took you so long to get a set of these for your truck! They look awesome, they're sturdy and lightweight, and they really give the truck a clean-cut look. Not a bad price either. If you find them cheaper, jump on them!
Jun 5, 2022
Location (Sity, State):
Kingman, AZ
These steps are a great investment for my truck. I got them very cheap through warehouse deals from Amazon. That's because I was planning to paint match them to the truck anyway. They fit perfectly to the rockers on my 2002 F-150. There was drilling required (even though I thought they are just bolt-on to the frame) but no major modifications or material removal was necessary. Paint prep was also quite easy. First, I sanded the steps with 100 grit all over. Next, I sprayed a coat of epoxy primer followed by two coats of U-pol Multi-liner, in order to match the lower tone of the truck. I believe, that these Bully steps should outlast the truck.
Feb 4, 2018
Location (Sity, State):
Pierce, NE
I have the AS-500S steps they look great and are very sturdy. Only problem I had was the so called sheet metal screws they enclosed were actually wood lag screws so I had to go get my own sheet metal screws.