Bully Truck Pedal Pads
Bully carries a complete selection of pedal pads for cars, trucks, and SUVs with both manual and automatic transmissions. They come in different designs, colors, and finishes to match the interior look of your vehicle. Quality material construction renders high durability. Fit over the factory pedals.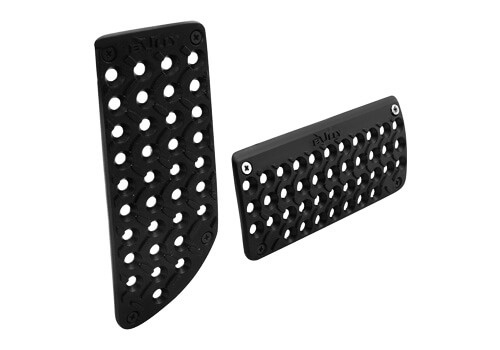 Features:
Enhance your vehicle's interior look;
Various material, color, and style choices;
Universal fit;
Adaptors included for some applications;
Mount over OEM pedals;
Easy and quick installation.
A new set of bright, eye-catching pedals can bring that finishing touch that will complete your vehicle's interior look. No need to buy the whole pedal assembly to spruce up your cabin; we offer pedal pads that attach to your factory pedals in minutes using basic hand tools and add pizzazz to your interior for an economical price! We offer pads available in different styles and manufactured from a variety of materials, including die-cast aluminum, stainless steel, etc.
Quality material construction ensures long-lasting function, so these pads will withstand the rigors of everyday use year after year. Whether you are after sporty racing-inspired look and feel, hot rod style, or anything in between, Bully offers the right set of pedal pads for your car, truck, or 4X4. Choose from other automotive accessories by Bully to take your vehicle's appearance, utility, convenience, and comfort to the next level!
Access our store as a guest!
Chevy Pedal Pads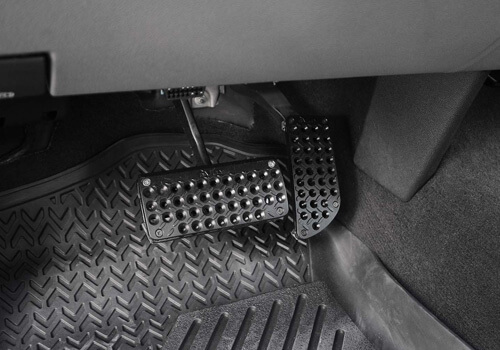 Chevrolet was established more than a century ago, in 1911, in Detroit by Louis Chevrolet and William Durant. They started with two models, the expensive Series C Classic Six (also known as the Chevrolet Type C, Model C or simply Chevrolet) and the affordable Little. The two were successful, though Durant led the company to the production of reasonably priced entry-level cars. The Chevrolet Model H and Model L were introduced in 1914, both based on the remade Little platform.
In spite of the early success, the founders differed on the company's future and philosophy, and eventually Durant bought out Chevrolet's share of the company. However, sales continued to grow and in 1916 Durant acquired a controlling stake in General Motors. In 1917, a reverse merger of brands took place and since that time Chevrolet has been a division of GM. The company produced a range of iconic for the time vehicles, such as the Suburban, Bel Air, Impala, Corvette, Camaro, and others.
Over time the pedals of your vehicle may become worn out and lose traction due to their intensive use. In our online catalog you will find a range of Chevrolet truck pedal pads designed to deliver quality for years to come. Various options enable you to get the unit that will fit both your taste and your Chevy perfectly.
Dodge Pedal Pads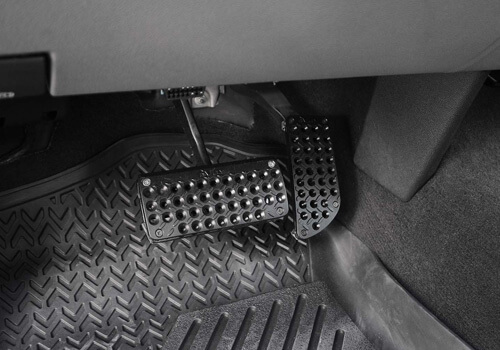 A worldwide known automaker nowadays, back in 1900 Dodge started as a supplier of components and assemblies for Detroit-based carmakers. Among the most recognized customers of the company (Dodge Brothers at that time) were Ford and Oldsmobile. Dodge Brothers gained an excellent reputation and in 1914 they introduced their own vehicle. Thanks to a number of innovative features it achieved success and in 1916 the company was the second largest carmaker in the U.S.
John and Horace Dodge, the founders of the company, died in 1920 and the business was inherited by their widows. Dodge Brothers continued to upgrade their automobiles and began to produce light trucks. In 1925, the company was sold to Dillon, Read & Co., a renowned investment group, for about US$ 146 million. It was the largest cash transaction in history at that time. However, in 1928 Dodge Brothers changed its owner again, the company was acquired by Chrysler and is still their division.
Pedals in your vehicle can often be ignored as they are out of sight. However, they are exposed to harsh conditions and may become worn or crack over time. If that is the case, browse our catalog of Dodge truck pedal pads and you will definitely find a range of durable products for your vehicle.
GMC Pedal Pads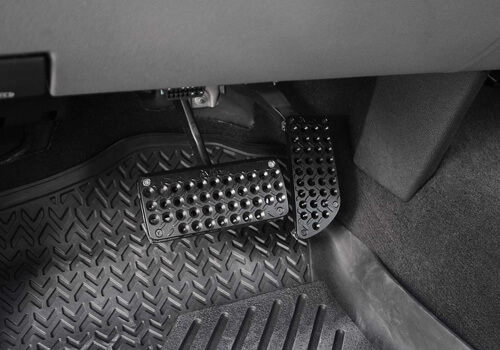 GMC was established more than a century ago, in 1912, on the base of two truck manufacturers, Reliance and Rapid. The company achieved success very fast thanks to the experience gained by the brands that merged. During the first year of existence GMC released some of the world's first mass production trucks. Over 22,000 vehicles were built and sold.
In 1927, GMC launched distinctive-looking trucks that featured the first chrome-plated radiator surround, stylized fenders and headlights attached to the radiator. In the 1930s, the company set another design benchmark for trucks, they offered models with sloped grilles and passenger cabs that were inspired by popular car trends. GMC is still an active vehicle manufacturer focused on trucks and utility vehicles. Among their most popular models are the Savana, Sierra, Canyon, and Yukon.
Over time pedal pads of your GMC can lose traction and become worn due to intensive use they are subjected to. To avoid possible troubles, take a look at the pedals of your vehicle. If they require replacement, look no further than our online catalog, as we carry a variety of GMC truck pedal pads. Our inventory is comprehensive, so you will find the pad to fit your requirements best.
RAM Pedal Pads
One of the "youngest" truck manufacturers in the world, Ram Trucks was founded in 2010. However, Ram-branded vehicles appeared long time ago, back in the 1930s. They were Dodge trucks featuring the ram head hood ornament as a symbol of their dependability. Dropped in the 1950s, the logo was revived in 1981. It was given to the newly launched pickup truck, the Dodge Ram. The vehicle gained high popularity and Dodge's parental company Chrysler decided to establish a standalone brand focused on pickup trucks. The present-day lineup of Ram Trucks consists of six models, four trucks and two vans.
Think how often you step on pedals during driving. Usually the soles of your shoes are far from being clean, they can be wet, dirty, slushy or salty and that can cause damage to pedals and pads over time. The last thing you want is to get in trouble because of your foot slipping off your brake, accelerator or clutch pedal. In case you need a new pedal pad, in our online catalog you will definitely find the ultimate solution. We carry a number of Ram truck pedal pads designed to deliver long-lasting durability. Numerous style and finish options enable you to get the product to fit both your truck and your needs best.
Ford Pedal Pads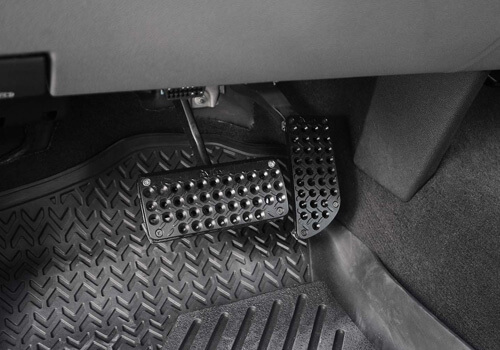 Founded back in 1903 in a converted factory, Ford is now the second largest vehicle manufacturer in the USA and the fifth largest in the world. The popularity of Ford models is huge – three out of ten best-selling vehicles of all time are produced by Ford, they are the Model T, F-Series and Escort.
The blue oval, a famous company's logo, appeared in 1927. The first vehicle to receive the logo was the new Model A. It was launched after a six-month-long gap in production caused by retooling of Ford factories around the globe and improvement of the Model A's design. As a result, the car offered a range of innovative features including a safety glass windshield. During its long history Ford introduced many other remarkable models, such as the Mustang that defined the popular pony car class.
Every time you drive a vehicle, you step on pedals numerous times. As the soles of your shoes usually are far from being clean, dirt, salt and other contaminants may cause damage to your pedal pads. To decrease possible risks and make your driving comfortable again, install a set of new pedal pads. We offer a variety of Ford truck pedal pads manufactured from high grade materials hence delivering long-lasting durability.
FITMENT: PM-2312A • PM-2312A3 • PM-2312AZ • PM-2312B2 • PM-2312B3 • PM-2312G • PM-2312R2 • PM-2312S2 • PM-2313A • PM-2313AZ • PM-2313G • PM-2313R2 • PM-2314S • PM-2314S3 • PM-2315S • PM-2315S3 • PM-2320G2 • PM-2321G2 • PM-2324S2 • PM-2325S2 • PM-2326S2 • PM-2335E3 • PM-2341SZ • PM-2344SS3 • PM-211SZ • PM-212SZ • PM-2313B2 • PM-2313S2 • PM-2334E3 • PM-2342SZ • PM-292 • PM-300 • BBS-2101 • PM-24101B • PM-2327S3 • PM-2324S3 • PM-229EZ • PM-230EZ • PM-2312GZ • PM-2313GZ • PM-2317EZ • PM-2318R • PM-2319R • PM-2347R2 • PM-2348R2 • PM-2349S2 • PM-2352E2 • PM-2357E2 • PM-241SZ • PM-242S1Z • PM-242SWK • PM-299Z • PM-300Z • WCC-0901
Best Truck Pedal Pads
Bully Pedal Pads Reviews
Bully Truck Pedal Pad
Average rating:
2 reviews
Jan 5, 2018
Location (Sity, State):
Salinas, CA
These pads fit curves of the pedals precisely and look great. Installation wasn't a pain. No need to pay more.
Jul 29, 2017
Location (Sity, State):
Beaufort, SC
Ordered Bully's Black Bull series pedal covers for my Silverado 2500HD. These are good aluminum pads for the money you pay. Installation took 30 minutes, they fit well and look nice.