Bully Chrome Grilles
Give your vehicle a custom look and make it stand out on the road! Your truck or SUV will make a bold impact with one of our direct-fit chrome grilles. Each and every performance grille is designed to fit exactly the same as your original grille, ensuring a hassle-free installation. In the Bully product range you'll also find imposter grille overlays made from quality triple chrome plated ABS plastic that snap in place in seconds without drilling or cutting.
Features:
Direct OEM replacement;
Billet, contoured, and vertical blade styles;
Bumper fillers available;
Easy installation with everyday hand tools.
A few exterior upgrades attract attention as much as chrome packages with a mirror finish. Add some shiny accents to your vehicle!
Make the ultimate statement with one of our performance grilles constructed specifically for your make and model. You won't have to make modifications as each one is engineered to provide a direct fit, replacing your factory grille.
Want to transform the front fascia of your rig in no time and without paying a premium? Try one of our high quality chrome plated imposter grilles designed to fit over your stock grille. Browse our inventory and find many other products to complement the chrome accessory packages that your vehicle already has, including Bully door & window trim, tailgate handle covers, and more.
Access our store as a guest!
Chevrolet Chrome Grilles
Chevrolet is an American automaker based in Detroit, Michigan that started manufacturing automobiles back in 1911. Nowadays this carmaker is internationally recognized as vehicles with Chevy "bowtie" have found their owners in more than 130 countries. Chevrolet autos are praised for their durability, innovative technologies, and refined design. With a 100-year-long experience in the auto industry, Chevrolet is considered one of the leaders on the U.S. market. The company is a major division of General Motors that produces a great range of vehicles, from subcompact autos such as the Chevrolet Aveo and the Spark to medium-duty commercial trucks such as the Colorado and the Silverado.
A custom grille has a great potential to improve the look of your vehicle's front. That's why apart from other aftermarket products, we offer Chevrolet chrome grilles featuring a reliable construction and attractive design. A brand new Chevrolet chrome grille can become a stylish accessory that will serve reliably for years to come. By following instructions, you can install the new chrome grille without any difficulties and make your truck or SUV stand out on the road.
---
FITMENT: NR-101 • NR-101B • NR-102 • NR-102B • NR-103 • NR-103B • NR-105B • NR-106 • NR-107 • NR-107B • NR-108 • NR-108B • NR-110 • NR-110B 
Listed as a perfect fit for Chevrolet: Blazer 1992-1994 • C1500 1988-1998 • C1500 Suburban 1992-1999 • C2500 1988-1998 • C2500 Suburban 1992-1999 • C35 1995-1998 • C3500 1988-1998 • K1500 1988-1998 • K1500 Suburban 1992-1999 • K2500 1988-1998 • K2500 Suburban 1992-1999 • K3500 1988-1998 • Tahoe 1995-1999
Dodge Chrome Grilles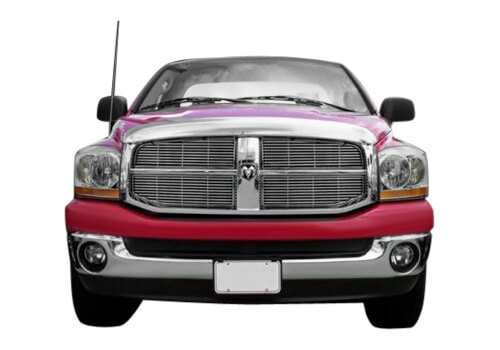 Dodge has been on the market for more than 100 years, no wonder that the brand has such a rich history. The company was launched by John Francis and Horace Elgin Dodge, two brothers who were selling auto parts and accessories to different automakers, including such well-known names as Ford and Oldsmobile. In 1914, they introduced the Dodge Model 30, an innovative four-cylinder vehicle with a 12-volt electrical system, 35 horsepower, sliding-gear transmission, and an all-steel body. This model laid the foundation for the future success of the brand that has been serving the automotive needs of people all over the world for more than a century. Cars, SUVs, trucks, and minivans with the Dodge nameplate are praised for a high level of quality, performance, and dependability.
A new stylish grille is probably one of the most impressive ways to customize your vehicle and make it stand out from the crowd. We have developed our line of finely crafted Dodge chrome grilles to help you express your sense of style. We offer durable and dependable products made of quality materials to meet the needs of our most demanding customers. Each Bully chrome grille for Dodge on offer is designed with a great attention to the tiniest detail to ensure your satisfaction.
---
FITMENT: NR-202B • NR-203 • NR-203B • NR-204 • NR-204B • B NR-205 •NR-205B
Listed as a perfect fit for Dodge: Ram 1500 Custom • Hemi Sport • Rumble Bee • SLT • Sport • SRT-10 • ST • SXT • TRX4 • WS • 2002-2008; Ram 2500 Power Wagon • SLT • SLT Big Horn • SLT Night Runner Sport • SLT Sport • Sport • ST • SXT • TRX4 • 2006-2009; Ram 3500 SLT • Sport • ST • SXT • TRX4 • 2006-2009
Ford Chrome Grilles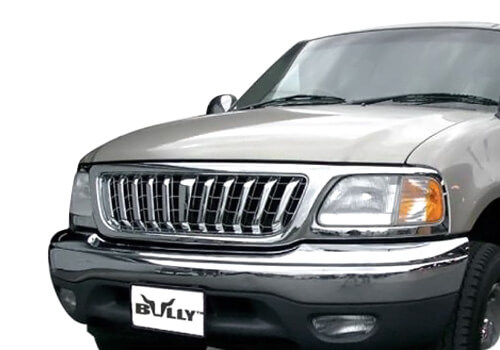 Ford is an internationally acclaimed carmaker that represents 100 years of passion and dedication to the main goal of manufacturing quality vehicles putting customer needs in priority. Ford is one of the largest family-run companies in the world. Behind its success story is a smart management strategy based on three core values: great products, strong business, and better world. Since its early years, Ford has been a green company with deep care about environmental sustainability. For instance, the 2008 Ford Escape is considered to be the first American auto with seating surfaces made of 100 % recycled fabric. The company is a productive enterprise where professional engineers and talented designers combine their efforts to bring to the world first-class vehicles such as the Ford Focus, Mustang, Explorer, and the F-150.
When you opt for a Ford chrome grille, choose a high-quality product made of solid material. We carry aftermarket accessories that perfectly combine style and functionality, so you can get one of Bully chrome grilles for Ford and install it on your vehicle without any troubles. A custom grille will surely enhance the look of your truck or SUV and emphasize its bold spirit.
---
FITMENT: NR-302 • NR-302B • NR-303 • NR-303B • NR-304 • NR-304B • NR-305 • NR-305B • NR-306 • NR-306B
Listed as a perfect fit for Ford: Excursion Eddie Bauer • Limited • XLS • XLT • 2000-2004 • F-250 Super Duty King Ranch • Lariat • XL • XLT • 1999-2004 • F-350 Super Duty King Ranch • Lariat • XL • XLT • 1999-2004 • F-450 Super Duty Lariat • XL • XLT • 1999-2004 • F-550 Super Duty Base • Lariat • XL • XLT • 1999-2004
GMC Chrome Grilles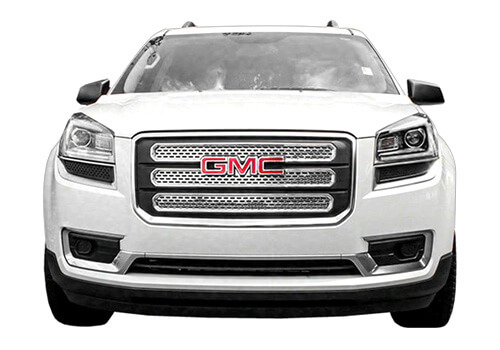 GMC was launched in 1912 when the Rapid Motor Vehicle Company was merged with the Reliance Motor Car Company by General Motors. The name of the new brand was introduced at the New York International Auto Show the same year. Focusing solely on trucks and utility vehicles, this division of GM started developing rather quickly. GMC had three manufacturing facilities in Michigan, California, and Missouri.
In 1916, a GMC truck crossed the U.S. from west to east in 30 days, and ten years later, another GMC truck covered the distance between New York City and San Francisco in 5 days. At the time of the Second World War, GMC was actively manufacturing trucks to cover the needs of the U.S. Army. After the war, the brand released a range of various utility vehicles, including ambulances, fire trucks, and heavy-duty trucks. Through the years, GMC has earned a solid reputation as a manufacturer of tough commercial vehicles. Such models as the Sierra, Yukon, and Acadia brought it world recognition. For the owners of GMC trucks, we have prepared a collection of top-grade GMC chrome grilles. To add a personal touch to your truck, just install one of Bully chrome grilles for GMC and your vehicle will at once gain a desired custom look.
---
FITMENT: NR-101• NR-101B • NR-102 • NR-102B • NR-103 • NR-103B • NR-105B • NR-107 • NR-107B • NR-108 •  NR-108B • NR-110 • NR-110B
Listed as a perfect fit for GMC: C1500 1988-1999 • C1500 Suburban 1992-1999 • C2500 1988-2000 • C2500 Suburban 1992-1999 • C3500 1988-2000 • K1500 1988-1999 • K1500 Suburban 1993-1999 • K2500 1988-2000 • K2500 Suburban 1992-1999 • K3500 1988-2000 • Yukon 1992-1999
RAM Chrome Grilles
Since its debut as a separate division of Chrysler in 2009, Ram has quickly taken off and became an industry leader, remaining true to its goal of providing truck lovers with the finest vehicles to precisely meet their expectations. By concentrating on its target audience and their needs, the brand created a distinct identity and is nowadays highly praised for its commitment to efficiency, reliability, and innovation.
Ram trucks keep surpassing competitors in fuel economy and towing capabilities. For instance, the Ram 1500 features best-in-class fuel economy with its one-of-a-kind EcoDiesel engine and the Ram 3500 possesses best-in-class towing capability, namely 30,000 pounds, and payload capacity, 7,390 pounds. Ram Trucks is a rather young yet exceptionally promising manufacturer that has much to offer.
A grille is your truck's "face" that strikes the eye from the first sight. It's one of the most important exterior accessories that defines your Ram's style. Look through Bully chrome grilles for Ram that are designed to give your truck a distinctive look. Customize your vehicle with one of high-quality Ram chrome grilles available in our assortment and be sure that this accessory will serve you reliably for a long period.
---
FITMENT: NR-205 • NR-205B
Listed as a perfect fit for Ram: 2500 2011-2013 • 3500 2011-2013
Nissan Chrome Grilles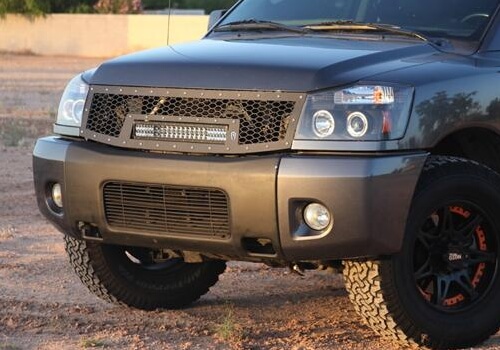 Nissan is a Japanese vehicle manufacturer rated as the sixth largest auto company in the world. This giant of the industry traces its roots to 1911 when Masujiro Hashimoto established the Kwaishinsha Motor Car Works, however, the name "Nissan" first appeared only in 1934. The manufacturer introduced Japan's first mass-produced vehicle, the Type 15, in 1937. It was available in many body configurations including a delivery van, coupe, and a mini-pickup. In 1958, Nissan decided to expand the production and enter the U.S. market, starting with the export of sedans and compact pickups. By the 1960s, Nissan gained a strong reputation on both sides of the Pacific.
Today, the brand is well-known all over the world for its remarkable luxury cars, compact automobiles, and commercial vehicles. Over the years, the company has been selling autos under the Nissan, Datsun, and Infiniti nameplates. A grille is definitely the most noticeable part of your Nissan truck. You have probably caught yourself staring at other vehicles' stylish grilles as they were passing by. We can help you give your truck an eye-catching look with our first-class Nissan chrome grilles. The installation of Bully chrome grilles for Nissan won't require much efforts, so your Nissan will gain a desired custom appearance in no time.
---
FITMENT: NR-602 • NR-602B
Listed as a perfect fit for Nissan: Armada LE • SE • SE Off-Road • SL • SV • Titanium • 2005-2012 • Titan 2004-201
Cadillac Chrome Grilles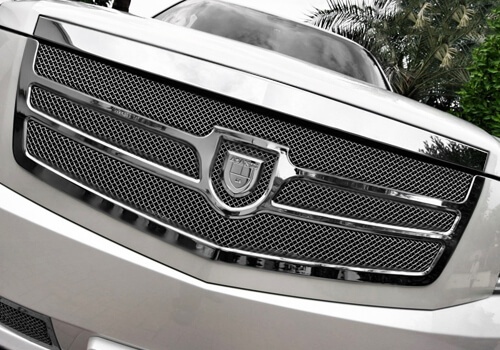 A division of General Motors, Cadillac is fairly considered the most prestigious U.S.-based luxury auto manufacturer. Established in 1902, the company is one of the oldest auto brands in the world. The brand's name originates from the last name of the founder of Detroit, Antoine de la Mothe Cadillac.
For the most part of its presence on the market, the automaker was associated with first-class luxury sedans such as the Eldorado or Coupe de Ville. However, in the recent years, as Cadillac models became mainly senior-oriented vehicles valued by passionate collectors, the company decided to revise and expand its lineup aiming to attract the younger generation. As a result, a new design language called "Art and Science" was introduced that combines a bold, modern appearance with state-of-the-art technologies. The Cadillac lineup now includes sedans, coupes, crossovers, SUVs, and high-performance cars. Among all Cadillac chrome grilles available on the market, our products stand out for their supreme quality and smart design. Bully chrome grilles for Cadillac are thoroughly developed to fit your luxury vehicle and make it even more distinctive. Install this accessory without any troubles and enjoy catching admiring glances on the road.
---
FITMENT: NR-105B
Listed as a perfect fit for Cadillac: Escalade ESV • ESV Luxury • ESV Platinum • ESV Premium • EXT • EXT Luxury • EXT Premium • 2007-2012
Toyota Chrome Grilles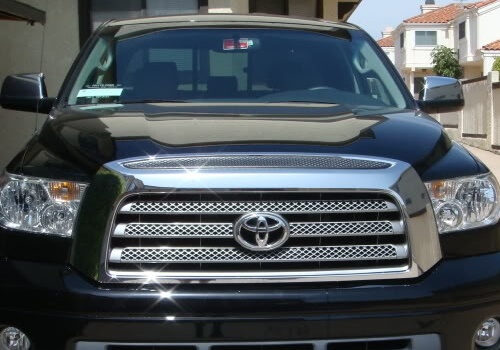 Toyota is a Japanese automaker whose refined, smartly-designed, and technologically advanced vehicles have brought it international recognition. Toyota is a multinational corporation that was recently rated as the thirteenth largest company in the world by revenue. During a 70-year-long presence on the market, the company produced over 200 million vehicles. The brand was established in 1937 by Kiichiro Toyoda after releasing its first passenger car, the Toyota AA. The company manufactures and markets its vehicles under five brands, namely Toyota, Scion, Lexus, Ranz, and Hino. The current Toyota lineup includes such well-known models as the Corolla, Camry, RAV4, Tacoma, Tundra, Highlander, and Land Cruiser.
The main function of a grille is to provide an attractive yet protective cover for the area that lets the airflow enter the radiator. A front grille also defines your vehicle's overall look, so if you want to upgrade the appearance of your vehicle, installing a shiny chrome grille is just the ticket. We offer a range of high-quality Toyota chrome grilles to help you customize your automobile. Bully chrome grilles for Toyota are designed to perfectly match your vehicle.
---
FITMENT: NR-401B • NR-403 • NR-403B • NR-405 • NR-405B
Listed as a perfect fit for Toyota: Sequoia 2001-2007 • Tundra 2000-2006
Best Chrome Grilles
Bully Chrome Grilles Reviews
Bully Chrome Grille
Average rating:
3 reviews
Feb 5, 2018
Location (Sity, State):
Worthington, OH
I installed this on my CTS Coupe after seeing it on my friend's car. Predictably, it looks great on my Caddy too. Would recommend to those who love chrome.
Aug 3, 2017
Location (Sity, State):
Boulder, CO
Easy to install... It looks even sharper than I expected and is definitely worth the money. It is a nice upgrade.
Jul 19, 2017
Location (Sity, State):
Poughkeepsie, NY
The imposter grille looks nice on my vehicle, it is a huge upgrade for reasonable money. Installation was a snap. I would recommend it to everyone looking for a quick and inexpensive change.