Bully Bull Bars & Grille Guards
Bull bars are one of the first accessories to be added to your 4×4 vehicle. They protect its front end, while also looking great and adding value to your truck or SUV. Bull bars are the perfect combination of form and function. Bully's bull bars have an aggressive look to your vehicle and provide protection against minor impacts and damage on the road and trail. Besides, bull bars are a great base for mounting winches, driving lights, and more. They feature strong stainless steel construction and come in rugged finishes for maximum rust and corrosion protection.
Features:
Added protection for the front end of your vehicle;
Adds style to your vehicle;
3-inch mandrel bent stainless steel tubing;
Removable stainless steel skid plate;
Mirror polished / black powder coated finish;
Custom designed for your vehicle;
Easy installation for most applications;
Pre-drilled holes for auxiliary lights;
Backed by Bully's dependable warranty.
When it comes to bull bars for your big vehicle, Bully bull bars have no equals on the market. They offer great looks and strong protection, so you can outfit your vehicle with dependable style and strength. Bully's bull bars are unsurpassed in quality and craftsmanship; they are skillfully constructed with superior materials and feature corrosion-resistant finish, which makes them one of the best accessories for your truck or SUV.
These bull bars offer easy installation for most applications (with no special tools or skills required) and come at very attractive prices. Bully products come with "no-hassle" warranty, which provides years of service and confidence. Complement the look of your vehicle with eye-catching add-ons from Bully and ride in style!
---
Access our store as a guest!
Chevrolet Bull Bars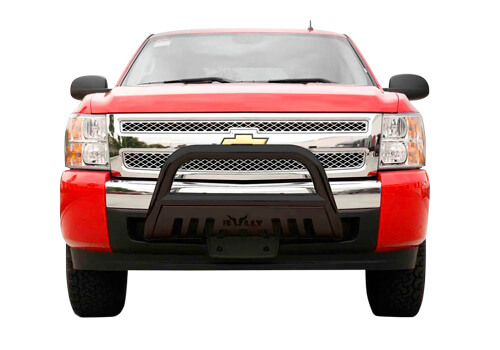 Selling around 4.5 million vehicles each year, Chevrolet is one of the largest auto manufacturing companies based in Detroit, Michigan. The brand was launched in 1911 as a result of collaboration between Louis Chevrolet, a Swiss racer and automotive engineer, and William C. Durant, GM founder. The company managed to stay on the leading position in the automotive industry for over a century, smartly overcoming all obstacles on its way to success. Chevy boasts of many achievements, starting from the early adoption of landmark technologies such as safety glass and anti-lock brakes. The company features the longest-running nameplate it its lineup, the Chevrolet Suburban that has been one of the make's most profitable models since 1935. Moreover, the Chevrolet Corvette, a renowned sports car, won the "24 hours of Le Mans" seven times, bringing recognition to the brand as a performance car manufacturer.
Bull bars are exterior accessories that are meant to protect your vehicle from damage in case of accidents and minor impacts. Bully bull bars for Chevrolet offer a strong construction made of tough rust-resistant materials to provide increased durability. The available Chevrolet bull bars are custom designed for each model and will not only protect your truck, but also give it an eye-catching aggressive look.
---
FITMENT: NR-101 • NR-101B • NR-102 • NR-102B • NR-103 • NR-103B • NR-104 • NR-104B • NR-105 • NR-105B • NR-106 • NR-106B • NR-107 • NR-107B • NR-108 • NR-108B • NR-109 • NR-109B • NR-110 • NR-110B
Listed as a perfect fit for Chevrolet: Blazer 1992-1994 • C1500 1988-1998 • C1500 Suburban 1992-1999 • C2500 1988-1998 • C2500 Suburban 1992-1999 • C35 1995-1998; C3500 1988-1998 • K1500 1988-1998 • K1500 Suburban 1992-1999 • K2500 1988-1998 • K2500 Suburban 1992-1999 • K3500 1988-1998 • Tahoe 1995-1999.
Dodge Bull Bars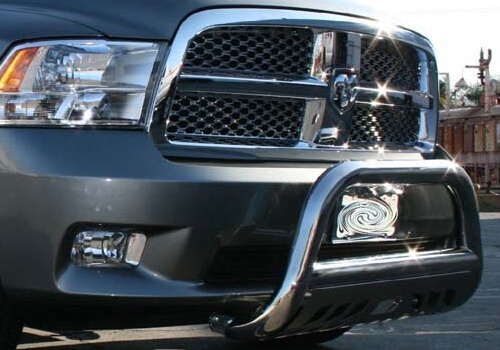 Dodge has been around for over a century, producing attractive-looking and reliable vehicles for people all over the world. The company was founded by the Dodge brothers in 1900 and since then, the brand was thoroughly building its reputation with the main focus on quality and satisfaction of constantly changing customer needs. A division of Chrysler, Dodge used to be its mid-priced brand selling a wide range of vehicles including cars, SUVs, trucks, and vans; nowadays, it markets mainly aggressively-styled and performance-oriented automobiles. Dodge is responsible for manufacturing the most powerful American car, the 2015 Dodge Challenger SRT Hellcat with the output of 707 hp. Among other remarkable Dodge models are the Charger, Dart, Grand Caravan, Journey, etc.
A bull bar is an accessory installed on the front of your vehicle with the aim to protect its frontal part from damages in case of collisions. The Dodge bull bars offered in our catalog feature mirror polished stainless steel or black powder coated tubing. We have considered a number of factors while designing our bull bars to ensure that this accessory will reliably carry out its function. Each Bully bull bar for Dodge found in our inventory features strength and stylish design, so this product will perfectly upgrade your vehicle.
---
FITMENT: NR-201 • NR-201B • NR-202 • NR-202B • NR-203 • NR-203B • NR-204 • NR-204B • NR-205 • NR-205B
Listed as a perfect fit for Dodge:Ram 1500 1994-2001 • Ram 2500 1994-2002 • Ram 3500 1994-2002.

Ford Bull Bars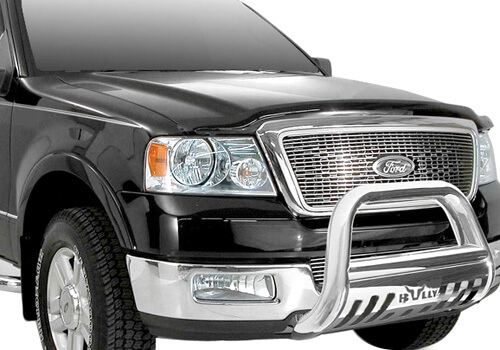 An internationally acclaimed auto manufacturing company, Ford offers a vehicle for every lifestyle, aiming to satisfy the needs of a wide range of customers. Controlled by Ford's descendant, William Clay Ford Jr., the company is committed to providing a positive economic, environmental, and social impact through automotive and mobility technologies. Ford employees, almost 200,000 people from all corners of the world, work together as a global enterprise to create great products, strong business, and better world.
Ford has always produced its vehicles putting the safety of passengers in priority. Modern Ford models are jam-packed with such safety features as Electronic Stability Control, AdvanceTrac system with Roll Stability Control, and Safety Canopy System. However, there is always a way to enhance your safety on the road even more as modern aftermarket industry offers an extensive range of products meant to upgrade your vehicle.
Among other truck accessories, we offer a collection of Ford bull bars that are intended to protect the front of your vehicle from damage. Possessing a stylish look and solid construction, this product will enhance the aggressive appearance of your beast and make it more reliable. Featuring mandrel bent tubing, all Bully bull bars for Ford are strong and durable, so any bull bar you choose will serve you properly for a long time.
---
FITMENT:  NR-301 • NR-301B • NR-302 • NR-302B • NR-303 • NR-303B • NR-304 • NR-304B • NR-305 • NR-305B • NR-306 • NR-306B
Listed as a perfect fit for Ford: Expedition 1997-2002 and F-150 1997-2003.

GMC Bull Bars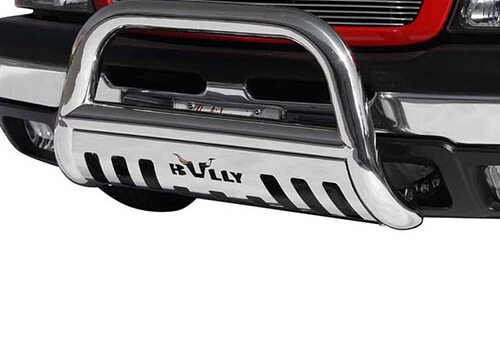 GMC is one of the major divisions of General Motors focused on the manufacture of trucks, SUVs, and vans, although in the past the automaker used to produce motor homes, fire trucks, ambulances, and military vehicles. Originally established in 1901, GMC has been functioning under its current name since 1912. Early GMC models, until the late 50s, were mostly work trucks with an emphasis put on utility and dependability rather than comfort and style. Such models as the 1945 GMC Tanker or the 1951 GMC Canopy Express are highly valued among auto collectors as they're quite hard to find nowadays.
The current GMC lineup includes a range of light- and heavy-duty truck models, namely the Sierra 1500, Sierra 2500HD, Sierra 3500HD, Canyon, and several SUV models such as the Terrain, Acadia, and Yukon. Over the years, GMC managed to earn excellent reputation on the automotive market and as it never stops developing, the future of the brand looks very promising. GMC trucks are true hard workers that are constantly exposed to various dangers. To prevent the damage of your vehicle due to a minor collision, install one of high-quality Bully bull bars for GMC on the front of your truck. This product will not only serve as effective protection, but also considerably upgrade your truck's appearance. If you carefully follow the instructions, the installation of this new accessory won't cause you any troubles. Our GMC bull bars are custom designed to fit your exact vehicle taking into account all the specifications of the model.
---
FITMENT: NR-101 • NR-101B • NR-102 • NR-102B • NR-103 • NR-103B • NR-104 • NR-104B • NR-105 • NR-105B • NR-106 • NR-106B • NR-107 • NR-107B • NR-108 • NR-108B • NR-109 • NR-109B • NR-110 • NR-110B
Listed as a perfect fit for GMC: C1500 1988-1999 • C1500 Suburban 1992-1999 • C2500 1988-2000 • C2500 Suburban 1992-1999 • C3500 1988-2000 • K1500 1988-1999 • K1500 Suburban 1993-1999 • K2500 1988-2000 • K2500 Suburban 1992-1999 • K3500 1988-2000; Yukon 1992-1999.

RAM Bull Bars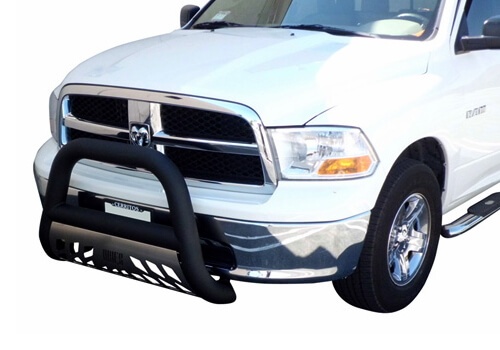 Ram Trucks is a relatively new subdivision of Chrysler established in 2009 after the company had been acquired by the Fiat Group. Its lineup comprises mainly full-size pickup trucks that were formerly marketed under the Dodge Ram nameplate. The idea behind the launch of the brand was to increase public awareness for Chrysler trucks. Concentrating on the needs of "real truck customers", Ram offers a range of sturdy hard-working vehicles, possessing such highly valued features as a powerful drivetrain, solid construction, versatility, and great capabilities. Ram trucks stand out among competitors. For instance, the Ram 1500 is considered the most fuel-efficient full-size pickup truck on the market and the Ram Heavy Duty is praised as the most capable one.
Possessing outstanding capabilities, Ram trucks are meant to cope with any job no matter how hard it is; however, it means that these mighty beasts are more exposed to various damages than other vehicles. To provide additional protection of your truck's front end, install one of our Ram bull bars. Made of rust-resistant, quality materials, these products will certainly withstand the damage resulted from minor collisions and serve you reliably for a long period. Bully bull bars for Ram are both functional and stylish accessories that are worth getting.
---
FITMENT: NR-205 • NR-205B
Listed as a perfect fit for RAM: 2500 2011-2013 • 3500 2011-2013.

Nissan Bull Bars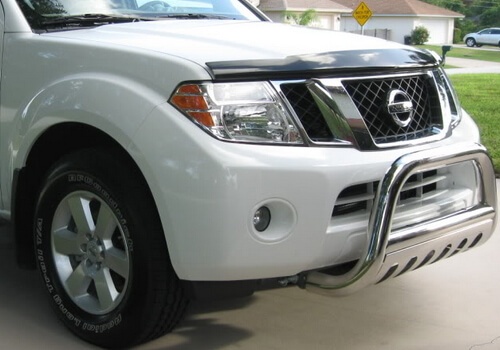 Nissan is a multinational auto manufacturer based in Yokohama, Japan that was launched more than 80 years ago. Placing an emphasis on quality and reliability, the company is respected and trusted all over the world. It's considered the sixth largest automobile brand offering an extensive range of vehicles from luxury sedans to forklift trucks.The name "Nissan" first appeared in 1934 after several Japanese auto manufacturing companies were merged to establish Nissan Motor Co. During the early years of its existence, the brand was marketing vehicles under the Datsun brand. In 1937, the Datsun Type 15, the first mass-produced Japanese vehicle, was released, marking the revolutionary point for the automotive industry. The first Datsun that reached the U.S. market was the 1000 sedan, offered from 1959 till 1961 with 146 units sold. From its very start, the company has been demonstrating a commitment to innovation confidently conquering new market niches and widening its lineup.
Today, Nissan's vehicle range includes electric cars, sports cars, crossovers & SUVs, vans, and trucks. The brand markets such truck models as the Frontier and Titan that have already proved to be extremely capable and reliable. If you own one of these two models or any other Nissan truck, you'll be interested in our line of Bully bull bars for Nissan. We carry upscale products that were carefully designed to match your vehicle's specifications and style. One of our Nissan bull bars will become both a reliable protection feature for your vehicle and a stylish accessory.
---
FITMENT: NR-602 • NR-602B
Listed as a perfect fit for Nissan: Armada LE, SE, SE Off-Road, SL, SV, Titanium, 2005-2012 • Titan 2004-2013.

Toyota Bull Bars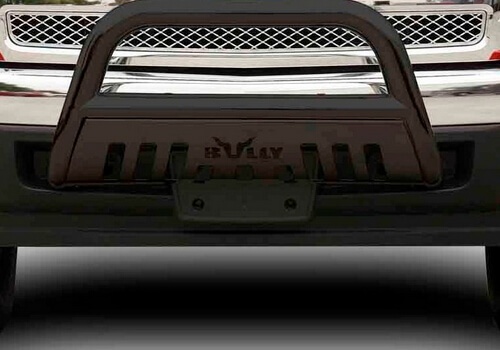 A Japanese company founded in 1937, Toyota is the world's largest auto manufacturer that annually produces over 10 million vehicles. It's a multinational corporation with almost 350,000 employees worldwide. The brand has earned a rock solid reputation in the industry for its highly refined, well-crafted vehicles. Toyota is synonymous with quality, reliability, and durability; the features that characterize each of 200 million automobiles released by the brand throughout its history. The current Toyota emblem first appeared in 1989 for the 50th anniversary of the company. It consists of three ovals that on one hand, symbolize "T" that stands for Toyota and on the other hand, represent a trusted and beneficial relationship between the company and the customer.
Toyota stands at the forefront of the development of environmentally-friendly technologies, aiming to build a better future with its line of hybrid, plug-in hybrid, electric, and fuel cell vehicles. The Toyota Prius C, a full hybrid gasoline-electric car, was chosen as the 2016 Eco-Friendly Car of the Year by numerous respected sources. For truck and SUV owners, we offer a line of superior quality Bully bull bars for Toyota that are professionally crafted to ensure your satisfaction. Possessing a solid construction and an attractive design, the available Toyota bull bars will become a great protection for your vehicle, enhancing its bold appearance.
---
FITMENT: NR-401 • NR-401B • NR-403 • NR-403B • NR-405 • NR-405B
Listed as a perfect fit for Toyota: Sequoia 2001-2007 • Tundra 2000-2006.

Cadillac Bull Bars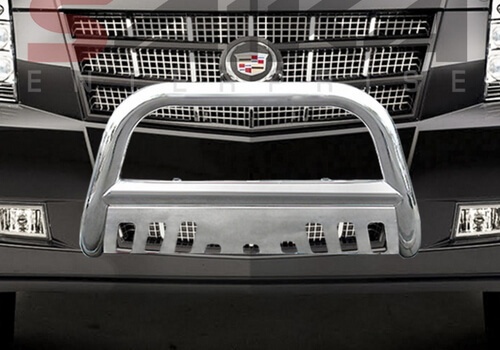 A division of GM, Cadillac is America's most prestigious luxury auto manufacturer. Its roots trace back to 1701, when Antoine de la Mothe Cadillac together with a group of French explorers founded Ville d'Etroit in the northern part of the USA, that later became a well-known American industrial city called Detroit. The auto company itself was actually established only in 1902 by Henry Martyn Leland, a manufacturer of automotive parts, who decided to name the brand after the city's founder. He greatly contributed to the introduction of one of the first Cadillac models, the Osceola, that turned out to be the first American-made closed-body car that set the trend for other makes. By the time General Motors acquired the brand, it had already been well-recognized possessing excellent reputation for precise craftsmanship and usage of advanced technologies.
Today, Cadillac sells its vehicles not only in the U.S., but also in Canada, Europe, Middle East, China, Japan, and South Korea. The company's lineup is comprised of sedans, coupes, crossovers, and SUVs, all praised for eye-catching designs, powerful engines, sharp handling, and a number of luxury features. Bully bull bars for Cadillac can perfectly emphasize the rugged style of your luxury truck. This accessory is meant to protect the frontal part of your vehicle from various damages thanks to rigid construction. The Cadillac bull bars available in our assortment are easy to install and they will reliably serve their purpose for years to come.
---
FITMENT: NR-105 • NR-105B
Listed as a perfect fit for Chevrolet: Escalade 2007-2012.

Best Bull Bars & Brush Guards
Bully Bull Bars Reviews
Bully Bull Bar
Average rating:
3 reviews
Feb 2, 2018
Location (Sity, State):
Watertown, wi
I have a Bully Stainless bull bar on the front of my 2001 Silverado. This morning I hit a deer at 55 mph,the only damage is it bent the center of the bull bar. This Bully product saved the front clip on my truck!! I have had other brands ,but this one is the real deal! Not only looks great ,but actually did the job.Thank you Bully for a superb product!
Aug 30, 2017
Location (Sity, State):
Utica, MI
This bar is well built, looks nice and is priced right. Mine has provision for auxiliary lights, so it took the stress out of guessing where the holes for aftermarket lights are to be drilled.
Jul 28, 2017
Location (Sity, State):
Maple Grove, MN
It looks very sturdy. The finish is quality and welds are finished very smoothly. The price on this bull bar is simply unbeatable, I think it is the greatest add-on to my truck ever.