Bully Tie-Downs and Truck Bed Hooks
Bully knows the best and the most secure way to tie down your cargo in your pickup truck's bed. A set of Bully tie downs will immediately bring the functionality of your pickup truck up a hundred points. Just take a look at Bully's extensive selection of tie downs and anchor points that provide the ultimate safety for whatever cargo you haul. Safely secure your cargo in your truck bed with a complete line of Bully tie down stainless steel hardware.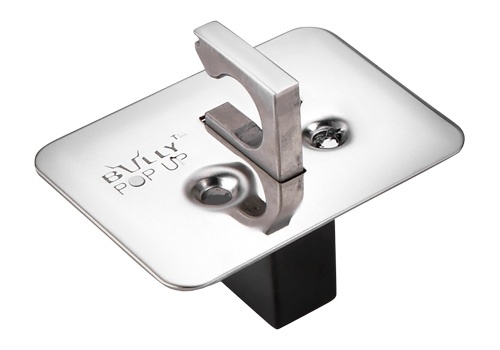 Bully's line of tie down hardware includes clamp on truck bed hooks, pop-up tie downs, stake pocket tie downs, bull rings, and stainless steel truck clamps, which can be used to tie down cargo of virtually any shape and size. Tie downs and straps at Bullyusa.com feature rust resistant hooks, are easy to use and have the necessary strength and durability for the job. Bully's truck hooks are designed to mount easily into stake holes without drilling.
Just like many other truck accessories, truck tie downs are not all made the same. Understanding that every piece of equipment you haul in your pickup bed is important for you, Bully has designed its tie downs and anchor points to keep your load securely in the bed when you're on the road. Use Bully tie down straps, recovery straps and ratchet tie-downs with Bully tie down hardware to increase the safety of your load. Avoid using inferior quality accessories on your pickup truck, as you not only endanger your own and other drivers' safety, but also risk losing your load on a tight corner.
Bully goes the extra mile to maintain an industry standard for keeping your valuable cargo, equipment, and construction supplies securely tied down during transportation. Each one of Bully products is made from durable materials, designed for a perfect fit on any type of truck, and provides years of extensive use. With heavy-duty tie down hardware by Bully, you can haul just about any type of cargo with the ultimate piece of mind.
Access our store as a guest!
Chevrolet Tie-Downs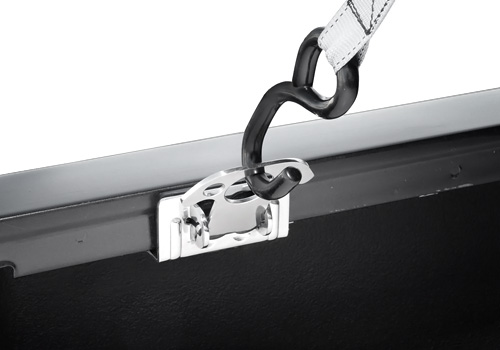 One of the world's most popular vehicle manufacturers, Chevrolet was established back in 1911 by a Swiss-born racer Louis Chevrolet and William C. Durant, the founder of General Motors. From the very beginning, Chevrolet models offered features typical for more expensive vehicles. For instance, their first model, the Series C Classic Six, came with electric headlamps and electric starter, although they were rare even for luxury cars of that time.
For the following years, Chevrolet cars offered such innovative features for the time as fuel injection, electronic stability control, safety glass, and anti-lock brakes, which were mainly available for luxury cars. Nowadays the company is one the leaders of the automobile market and has operation facilities in more than 140 countries around the globe.
Cargo should be secured reliably to avoid its loss or damage. Our quality Chevrolet tie-downs and anchor points will help you have the job done. Produced from premium materials, they also are corrosion-resistant. You can install tie-downs easily and quickly into stake holes without drilling. Take a look at our range of Bully tailgate locks, hitch covers, truck steps, and other truck accessories if you want to improve the convenience of your Chevy.
Dodge Tie-Downs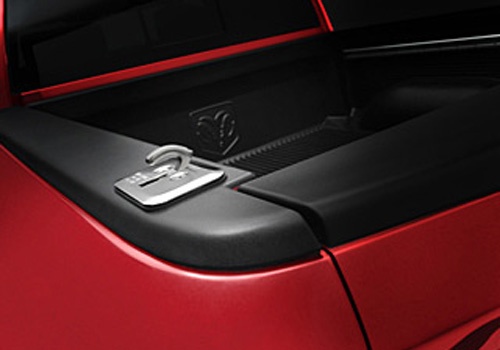 Dodge was established back in 1900 as the Dodge Brothers company. The founders of the company, Horace and John Dodge, originally made bicycles and components, but then turned to the automotive sphere. They collaborated with the well-known automaker, Ford, that had a rough time then. The Dodge brothers created production drawings and all mechanical components for Ford cars. Besides, they also redesigned the engine, rear axle, and other key parts according to Thomas McPherson. In 1914, the Dodge brothers introduced their own car, the Model 30. It came with some innovative features and was more upscale than the legendary Ford Model T.
Nowadays, Dodge vehicles still provide innovative features and advanced technologies and are highly popular in North America. As a part of FCA US LLC (former Chrysler Corporation), they are known in numerous countries around the globe. Among the most popular Dodge vehicles are the Caravan, Viper, Durango, and Challenger.
Having your cargo secured properly is of crucial importance. Consider installing Dodge tie-downs on your pickup truck. Attaching securely to the body of your vehicle and being made from premium materials, they allow you to be sure that your stuff won't be blown out from the back of your Dodge pickup truck.
Ford Tie-Downs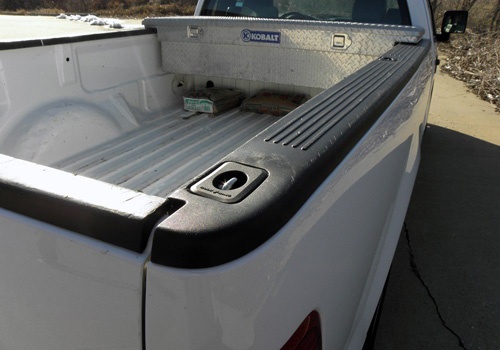 Probably the most experienced vehicle manufacturer in the world today, Ford Motor Company was founded in 1903 with only 12 investors and 1,000 shares. Almost the entire investment capital had been spent by the time when the first Ford Model A was sold. However, in just a bit more than two months Ford earned a profit which was bigger than the original investment capital. Successful introduction of the moving assembly line allowed the company to make their models affordable and left competitors far behind.
Nowadays Ford still holds one of the leading positions on the automobile market of North America, Europe, and worldwide with about 200,000 employees working for it. The company markets vehicles under Ford and Lincoln brands.
Pickup truck owners know that it is really important to have cargo reliably secured in the truck bed. Because it could be really frustrating to find your stuff blown out from the bed of your Ford pickup truck when going down the highway. Installing tie-downs is a great way to avoid it. We carry a range of quality Ford tie-downs built to last and secure your cargo reliably. Our tie-down anchors give you the peace of mind ensuring that your cargo won't be lost in the middle of nowhere.
GMC Tie-Downs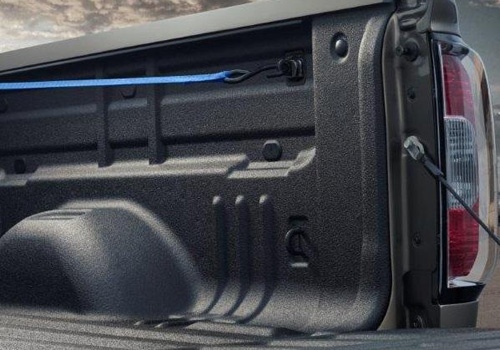 GMC has been producing trucks for more than a century, since 1912. It was formed on the basis of some of the first truck manufacturers, Rapid and Reliance. During the early years, GMC offered trucks with either curved "French" front ends or upright fronts. In 1927, newly designed models were unveiled. They came with headlights attached to the chrome-plated radiator and stylized fenders, featuring now a more distinctive look.
In 1987, GMC trucks as we know them nowadays were introduced. They featured a fresh contemporary look, were more aerodynamic and had the Sierra badge. Today the GMC Sierra and its mechanical sibling, the Chevy Silverado, are some of the most popular pickup trucks in North America and around the world.
Improve the functionality of your pickup truck with a set of quality GMC tie-downs. They can be installed easily and quickly without drilling. They enable you to haul a motorcycle or another large cargo safely and securely. Besides, they are strong enough to move your friend's car. The installation process is quick, easy, and effortless, you can do it by yourself. To enhance the utility of your GMC truck even more, browse our selection of Bully hitch steps, tailgate locks, hitch covers, and others.
RAM Tie-Downs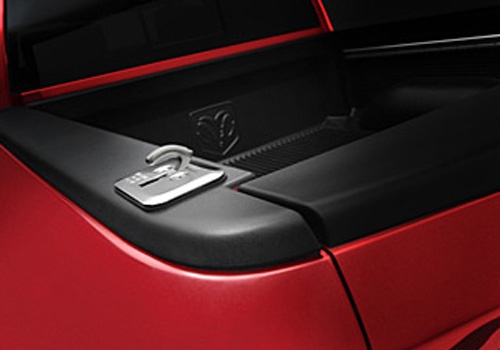 One of the most popular manufacturers of pickup trucks, Ram Trucks was established in 2010. Their logo appeared much earlier, in 1933, when Dodge models received the Ram hood ornament to confirm their ruggedness and gained a lot of recognition. In the 1950s, the logo was dropped, but in 1981 it was revived. It was given to the newly launched Dodge Ram pickup truck. And again, the Ram logo contributed to the popularity of the model it was given to. Originally simply designed truck was praised for durability and dependability, but later it became more upmarket, enjoying higher popularity. Since 2010, Ram Trucks as a standalone brand has been producing not only pickup trucks, but also commercial vehicles, the Promaster and Promaster City.
Your Ram is a dependable workhorse, and you can improve its functionality by installing a set of tie-downs. These useful accessories allow you to secure cargo in the truck bed and rest assured that you won't lose it driving along the highway. The installation process is easy like a breeze and won't take much time and effort, you don't even have to drill. Made from high-grade materials, our RAM tie-downs and anchor points are tough and reliable just like your truck. Besides, they are rust-resistant. You can also find other useful Bully truck accessories in our catalog, like Bully trailer lights, hitch covers, tonneau covers, etc.
FITMENT: WTD-810 • WTD-811 • WTD-823 • WTD-823S
Best Tie-Downs & Truck Bed Hooks
Bully Tie-Downs Reviews
Bully Tie Down
Average rating:
2 reviews
Jan 2, 2018
Location (Sity, State):
Middleville, MI
The anchor itself seems okay, but the hardware that comes with it could be a little stronger. That's why I give it a 4 star rating.
Jul 26, 2017
Location (Sity, State):
Owego, NY
I've tested these anchors out many times and they work well for me and the cargo I need to transport, though I try not to stress them much.