Spinner Hubcaps by Viking Horns
Spinner hubcaps became popular in the 1950s and 1960s as a way to customize cars. They were often used on muscle cars and hot rods, but they can be used on any type of vehicle. Viking Horns is one of the leading manufacturers of spinner hubcaps in the United States. Many people choose their spinner hubcaps because they add a unique look to their car. They are also relatively easy to install, which is another reason for their popularity.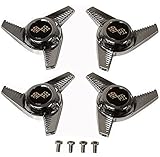 What to check before buying spinner hubcaps?
If you are interested in adding spinner hubcaps to your car, there are a few things you need to know. First, you need to make sure that your wheel covers are compatible with spinners. Most factory-installed wheel covers will work, but some aftermarket covers may not. You also need to make sure that your wheels are the correct size for the spinners. Once you have confirmed that your car is compatible with spinner hubcaps, you can begin the installation.