Bully Wheel Covers and Skins
Imposter wheel covers are the ideal way to give your vehicle a quick makeover. Whether it's a lost factory hubcap or your desire to give your wheels a totally new look, imposter wheel covers are right what you need! Bully wheel skins come in an array of amazing styles and sizes to make any car owner happy with the new appearance of their vehicle. Personalize the look of your wheels and protect them against damage with superior Bully wheel covers!
Features: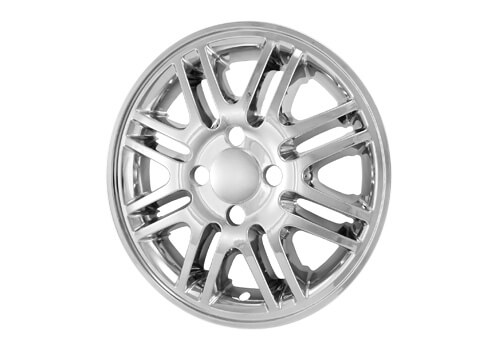 Designed to beef up the look of your vehicle;
High-impact ABS plastic construction;
Rust-resistant;
Car-wash resistant;
Top-notch design for a secure fit;
Easy to install and easy to clean;
Fit most domestic vehicles.
When you need stylish and durable wheel covers for your vehicle, rely on Bully, a renowned manufacturer standing behind its products. Protect your wheels from damage and add a bit of flair to its exterior with one-of-a-kind imposter wheel skins from Bully. These great add-ons are made from top-grade materials to give you durable, long-lasting covers that can withstand extreme conditions. Bully wheel covers feature innovative design to snap into place and ensure a perfect fit. Bully's wheel skins have been developed to be car-wash resistant, so you can wash your vehicle with peace of mind.
Bully wheel covers are competitively priced and come in a wide range of sizes and eye-catching designs to make your wheels flashier and sportier in nothing flat. Don't hesitate and transform your vehicle's "factory" look with Bully wheel covers!
Access our store as a guest!
Chevrolet Wheel Covers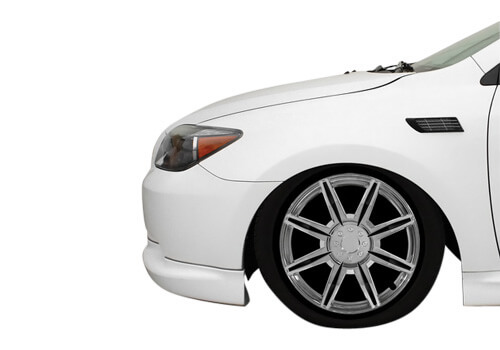 Chevrolet is an American automotive brand, a division of GM. The company was founded in 1911 and was named after a fearless racer Louis Chevrolet. The company's co-founder William C. Durant introduced the well-known 'bowtie' emblem in 1913. According to his version of how this emblem came into existence, he was inspired by the wallpaper pattern in a Parisian hotel. Today Chevrolet vehicles with the golden 'bowtie' emblem are sold in most automotive markets all over the world. The company produces a wide selection of vehicles (including subcompact cars and medium-duty commercial trucks) that deliver great performance and an excellent driving experience.
Wheel covers are some of the most popular accessories on the market. Adding a set of wheel covers is one of the easiest and quickest ways to personalize a vehicle. They protect your wheels and look great while doing it. We stock a wide range of Chevrolet wheel covers at the most attractive prices. Choose from a wide range of sizes and designs and ride in style with top-notch Bully wheel covers for Chevrolet! They are made from the finest materials and stand up to weather without rusting and corroding. Besides, Bully covers offer easy installation right out of the box.
Dodge Wheel Covers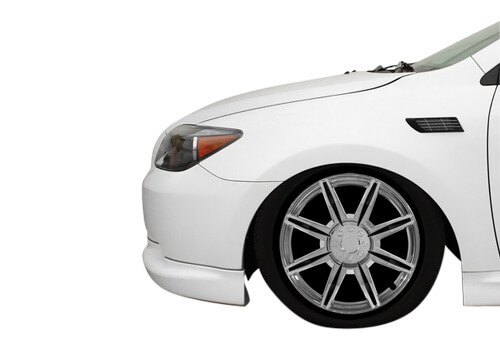 Dodge was founded in 1900 by the Dodge brothers. Dodge used to sell bicycles, but soon became a supplier of parts and assemblies to the automotive manufacturers. Taking into consideration the ever-increasing demand for vehicles, Dodge founders brought up the idea about creating their own lineup. Since 1928, Dodge has been a division of Chrysler. Today Dodge is considered a "muscle" brand and markets a wide range of vehicles that offers cool design and incredible performance capability. Dodge also offers the lower-priced package of Chrysler-badged vehicles. The company provides a great number of new technologies and exclusive features to meet the needs of its customers.
If your vehicle is missing a hubcap or cover, or is simply damaged due to the rigors of everyday driving, finding a replacement wheel cover is the best way to restore your vehicle's attractive look. We carry an extensive inventory of top-of-the-line Dodge wheel covers. Wheel covers are an easy and exciting way to add a new custom look to your vehicle. Bully wheel covers for Dodge look great and fit tight. Ranging in sizes, they feature a durable long-lasting finish that is capable of withstanding a variety of conditions. Check out our online catalog and choose a set of new wheel covers that won't stay unnoticed.
Ford Wheel Covers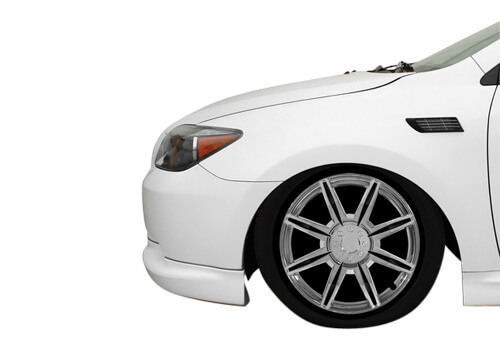 Ford is one of the most successful and popular automotive manufacturers worldwide. The company started out in 1903 and year by year has earned its status and global respect. Ford constantly develops innovative technologies that are changing the world. The company pays great attention to environmental protection and strives to comply with environmental regulations. Ford provides hybrid and plug-in electric vehicles, flexible fuel vehicles, and aims to create more fuel-efficient autos. Besides its legendary muscle cars, Ford manufactures a wide selection of vehicles for every lifestyle and its lineup includes reliable passenger cars, capable and convenient crossovers and SUVs, versatile and hardworking trucks.
Today there are numerous attractive accessories that can enhance your vehicle's appearance. Wheel covers are ideal upgrades for every vehicle! They come in a variety of styles and finishes to complement the character of your vehicle. We carry an extensive variety of Ford wheel covers at very attractive prices. Customize your favorite vehicle with superior Bully wheel covers for Ford! They look great and ensure a perfect fit right out of the box. Wheel covers always look great and hide the 'dull' factory look of your wheels. Check out our virtual catalog and choose the best set for your Ford.
GMC Wheel Covers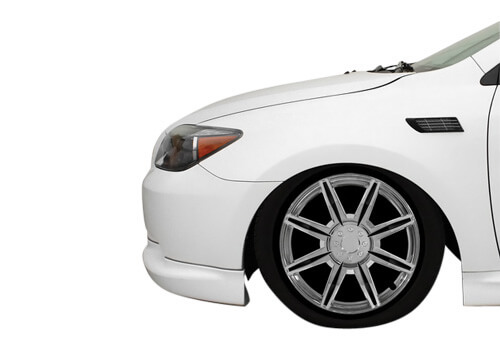 General Motors Truck Company, or simply GMC, is a division of GM, headquartered in Detroit. GMC currently focuses on producing commercial and pickup trucks, buses, vans and SUVs that have power to get the job done. GMC produces vehicles that deliver comfort and ample room as well as great performance and capability. GMC vehicles also offer dozens of unique features that make them more attractive to customers. Since 1920, GMC vehicles have been virtually identical to Chevy vehicles. The difference is that Chevy sells vehicles to the mass-market, while GMC vehicles are widely used in the commercial sector.
You probably like the look of your vehicle, but sometimes you crave a little extra. That's where exterior car accessories come in. We offer a wide range of GMC wheel covers at prices you can afford! We have them in a variety of styles and finishes to complement your vehicle's look and help you ride in style. Give your vehicle a dandy look and make others green with envy with top-notch Bully wheel covers for GMC! Don't waste your time and check out our online catalog right now to get your perfect set of wheel covers from the name you know and trust!
RAM Wheel Covers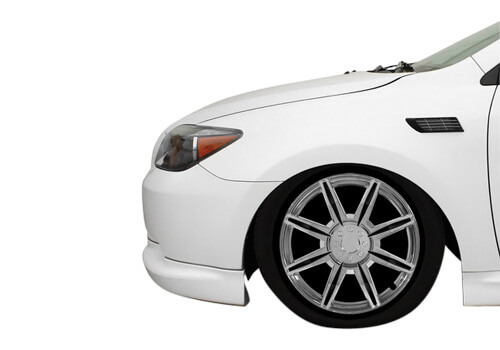 RAM is a truck division of Chrysler Group. Initially, the brand was a spin-off from Dodge and got its name from the Dodge Ram line of pickup trucks. The RAM's logo was created to set the brand apart as something unique and powerful. Featuring the head of a ram, this logo became one of the most revered and recognized logos in the world. Today RAM focuses on producing "real" trucks and vans for those customers who want to make maximum use of their rig. RAM offers a selection of capable trucks with great payload capacity, and these trucks are the perfect choice for hauling and towing.
We keep an extensive variety of superior accessories for your vehicle. Here you'll find virtually everything you may be looking for to make your favorite RAM stand out from the rest of look-alikes. What about RAM wheel covers from the brand you know and trust? Choose from our selection of top-notch Bully wheel covers for RAM. They are available in a variety of styles and finishes to complement your vehicle's look, and they don't cost a fortune. Whether it's for the look or for function, browse our virtual catalog and choose the best set of wheel covers for your truck.
Nissan Wheel Covers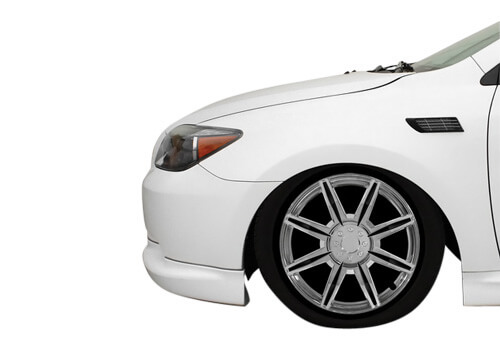 The history of Nissan Motor Company can be traced back to 1911, when the Kwaishinsha Motor Car Works was established. In the 1950s, Nissan began to expand into the global automotive market. Over the years, the company rose to the top of the automotive industry by producing reliable, fuel-efficient, powerful and full-of-unique-features vehicles that can meet all needs of customers. The company is also going to introduce autonomous cars to the mass market by 2020. Today Nissan has several divisions such as Datsun, Infiniti and Nismo. If you're looking for comfort and reliability that won't cost you a fortune, Nissan vehicles are for you!
Looking for something special to make your vehicle different from the rest? We have the exterior accessories you need to personalize your car, truck, or SUV. Our online catalog consists of products from top brands only, so you can shop with confidence, knowing that you'll get the best value for your money. Customize your vehicle with top-notch Nissan wheel covers. They come in a wide range of styles and finishes to complement the look of your vehicle and serve you for years to come. Check out our always-growing virtual catalog and choose the perfect set of Bully wheel covers for Nissan.
Toyota Wheel Covers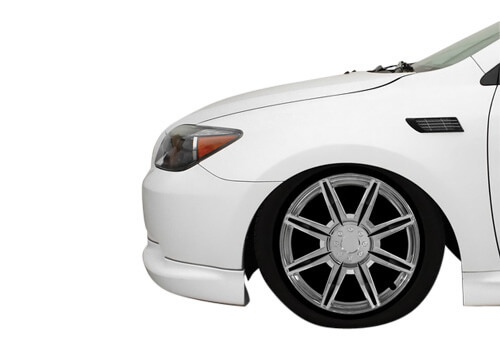 Toyota is a famous Japanese automobile manufacturer that was established as a spin-off from Toyota Industries in 1937. Toyota manufactures different types of super-durable and reliable automobiles and commercial vehicles. In addition, the company produces luxury-type vehicles under its Lexus division and Toyota-branded vehicles such as the Crown, Crown Majesta and Century. Toyota is extremely successful in creating and marketing environmentally friendly vehicles like the Toyota Prius hybrid, the amazing Toyota Mirai FCV, the fascinating Toyota RAV4 EV, and so on. Toyota is the world's first automaker to produce more than 10 million vehicles per year.
Our online selection of accessories is growing by the day. We carry everything you may need to personalize your vehicle and make it stand out. We have an extensive variety of Toyota wheel covers. Check out our virtual catalog and choose the best set of wheel covers at prices you can afford. Bully wheel covers for Toyota come in a wide range styles and finishes to complement your vehicle's look. We work with renowned manufacturers to guarantee outstanding quality and durability. There's no need looking for best-in-class accessories somewhere else as we've handpicked them all under one roof.
Cadillac Wheel Covers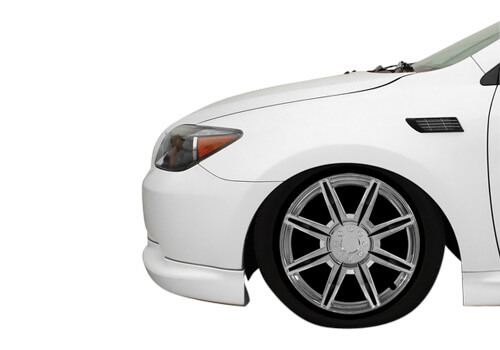 One of the oldest automakers in the world, Cadillac was established in 1902. The brand is named after the founder of Detroit. Cadillac is a luxury division of General Motors and markets its automobiles worldwide. Cadillac has always been at the forefront of technological advances; it developed 3 engines, including the V8 engine that has set the standard for the U.S. automotive industry, introduced full electrical systems, and much more. Approximately half of Cadillac innovations are used in many cars today. Cadillac produces only luxury vehicles with stunning design that deliver great performance and a fascinating driving experience. It's no wonder that Cadillac has won the Car of the Year award several times.
We have an impressively wide selection of top-of-the-line accessories for your vehicle. If you're looking to change the factory look of your vehicle's wheels, check out our ever-expanding online catalog of Cadillac wheel covers at the most fair prices. We work with renowned manufacturers to deliver only premium quality and everlasting durability to each and every customer. Whether it's for the look or for function, take a look at Bully wheel covers for Cadillac. They are available in a range of styles and finishes and ensure a perfect fit right out of the box. Don't waste your time and enjoy online shopping!
Honda Wheel Covers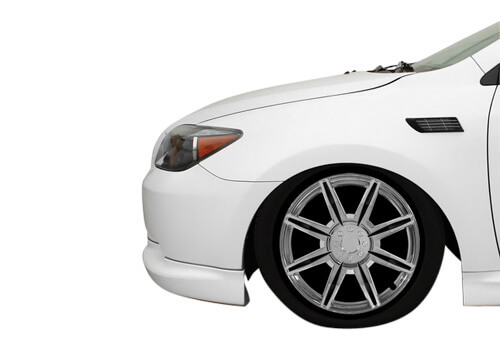 Honda is a Japanese manufacturer of power equipment, automobiles, and motorcycles. Honda's lineup consists of different types of passenger automobiles, luxury and commercial vehicles, motorcycles and scooters. In addition to marketing vehicles, Honda manufactures a long list of products such as engines, power generators, robotics, and so on. The brand also offers a wide range of electric cars and alternative fuel vehicles. The company is one of the world's largest multinational corporations and a major Japanese exporter to the USA and to other countries. The Honda Accord and the Civic became one of the best-selling autos in their class.
Wheel covers are ideal upgrades for drivers looking to make their vehicle one-of-a-kind. We provide an impressive selection of Honda wheel covers at fair prices. Our wheel covers are made of high-quality materials to withstand extreme conditions and last for a long time. We carry superior Bully wheel covers for Honda; they're available in a variety of styles and finishes to complement the look of your vehicle. Bully wheel covers ensure a perfect fit right out of the box, so installation is as easy as ABC. We also keep our prices affordable.
Hyundai Wheel Covers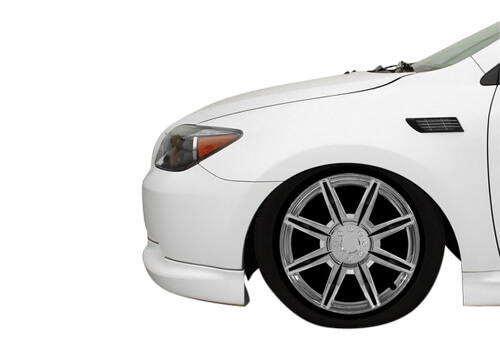 Hyundai Motor Company was established in 1967. A year later, the company manufactured its first vehicle, the Cortina. The reputation of Hyundai was not always perfect. In the 80s, it was damaged due to poor reliability of Hyundai vehicles and quality complaints. However, Hyundai made massive improvements in design and technology of its vehicles and today the company is one of the largest automakers in the world. Sedans, hatchbacks, sports cars, SUVs, vans and commercial vehicles by Hyundai are sold in more than 190 countries worldwide. The company is also actively involved in environmental movements, and it produces hybrid and electric vehicles and takes part in numerous environmental projects.
Looking for attractive accessories to outfit your vehicle's exterior? Then you should take a look at our premium selection of Hyundai wheel covers. They come in a variety of designs and finishes to customize your vehicle's appearance in no time flat. Wheel covers also hide the unattractive lug nuts. So, whether it's for the look or for function, our wheel covers will do the job just right! We offer top-of-the-line Bully wheel covers for Hyundai. They are made from superior materials and feature attractive designs to complement your vehicle and make others jealous. Bully covers are designed with extreme precision, so they'll fit just right!
Jeep Wheel Covers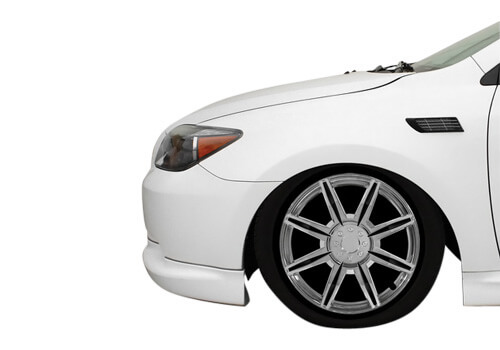 For 75 years, Jeep has been developing an American brand that associates with freedom, adventure, and passion. The company's commitment to reliable engineering and power has forged a strong bond between the vehicles and their owners. The brand's core values such as supreme quality and outstanding capability are inherited in every Jeep model. For numerous Jeep owners, the brand's slogan "Go Anywhere. Do Anything." has long become the life credo.
The first Jeep was born at the time of the Second World War in the heat of battle, becoming a true hero for thousands of Allied soldiers all over the world. The equally dependable civilian version established the basis of the brand, making it an unrivaled leader in 4×4 technology. Over the years, the company released a number of legendary models such as the Jeep Wrangler and Jeep Cherokee.
With our Jeep wheel covers, you will easily give your truck a unique, aggressive look. We ensure quick and simple installation of this accessory as we manufacture our products with great care of our customers. Express your individual style upgrading your vehicle with custom Bully wheel covers for Jeep that will be a distinctive decoration for your beast for many miles.
KIA Wheel Covers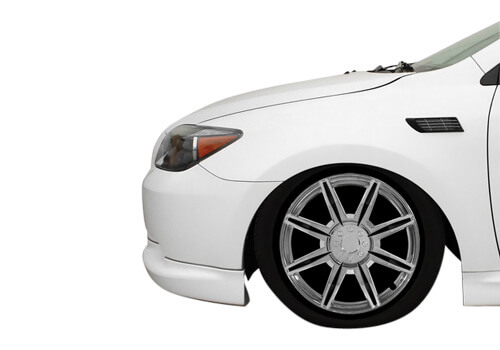 With 2.7 million vehicles sold annually, Kia Motors is the second-biggest auto manufacturer in South Korea. Established in 1944 as Kyungsung Precision Industry, Kia was originally manufacturing steel tubing and bicycle parts. From the late 50s, the company began building small motorcycles, and later, after accumulating enough experience, it made first attempts to produce automobiles. In 1973, the company launched its first manufacturing facility, the Sohari Plant, that was fully integrated and equipped with the latest machinery. A year later, the first Kia-built model was introduced, a mid-size passenger car called Brisa. The brand's success attracted attention of foreign automakers, namely Fiat and Peugeot and as a result, several jointly developed models saw the world.
The Kia brand appeared on the U.S. market in 1992 with the introduction of the compact Sephia. The company's original small four-dealership network was steadily expanding through the years, covering each American state. Today, Kia markets a great range of vehicles, including luxury sedans, compact and mid-size cars, crossovers, minivans, and hybrids.
We offer a variety of products meant to upgrade the appearance of your vehicle, Bully wheel covers for Kia are among them. Install one of our sets of Kia wheel covers on your factory wheels and make your automobile stand out on the road.
Lexus Wheel Covers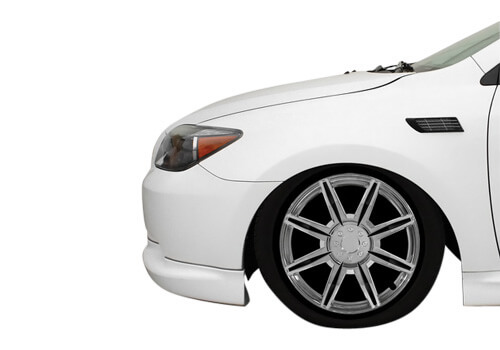 A luxury division of the Japanese auto manufacturer Toyota, Lexus is a widely-known brand, whose vehicles can be seen on the roads of more than 70 countries all over the globe. Present on the market since 1989, Lexus has earned a well-deserved reputation for its highly refined premium vehicles. Among true Lexus features are a quiet, well-crafted cabin, a smooth ride, and outstanding performance provided by powerful yet nearly silent motors. Headquartered in Nagoya, Japan, the company has operational centers in Brussels, Belgium and Torrance, California, the U.S.
Lexus originated from Toyota's intention to make the world's best car. A premium sedan with a code name F1, developed as part of the project, led to the introduction of the Lexus LS 400. Later on, coupe, sedan, convertible, and SUV models were added to the lineup. The list of the most remarkable Lexus vehicles undoubtedly includes the Lexus CT, a hybrid electric car, the Lexus IS, a sport sedan, the Lexus GS, a mid-size luxury car, and the Lexus GX, a mid-size SUV.
Each Lexus model possesses an exclusive design with well-thought stylish accents. However, if you want to customize your precious vehicle and express your sense of style, upgrade it with a new set of Lexus wheel covers. These products will not only make your auto unique, but also become a reliable protection for your wheels. Bully wheel covers for Lexus are the accessories of high-end quality that are thoroughly developed to match your vehicle in size and look.
Mazda Wheel Covers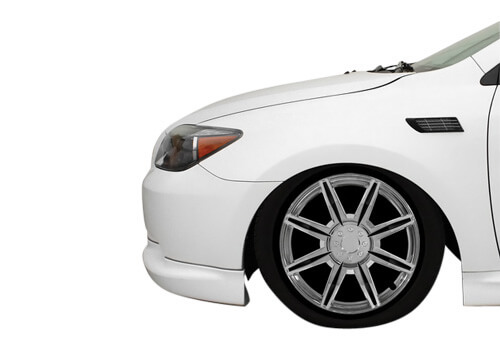 Mazda's history is closely connected with the history of Hiroshima, a region that has defined the indomitable spirit of the brand. Just like Hiroshima citizens were tirelessly working to rebuild the city after the war, Mazda never gives up and keeps moving forward, boldly conquering all challenges, no matter how difficult or even impossible they might seem. With its innovative approach that gave birth to globally praised SKYACTIV technology and KODO Soul of Motion design, the company aims to create harmony between people, vehicles, and environment.
Mazda was established in 1920 by Jujiro Matsuda, a Japanese industrialist and businessman. The name of the company originates from Ahura Mazda, a god of light and wisdom from early civilizations in western Asia. The brand's emblem depicts soaring wings that represent Mazda's dedication to continuous growth and improvement. Nowadays, the automaker produces a wide range of passenger cars and commercial vehicles, distributing them worldwide. Among the company's most prominent models are the Mazda MX-5, Cosmo, Savanna, Capella, and the Luce.
Today, the variety of aftermarket products is so immense that making your vehicle truly unique is as simple as never before. Pick a set of Mazda wheel covers that will not only perfectly fit your vehicle, but will also make it look terrific. Bully wheel covers for Mazda are professionally manufactured of durable materials such as high-grade ABS plastic to deliver the quality you deserve.
Mercury Wheel Covers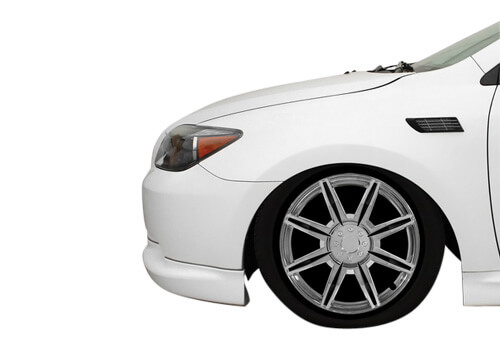 The Mercury division was founded in 1938 by Edsel Ford, the president of Ford Motor Company during the first part of the 20th century. The brand was supposed to market premium entry-level vehicles bridging the price gap between Ford and Lincoln models. The automobiles under the Mercury nameplate offered unique styling cues, innovative features, and higher capabilities. The brand's name originated from the Roman mythology; Mercury was the god of commerce and financial gain. In 1939, the company released its first vehicle, the Eight, that was an all-new car. However, the following models were sharing bodies with Lincoln and Ford autos as the manufacturer aimed to reduce production costs.
In 2010, Ford announced its plan to discontinue the Mercury division, focusing its efforts solely on the Ford and Lincoln brands. Throughout a 70-year-long history, the automaker produced a number of great models including the Mercury Capri, Cougar Eliminator, Milan, and Marauder.
We offer a line of Mercury wheel covers scrupulously engineered to fit over original wheels of your vehicle, granting it a one-of-a-kind look. Get a new set of Bully wheel covers for Mercury featuring supreme quality and attractive design. These aftermarket products are developed for your satisfaction, so every time you'll cast a glance on your auto equipped with this stylish accessory, you'll certainly feel the pride of ownership.
Mitsubishi Wheel Covers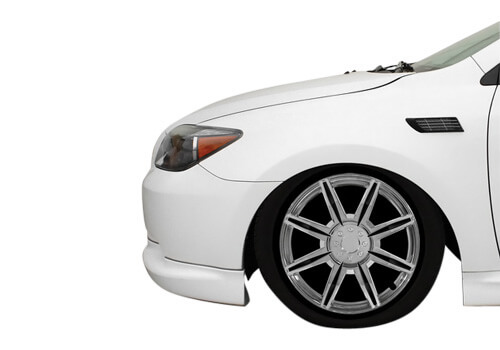 Mitsubishi started the mass production of passenger vehicles in 1960, though their automotive origins date back to 1917. That year the company launched the first Japanese series production car, the Model A. This 4-door 7-seat sedan was positioned as a luxury automobile and came with a 2.8 L I4 engine good for 36 hp. Its top speed was rated at 60 mph. Only 22 units were built and the company focused on commercial vehicles.
In the 1960s, Mitsubishi unveiled the compact 500 and two light passenger vehicles, the 360 Van and 360 Pickup. In 1970, Mitsubishi Motors became a standalone company. The next year the Colt hit the market of the U.S., though it was sold under the Dodge badge. By the end of the decade Mitsubishi produced over 1 million vehicles per year. Since 1982, they have been marketing vehicles under the Mitsubishi name. The current model range includes passenger and electric cars and crossovers.
If you want to customize your Mitsubishi, we offer a great solution. Install aftermarket wheel covers and you will add a custom look to your vehicle. We carry a range of style and finish options, so you will easily find the cover to match both your Mitsubishi and your taste. Our Mitsubishi wheel covers are produced from high grade materials, so they provide quality function for years to come.
Subaru Wheel Covers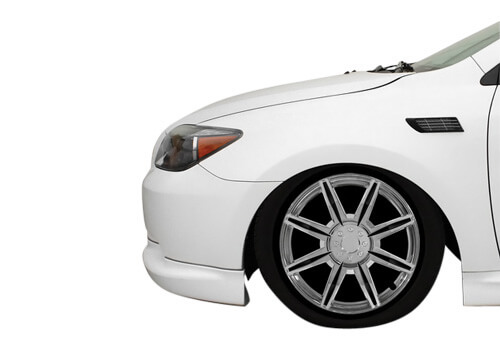 A division of Fuji Heavy Industries, Subaru was founded back in 1953. The name of the vehicle maker means "unite" in Japanese, as its parent company was established on the basis of a range of Japanese companies that merged together. In 1954, they released the first car, named the P-1 (then renamed the Subaru 1500). It came with a four-cylinder engine and independent suspension (front-wheel wishbone-type). Besides, the P-1 was the first Japanese-designed car to come with a monocoque body. The next model by Subaru was the 360 and it became much more popular than its predecessor.
In the 1980s, the company developed the first electronically controlled CVT (continuously variable transmission) in the world. In the next decade Subaru won the Manufacturers' title at the World Rally Championship for three consecutive years and became the first Japanese vehicle maker to reach this achievement.
In case you want to add some custom look to your Subaru, browse through our digital catalog. Here you will find a collection of quality wheel covers made of high grade materials. We carry various finish and design options for you to get some special cover for your special Subaru. Bully products are designed to be installed by you easily in a matter of minutes.
Suzuki Wheel Covers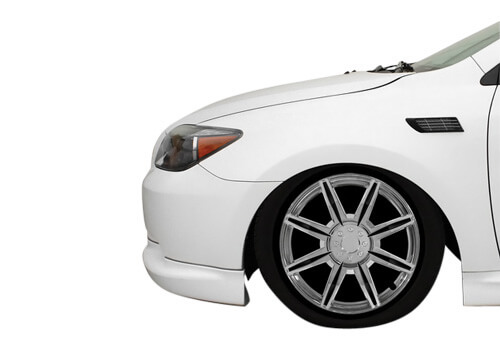 Suzuki was set up in 1909 by Michio Suzuki. Originally the company was named Suzuki Loom Works and specialized in the development and manufacture of weaving machines. In the 1950s, Suzuki changed its focus and began producing vehicles. In 1955, Suzuki launched a compact car, the Suzulight, that denoted a new era of Japanese lightweight automobiles. Six years later, in 1961, they introduced a pickup truck, the Carry, also known as the Suzulight Carry.
In the 1980s, Suzuki collaborated with General Motors and their models were rebadged and sold by GM in the U.S. In 1985, Suzuki started to market vehicles under its own name in the USA and they had immediate success. By the end of the decade the automaker reached the mark of 10 million vehicles produced. In 2006, the American division of the company sold more than 100,000 vehicles. However, in 2012 Suzuki's U.S. division filed for bankruptcy and stopped selling vehicles.
Make your vehicle special with the help of our aftermarket Suzuki wheel covers! Made from quality materials, they will deliver durability for many years to come. We carry a variety of options for you to get the cover to match your taste as well as your vehicle perfectly.
FITMENT: WH521-14C-B • WH521-14C-B • WH521-15C-B • WH521-16C-B • WH522-14C-B • WH522-15C-B • WH522-16C-B • WH523-14S-BX • WH523-16S-BX • WH524-15S-BX • WH524-16S-BX • WH525-14S-BX • WH525-15S-BX • WH526-14S-BX • WH526-15S-BX • WH527-15RE-BX • WH527-16RE-BX • WH528-14SE-BX • WH528-15SE-BX • WH529-14C-BX • WH529-15C-BX • WH530-14C-BX • WH530-15C-BX • WH541-14C-BLK • WH541-15C-BLK • WH541-16C-BLK • WH544-14C-BLK • WH544-15C-BLK • WH546-14B-BS • WH546-15B-BS • WH546-16B-BS • WH547-14S-B • WH547-15S-B • WH547-16S-B • WH550-14GB-B • WH550-15GB-B • WH550-16GB-B • WH553-14S-BS • WH553-15S-BS • WH553-16S-BS • WH555-14GM-B
Best Wheel Covers and Skins
Bully Wheel Covers Reviews
Bully Wheel Cover
Average rating:
1 reviews
Jan 9, 2018
Location (Sity, State):
Rush Center, KS
These fit tightly over my original wheels with no issues. Have a great look that matches other chrome accessories on my 2009 Ford Escape. It's a great buy!