Spinner Hubcaps by BB Auto
Spinner hubcaps are popular because they add a touch of style and personality to your car. They are also relatively easy to install, which is another plus. If you are looking for a way to give your car some extra flair, spinner hubcaps by BB Auto are a great option!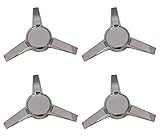 How to install your new hubcaps?
Installing spinner hubcaps is relatively straightforward. First, you will need to remove the old hubcaps from your wheels. Next, center the new spinner hubcap over the wheel and press it into place. Finally, screw on the retaining ring to secure the hubcap in place. That's it! With just a few simple steps, you can have new spinner hubcaps installed on your car.