Bully Hitch Covers — Custom, Logo, LED
Bully hitch covers install in seconds and provide a quick, easy, and cost-effective way to personalize your vehicle while protecting your trailer hitch. Choose from a variety of style options, from collegiate licensed LED hitch covers to brake light hitch receiver covers.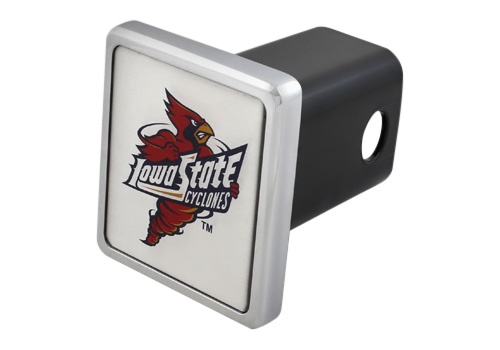 An open trailer hitch is exposed to the elements that bring on the rust bug and accumulates debris that can clog the tube. A hitch cover protects your receiver hitch and is one of the most affordable accessories that you can buy to customize your vehicle.
Check what's available in our large selection of Bully hitch covers and choose the design that will best show your taste and dedication. We carry hitch covers that fit 1.25-inch and-2 inch, class II and class III hitch receivers.
Our wide range of themes ensures that you'll find the right product that will add a touch of individuality to your van, truck, or SUV. You can show your pride with one of our fan hitch covers with collegiate colors and vehicle manufacturers' logos. Some of our novelty and licensed hitch covers feature colored accent lights made to illuminate as parking lights or brake lights.
They attach to your standard 4-pin electrical wiring harness and have LEDs with over 100K hours lifespan. Hitch brake lights come with 1157 incandescent bulb and 4-way flat connector.
Access our store as a guest!
Chevrolet Hitch Covers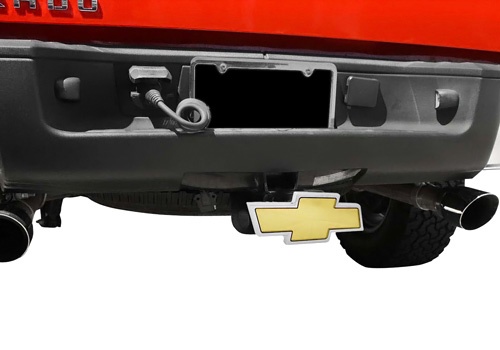 Chevrolet is a division of General Motors founded in 1911. A famous "bowtie emblem" was introduced in 1913 and appeared on vehicles the next year. The first automobiles to receive the "bowtie emblem" were the Baby Grand and Royal Mail (H series models) and the Light Six (L Series Model). Today this logo is known in 140 countries worldwide. Chevrolet is also famous for its engines. Its small-block engine is the longest-running mass-production engine in the world and it is still in production.
Chevrolet (also known as Chevy) manufactures a wide range of vehicles, from subcompact cars to medium-duty trucks. Pickup trucks and SUVs are an important part of the company's model range. The lineup includes the Silverado, Colorado, Tahoe, Suburban, and others. In case you use your truck or SUV for towing, take a look at our range of Chevrolet hitch covers that combine style and function. Hitch covers protect the trailer hitch from corrosion and debris buildup and, available in various color and logo options, complete the look of your vehicle. Find a wide range of Bully truck accessories for Chevrolet models here, including Bully hitch steps, trailer lights, etc.
Dodge Hitch Covers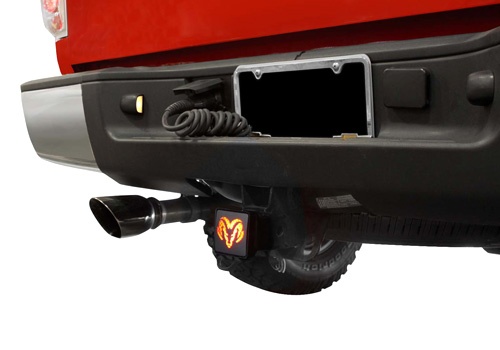 Dodge was founded in the very beginning of the 20th century, in 1900, by two brothers, John and Horace Dodge. Originally, the company manufactured precision components for other Detroit-based carmakers, though by 1914 they were ready to produce their own automobile, which was named the Model 30. It came with a 4-cylinder engine rated at 35 hp and connected to a sliding-gear transmission. Thanks to its innovative features, like a 12-volt electrical system and all-steel body construction, and excellent reputation of the Dodge brothers, the vehicle was well accepted. In 1916, the Dodge Brothers company was the second largest carmaker in the U.S. by sales. Since 1928, Dodge has been a division of Chrysler. Its current model line includes such famous vehicles as the Ram, Viper and Caravan.
Protect your trailer hitch from corrosion, debris buildup, and rust. Take a look at our range of Dodge hitch covers – made from quality materials, they will provide reliability and durability. Besides, a variety of colors and finishes allows you to get the cover you like most and make your truck different. For example, you can get a hitch cover with the logo of your favorite college sports team. And apart from protecting your trailer hitch, you will also be able to customize your vehicle's look.
Ford Hitch Covers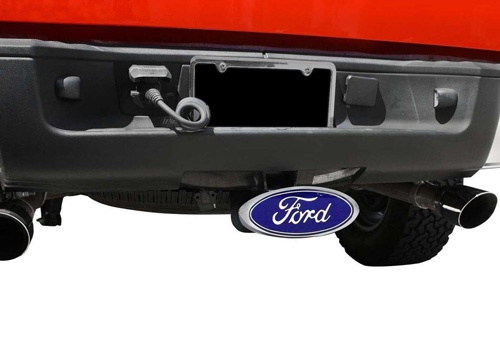 The company that first made automobiles affordable was established in 1903 by Henry Ford and succeeded very soon – its legendary Model T became a huge hit and it still is on the top ten list of the best-selling cars of all time. The Ford Model T is considered the first vehicle that a majority of Americans could afford and the first car to be marketed in various countries simultaneously. About 16.5 million units were sold during the Model T's production run. Today Ford is still a successful automaker, being part of the "Big Three" and the fifth largest vehicle manufacturer in the world and in Europe alone.
Ford's pickup trucks are worth a special mention. The current range includes the F-150 and Super Duty series (former F-Series) that are highly praised by numerous drivers in the U.S. and worldwide. The F-Series by Ford was launched in 1948 and is still produced nowadays, for the thirteenth generation as of 2016. The model has been the best-selling pickup truck since 1977 and the best-selling vehicle in the U.S. since 1981. In 2013, Ford produced its 33-millionth truck of the F-Series. Don't leave your trailer hitch exposed to the elements; get a Ford hitch cover. This useful accessory combines function and style. Protecting your trailer hitch from debris buildup, corrosion, and rust, it also looks attractive and makes your vehicle more stylish.
GMC Hitch Covers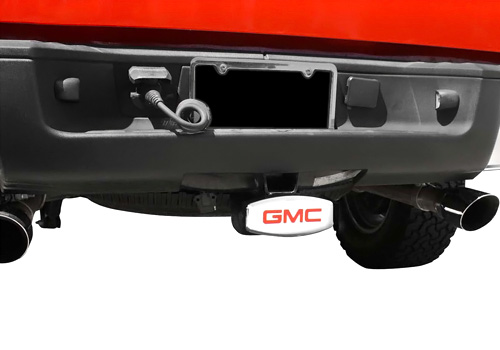 GMC, a division of General Motors, has been manufacturing vehicles since 1912, mainly specializing in trucks and utility vehicles. It was established on the basis of two truck makers, Reliance and Rapid, that were purchased by GM and then merged. Today, apart from trucks and SUVs, GMC also manufactures vans and commercial vehicles, though earlier they also produced buses, heavy-duty trucks, military vehicles, and even motorhomes.
Exposed to the elements, an uncovered trailer hitch can start to rust. Leaves and other debris can clog up its tube. A hitch cover is a worthy investment, as it will protect the trailer hitch of your GMC from rust and debris buildup. Manufactured from premium materials, our hitch covers for GMC vehicles will ensure long-lasting protection.
Our GMC hitch covers are available in various styles and different finishes, so you will surely find something special here. For instance, a cover in the form of a skull or a propeller or a classic cover with the logo of your favorite college sports team, with or without LED lights. Covers with the automaker's logo are available too. If you need some other accessories to make your towing experience better, check out our Bully step bars, hitch balls, etc.
RAM Hitch Covers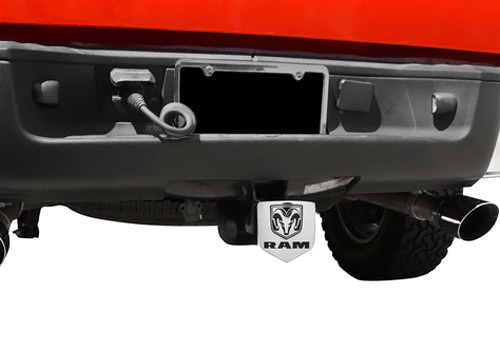 Ram Trucks, or simply RAM, is a "young" yet popular manufacturer of trucks and commercial vehicles. It became a separate brand in 2010 as a spin-off from Dodge, though pickup trucks under the Dodge Ram badge had been marketed since 1981. The model became popular quite fast and still has a considerable customer base. It was named the Truck of the Year by the Motor Trend magazine five times. Besides, the vehicle was successful in motorsports – it won the NASCAR Craftsman Truck Series twice, in 2003 and 2004, and the San Felipe 250 off-road race, also twice in 2008 and 2009.
Today Ram Trucks manufactures four versions of the Ram pickup truck (1500, 2500, 3500, and Chassis Cab) and two commercial vehicles, the Promaster and Promaster City. All models of the current lineup are tow-capable.
A hitch cover is definitely a good investment. Protecting your trailer hitch from debris buildup, corrosion, and rust, it allows you to personalize your vehicle. You can find various covers in our range – from college logos with or without LED lights to distinctive propeller or skull designs. Our hitch covers are made from premium materials for durability and strength. If you want to make your access to the bed easier, look at our range of Bully steps for trucks.
FITMENT: CR-901 • NCR-903 • CR-907 • CR-908 • CR-909 • CR-910 • CR-911 • CR-912 • CR-913 • CR-915 • CR-916 • CR-917 • CR-919 • CR-920 • CR-922 • CR-923 • CR-924 • CR-925 • CR-926 • CR-928 • CR-930 • CR-931 • CR-935 • CR-936 • MCR-938 • CR-944 • CR-951 • CR-953 • CR-958 • NCR-960 • CR-007 • ACR-007 • CCR-007 • DCR-007 • FCR-007 • GCR-007 • XLCR-017 • CR-017 • CCR-017 • DCR-017 • FCR-607 • LCR-901 • NLCR-908 • LCR-909 • LCR-915 • LCR-916 • LCR-919 • LCR-924 • LCR-930 • LCR-931 • LCR-944 • LCR-949 • LCR-953 • CR-004 • ACR-132 • CR-141 • GCR-211 • CRB-01 • ACRB-03 • ACRB-04 • ACRB-05 • ACRB-06 • ACRB-09 • ACRB-10 • ACRB-11 • ACRB-15 • ZCRB-17
Best Hitch Covers
Bully Hitch Covers Reviews
Bully Hitch Cover
Average rating:
2 reviews
Feb 5, 2018
Location (Sity, State):
Hartford, TN
Installed the hitch cover two weeks ago and it's perfect. Looks really cool, especially at night when the emblem lights up.
Aug 8, 2017
Location (Sity, State):
Lincoln, NE
It is really nice, looks classy. A good way to show your pride! Would recommend to anyone interested.