Bully Chrome Accessories — Interior & Exterior
Whether you are after huge upgrades or cosmetic changes, in Bully's range of products you'll find the right chrome accessories that will make your truck or SUV look completely different. There are lots of ways to enhance the appearance of your vehicle, but a few of them provide the same level of appeal as chrome. Bully is here to offer automotive chrome accessories that are a cut above the rest.
Features: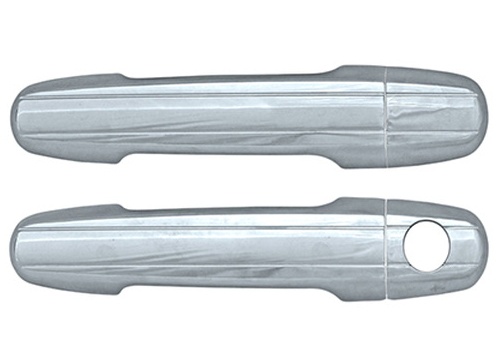 Give your vehicle a styled chrome look;
Strong and durable materials;
Direct OEM replacement products available;
Quick and easy installation.
Sometimes even a tiny chrome accessory can dramatically change the way your vehicle looks. We are here to help you outfit your rig with chrome to create the look that will turn heads. Want more attention instantly and for less money? Choose from our impostor grille overlays made from quality impact-resistant ABS plastic and triple chrome plated for a mirror-like finish. They snap over your factory grille with no hassle of cutting or drilling.
Looking to add some accents that would elegantly outline the sleek contours of your vehicle? Our chrome trim is exactly what you need. Here you'll find a complete selection of chrome covers by Bully (Pilot Automotive) with a durable 3M tape that install over existing OEM parts to give your car, truck, or SUV a custom look in seconds. Just peel, stick, and go – what can be easier than upgrading your vehicle with chrome plated door handle covers? By the way, their non-corrosive, non-heat conductive material construction makes them stand up to direct sunlight and high temperatures for long-lasting durability. Select from air vents, mirror covers, fuel doors, and other automotive chrome accessories from the brand you can trust!
Access our store as a guest!
Chevrolet Chrome Accessories
Chevrolet got its start in Detroit, Michigan in 1911. The company was launched by Louis Chevrolet, a passionate racer, and William C. Durant, the founder of General Motors, who put their efforts together to build a strong base for the brand that later became well-known and praised all over the world. From the very start, the main focus of the automaker was concentrated on utilizing high-end technology for the manufacture of their range of affordable vehicles. The very first Chevy models came equipped with electric starters and headlights that were unique features for that time. Since then, Chevrolet has never lost its passion for innovation and nowadays the brand leads the industry with cutting-edge infotainment systems, mobile apps, and auto technology such as MyLink and OnStar.
If you feel the need to upgrade your Chevy truck and change its appearance, take a look at the choice of Bully chrome accessories for Chevrolet offered in our catalog. As we carry a wide range of chrome products, we are sure that you'll find here something to your liking. Choose from chrome door trim, tailgate handle covers, mirror covers, grilles, or any other accessories for your Chevy and complete its stylish look. Our Chevrolet chrome accessories are finely crafted by our professionals to ensure their long-lasting service and your satisfaction.
Dodge Chrome Accessories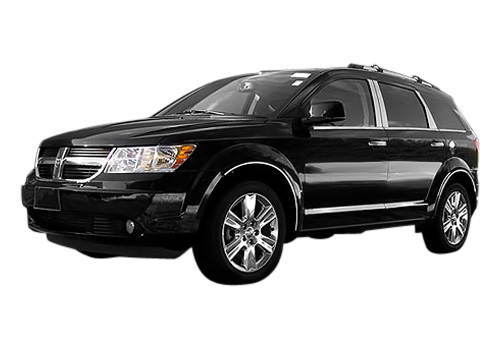 Dodge, a Detroit-based automaker, has been on the market for more than a century, bringing performance and innovation to the daily lives of drivers all over the world. The company went a long way to success, starting as an auto parts supplier for Ford and becoming through the years one of the major American auto brands. In 2014, the author Matt DeLorenzo published the book called "Dodge: 100 Years" in which he depicted the company's story from the early years when the Dodge brothers first came up with the idea of making cars.
Today, the brand offers performance cars and SUVs under the Dodge nameplate and markets a line of mighty trucks by its division, Ram Trucks. Such remarkable models as the Challenger and the Charger embody the essence of Dodge's sporty spirit, delivering legendary performance and style.
Did you know that you can dramatically enhance the look of your Dodge truck by simply outfitting it with a chrome accessory? No matter whether you choose a chrome door handle cover, window trim, mirror cover, grille, or any other Dodge chrome accessory, it will at once make your vehicle stand out. The assortment of Bully chrome accessories for Dodge vehicles is comprised of high-quality products that are meant to deliver the result you expect.
Ford Chrome Accessories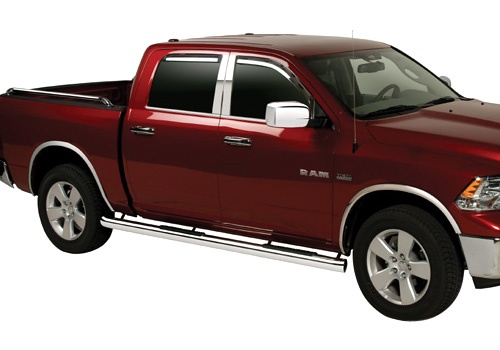 Possessing an outstanding reputation as a trustworthy auto manufacturer, Ford has always been striving to deliver upscale quality and unrivaled dependability to its loyal customers. Henry Ford introduced the moving assembly line that revolutionized the automotive industry more than 100 years ago. Since then, the company has been pushing the technological development forward, presenting groundbreaking technologies and expanding manufacturing capabilities. In 2015, Ford launched its new Research and Innovation Center in Silicon Valley to find new connections between automotive and digital worlds, exploring the future of mobility.
Numerous owners of Ford vehicles have chosen the brand over other makes as it represents years of experience and strong commitment they can rely on. Ford's lineup of models includes the widest range of automobiles, from luxury cars to commercial vehicles.
Pickup trucks become more and more popular on American roads. If you want to highlight your Ford truck among numerous other vehicles, take a look at our collection of Ford chrome accessories. We offer chrome grilles, fuel doors, air vents, mirror covers, door and window trim, and lots of other Bully chrome accessories for Ford, all designed to give your vehicle the custom look others will admire.
GMC Chrome Accessories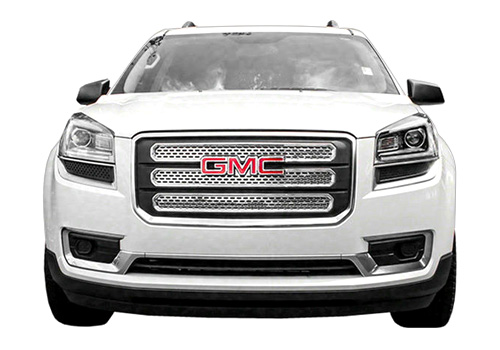 A division of General Motors with a 100-year-long history, GMC specializes in the production of commercial and utility vehicles. The brand traces its roots to the Rapid Motor Vehicle Company launched by the Grabowsky brothers in 1902. The Rapid F-406-B, a one-ton truck, set the record in 1909 as the first commercial vehicle to reach Pikes Peak, the highest summit in the Front Range of the Rocky Mountains. Just like this truck, all GMC vehicles are designed to conquer the toughest conditions and stand out among the rest.
GMC trucks are praised for innovative technology, bold design, and reliable performance. The company manufactures a wide range of pickup trucks, crossovers, SUVs, and vans. The GMC Sierra 1500 is a remarkable representative of the current GMC lineup, featuring a striking appearance with a sculpted sheetmetal body and a powerful V6 engine that delivers 285 hp.
No matter whether you own the Sierra or any other GMC truck, you might be interested in our assortment of GMC chrome accessories. We can offer you custom grilles, fuel doors, mirror covers, door and tailgate handle covers, air vents, and a bunch of other products with chrome finish. These aftermarket products will enhance your truck's appearance as nothing can be compared with the look of shiny chrome against plain paint. Outfit your vehicle with one of our GMC chrome accessories and enjoy its new look.
RAM Chrome Accessories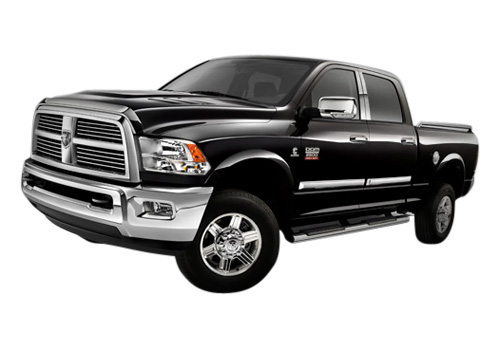 Ram Trucks is a division of Chrysler that saw the world in 2010 aimed to take the pickup truck market by storm. Such a name for the brand was chosen for a good reason as "Ram" is a reference to the Dodge Ram, a successful truck model that has been leading the market since its debut in 1981. Ram trucks are known as sturdy workers, meant to do the job perfectly well no matter how harsh the conditions are. Among Ram's most recognizable models are the Ram 1500, 2500, 3500, and the ProMaster.
In 2015, passionate Ram fans helped the brand to set the new Guinness World Record for the largest parade of trucks: 451 Ram trucks, driven by owners from 7 different U.S. states and Canada, participated in the event held in Arlington, Texas.
Ram chrome accessories displayed in our catalog will help you upgrade your truck, endowing it with a stylish look. The inventory of Bully chrome accessories for Ram vehicles comprises carefully-designed fuel doors, air vents, door and window trim, mirror covers, tailgate and door handle covers, and chrome grilles. Once outfitted with these easy-to-install chrome accessories, your Ram will certainly catch everyone's gaze on the road.
Best Chrome Accessories
Bully Chrome Accessories Reviews
Bully Chrome Accessories
Average rating:
2 reviews
Jan 10, 2018
Location (Sity, State):
Sioux Falls, SD
Purchased a set of door handle covers. They lasted the first winter without pitting and flaking, hope they will keep looking good.
Jul 20, 2017
Location (Sity, State):
Westport, CT 06880
I put chrome door handle covers and pillar post trim on my truck and I love the way they complemented its look all together. People notice and say chrome looks awesome. Nice upgrade for a bargain price.