Bully Tailgate Nets and Cargo Racks
Are you still struggling to tie down loose items in your pickup truck bed, on the truck roof, or on the hitch rack? Bully cargo racks and nets are the great solution to your problem. With Bully cargo racks and nets transforming your truck into a versatile gear hauling machine has never been easier. Just take a look at a selection of Bully tailgate nets with adjustable hooks, waterproof cargo carriers, hitch mount racks, steel cargo racks and all-weather cargo nets that are available here at the most competitive prices and backed by an industry-leading warranty.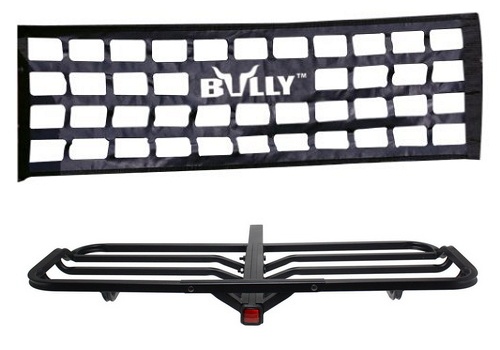 Keep a tight hold on your load with amazing cargo nets from Bully. Say no to using multiple bungee cords and straps, because with Bully truck bed nets you always have the easiest way to organize your groceries, sports equipment, or travel gear. Each Bully net has adjustable hooks that allow for secure attachment to any tie down point in your truck. With Bully cargo nets you can be absolutely sure in the safety of your load every time you hit the road. Made from the lightweight, durable UV resistant materials, and provided with rust resistant hardware, Bully cargo nets guarantee that your cargo will stay in place whenever you put the pedal to metal. Among all other brands that offer cargo racks and storage products, Bully is the manufacturer that has earned recognition of hundreds of truck owners.
If you are looking for a reliable cargo control system for your truck that has high carrying capacity, the Bully cargo rack is what you need. Bully utility cargo racks are versatile accessories designed to help you haul around more gear by giving you extra space for packing on lumber, ladders and more. If you goal is to eliminate clutter in your pickup truck bed, check out our extensive selection of cargo bags, cargo covers and truck bed organizers. Whether you're planning a family vacation or a fishing trip, going grocery shopping or hauling some construction supplies – Bully cargo storage bags and tailgate nets will help you fit all your load in, and what's more, they fold up for easy storage in between trips. Created for the safe transport of your gear, Bully cargo storage and racks will make your truck more functional, your trips more convenient and your life easier.
Access our store as a guest!
Chevrolet Cargo Racks, Bags, and Nets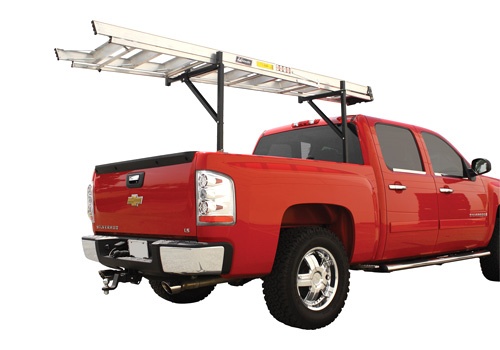 For more than a century, Chevrolet has been producing vehicles that are considered icons of the automotive industry. The company was established back in 1911 and nowadays a famous "bowtie emblem" is known in numerous countries around the globe. Chevy's lineup consists of various vehicles, from subcompact cars to vans and commercial trucks. Throughout its history, the company has created such legendary models as the Camaro, Silverado, Corvette, Impala, and Suburban. Most of these vehicles are still in production.
From time to time you may need some additional space for cargo, especially when you are going on a long road trip or want to dedicate a weekend to activities that require special equipment. If you want to take a kayak, bike, or ski with you, use cargo control accessories. They allow you to carry bulky cargo securely and free up some space inside your Chevy. Your passengers will appreciate it as they will definitely have enough room to travel comfortably. Browse our collection of Chevrolet cargo racks, bags, and nets – here you will find quality products to fit your vehicle perfectly, whether it is a passenger car, SUV, or truck. Made to be reliable and durable, they will help you carry your gear securely. Besides, Bully cargo racks, bags, and nets for Chevrolet come with all the required mounting hardware to make the installation process easy like a breeze.
Dodge Cargo Racks, Bags, and Nets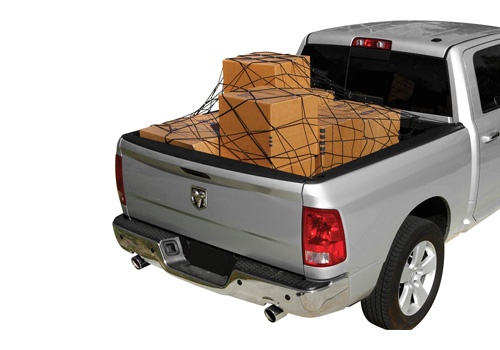 Dodge was founded in 1900 as a machine shop that produced parts for other automakers. Since 1914, the company has been manufacturing its own vehicles, mainly full-size cars and trucks. However, compact cars, sports cars and vans were also manufactured by Dodge during its long and bright history. In 1928 Dodge became the division of Chrysler and is still a part of this company.
Among the most popular Dodge vehicles are the Viper, Ram, Challenger, Caravan, Charger, and others. The Dodge Ram pickup truck was so popular that in 2010 Ram Trucks was spun off from Dodge to become a standalone brand.
Consider installing cargo control accessories if you want to take a snowboard, kayak or bike with you or if you just need some additional space to carry large cargo. In our range of Dodge cargo racks, bags, and nets you will definitely find the necessary product for your vehicle.
Manufactured using advanced technologies, they will last for years to come. Don't settle for less, get all the needed gear with you with the help of our cargo control accessories!
Ford Cargo Racks, Bags, and Nets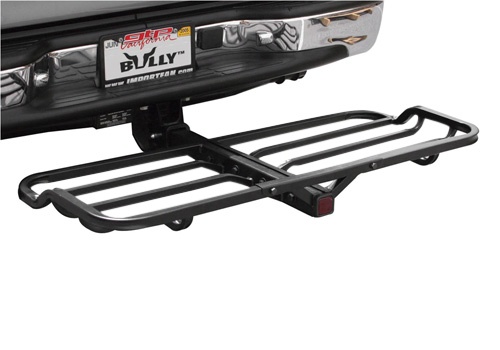 Ford is one of the leaders in the modern automotive industry, one of the "Big Three" American vehicle makers and the fifth largest automaker in Europe and worldwide. Back in the 1910s, the company introduced methods for large-scale production of cars by means of moving assembly lines. These methods allowed Ford to make their vehicles affordable for middle-class Americans. The Model T, the first car produced using these methods, was so popular that it is still among the best-selling vehicles of all time.
Present-day Fords are demanded vehicles as well, for example, the Ford Focus is the best-selling nameplate in the world (as of the first half of 2012). The legendary Ford Mustang left its mark in automotive history, giving birth to the "pony car" class back in 1964. The F-Series by Ford has been the best-selling pickup truck since 1981. Traveling in your vehicle, especially to remote areas, you may need to take some additional stuff with you. Sometimes you need to get a bike, a kayak, a surfboard or another bulky gear with you. Whether your stuff is bulky or not, you can transport it easily and effortlessly. Take a look at our range of Ford racks, bags and nets and you will find a great solution. Besides, you will have more room inside your vehicle for passengers to travel comfortably.
GMC Cargo Racks, Bags, and Nets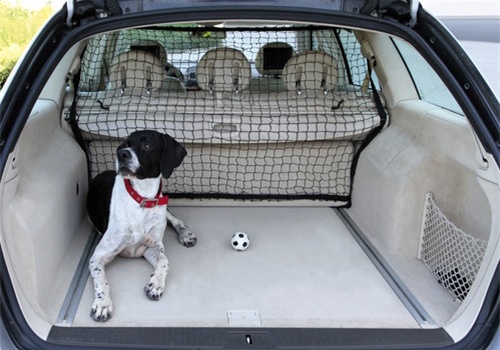 GMC, one of the first truck manufacturers in the world, was founded back in 1912. In the early years of its history (1912-1917), apart from common trucks, the company produced some of the first electric vehicles in the world. GMC's primary markets are the United States and Middle East, areas where dependable and durable trucks are especially demanded. During the Second World War, GMC produced more than 600,000 trucks for the United States Armed Forces.
Nowadays the GMC model line features not only trucks, but also crossovers and commercial vehicles. Most pickup trucks and crossovers are also offered in the luxury Denali trim. The Denali range by GMC currently outsells entire model lines of some luxury vehicle makers.
GMCs are definitely spacious, with no exception for a cargo compartment. Though, sometimes you need to carry gear that is too big to be taken inside your vehicle, like a kayak, bike, snowboard, surfboard, etc. If that is the case, consider getting cargo control accessories. In our range of GMC cargo racks, bags, and nets you will surely find a product for your vehicle, whether it is a crossover, a pickup truck, or a commercial vehicle. Our products are designed to make transporting of large cargo easy and effortless.
RAM Cargo Racks, Bags, and Nets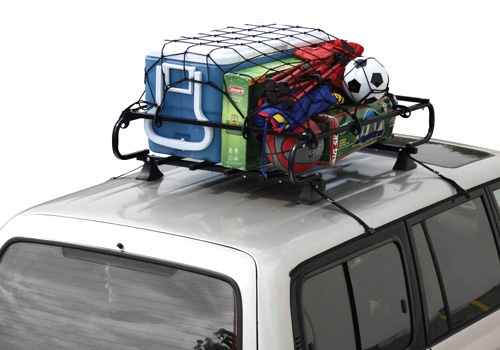 Established in 2010, Ram Trucks is a subsidiary of Chrysler, specializing in trucks and commercial vehicles. A "young" company with only six models in the lineup for now, Ram Trucks is yet the fastest-growing truck brand in the United States nowadays. This is achieved mainly thanks to the popularity of the Dodge Ram pickup truck. It was launched back in the early 1980s and has quickly gained recognition of both critics and customers. Apart from sales success, the model was named the Truck of the Year five times, in 1994, 2003, 2010, 2013, and 2014. The Dodge Ram was also offered in numerous special editions, including the Daytona, SRT 10, HemiSport, and Rumble Bee.
In case you need to take some large gear with you and want to transport it securely, we have you covered. In our catalog of RAM cargo racks, bags, and nets you will find all the necessary products to have the job done. For example, you can get a tailgate net for your pickup and rest assured that nothing will fall from your truck's bed.
Made of heavy-duty reinforced fabric, they are available in a range of color and logo options. Our tailgate nets come with all mounting hardware necessary to make your installation easy like a piece of cake. Look through our range of truck accessories to find Bully tailgate locks, hitch steps, running boards, etc.
BAGS: CG-07 • CG-08 • CG-09 • CG-13 • CG-17 • CG-18 • CG-19
RACKS: CG-20 • CG-30 • CG-901 • CG-902 • CG-903 • CR-112 • CR-112F • CR-114N
NETS: TGC-901F • TGC-931F • TGC-908F • TGC-909F • TGC-930F • TR-02WK • TR-03WK
Best Tailgate Nets & Cargo Racks
Bully Tie-Downs Reviews
Bully Tailgate Net
Average rating:
2 reviews
Jan 17, 2019
Location (Sity, State):
Bath new york
I love the net i bought. My favorite thing about it us that it fits my truck. And also the side steps i bought i made fit. And the diamond plate exhaust tips.





Jan 11, 2018
Location (Sity, State):
Oklahoma City, OK
I've looked everywhere comparing prices and I'm glad I've bought this one. I put it to work and tested its sturdiness many times and in different weather conditions, and it did not crack or rust. It is a great rack for the price.