Bully Truck Steps
Bully truck steps are great additions to any truck or SUV. These accessories will give you safe and easy access into and out of your truck while adding a tough, off-road look to your rig. Knowing that you have that extra step will give you peace of mind every time you enter or exit your vehicle.
Features: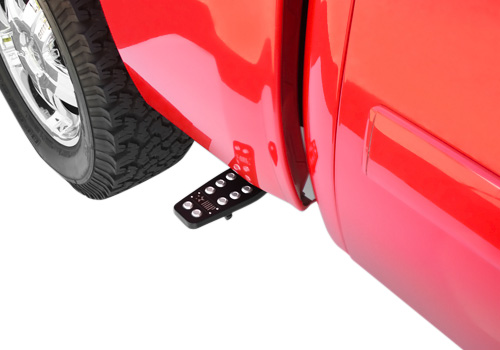 Built with high-quality materials;
Strong and lightweight construction;
Give you a sturdy boost into your vehicle;
Designed to enhance the appearance of your vehicle;
Ensure a perfect fit;
Sold in pairs;
Easy to install.
Truck owners keep looking for ways to make their vehicles easier to use. Side steps and step bars give a helping step up for lifted trucks and anyone looking for more convenience. If you want to give your truck a quick and easy upgrade, truck steps will do this job just fine. When it comes to truck steps, you need strong and safe parts that will provide sure footing for you and your passengers.
We offer the highest quality Bully truck steps that will add a touch of modern style to your vehicle and increase its functionality in nothing flat. These great accessories are crafted from the sturdiest materials to withstand virtually anything you throw at them and provide years of solid use. We're committed to delivering only great products to our customers; that's why we highly recommend Bully accessories.
Bully steps for trucks have all the features you need in a truck step: they are stylish, functional, and durable. Outfit your vehicle with the perfect accessories from the company you can trust. Make your big and capable vehicle stand out from the rest of look-alikes with superior Bully side steps and Bully step bars that are ready for anything. Bully truck steps are sold in pairs and ensure trouble-free installation. Besides, these accessories are reasonably priced and backed by the brand's solid warranty to let you enjoy the classic off-road look of your vehicle for years to come. Go with Bully accessories and make others green with envy!
---
Access our store as a guest!
Chevrolet Truck Steps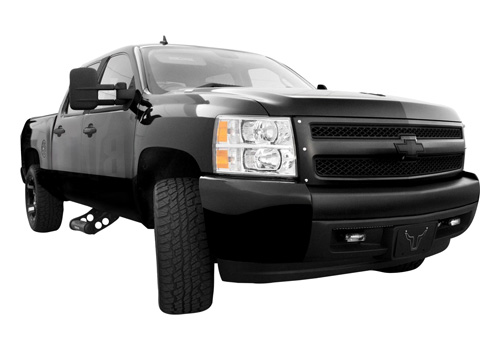 Chevrolet, also known as Chevy, is a world-known automobile manufacturer that has been present on the market for more than 100 years. A division of General Motors, Chevrolet is an American manufacturer that markets its products in more than 100 countries all over the world, with the top sales in the United States and Brazil. Since its very first model, the Series C Classic Six, Chevrolet has been praised as a reliable auto maker that puts customer needs in priority. Following the slogan "a car for every purse and purpose" once said by GM's CEO Alfred Sloan, the company specializes in producing mainstream autos including cars of any size, SUVs, trucks, and sports cars. The list of the most remarkable Chevrolet models includes the Impala, Silverado, Suburban, Camaro, Tahoe, etc.
Such truck accessories as truck steps are meant to let you get into your massive pickup truck without any efforts. Although the latest Chevrolet trucks such as the Silverado or Colorado are equipped with truck steps, some older models might not have this useful feature. Our Chevrolet truck steps possess a heavy-duty design to make your truck look even more rigid and are made of high-grade stainless steel or aluminum to ensure everlasting durability. Moreover, the Chevrolet truck steps we offer can be installed without any difficulties on your favorite vehicle.
Dodge Truck Steps
Headquartered in Auburn Hills, Michigan, Dodge is an American auto company that manufactures cars, SUVs, trucks, and minivans. The brand is a division of FCA US LLC, also known as Chrysler, that markets affordably-priced versions of Chrysler-badged vehicles. Founded more than 100 years ago as the Dodge Brothers Company, Dodge went a long way to success, starting as an auto parts supplier and having developed through the years into a world-recognized auto manufacturer. Nowadays, the company is one of the most successful automotive brands in North America. Dodge autos are remarkable for their unique designs and proven reliability.
Among the most popular Dodge pickup trucks are the Dakota and Ram 1500 and if you own one of these vehicles or any other mighty truck by Dodge, you probably opt for only the finest automotive products. We offer you a line of upscale Dodge truck steps, including step bars and side steps, that can make your truck even more practical. Considering that Dodge pickups are rather massive, such accessory as a truck step can come in handy as you might have difficulties getting inside the cabin without it. We ensure long-lasting durability and precise fit of our Dodge truck steps since they are thoroughly designed by our qualified engineers and are made of top-quality materials.
Ford Truck Steps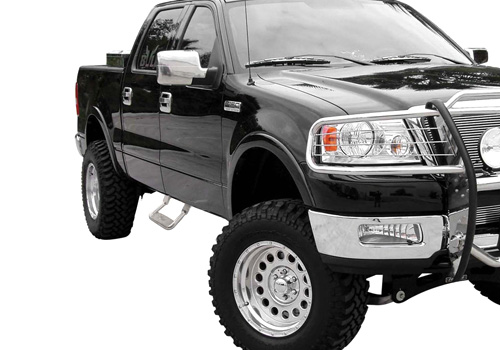 Ford Motor Company can be rightfully considered one of the greatest accomplishments in the American history. Being one of the Big Three American auto manufacturers and one of the largest auto companies in the world, Ford possesses an impeccable reputation on the modern automotive market, having loyal customers all over the world. Established by Henry Ford in 1903, the company has been constantly developing and growing through the years and nowadays it produces and markets vehicles under such well-known brands as Ford and Lincoln. The company's range of vehicles is rather diverse, comprising family autos, luxury cars, and commercial vehicles.
Ford's line of trucks and SUVs has always been especially popular, featuring such praised models as the Ford F-150, F-250, and F-350. The Ford F-Series, a long-running and well-known range of light-duty and medium-duty trucks, has made Ford one of the leaders in the market niche. Their rugged look and impressive off-road capabilities leave all other competitors behind. Among other truck accessories, we offer Ford truck steps that are intended to help you effortlessly get inside your vehicle. Our products feature a strong construction and well-thought design, being carefully developed by our specialists. All Ford truck steps in our assortment will perfectly fit your vehicle and serve you reliably for years to come.
GMC Truck Steps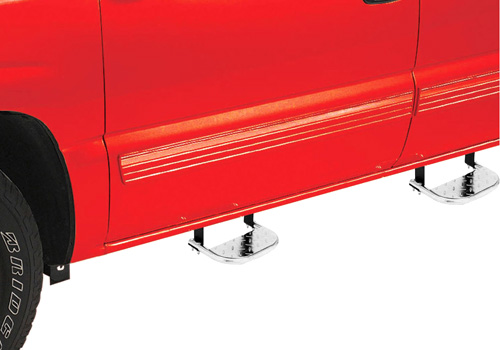 GMC is a division of General Motors LLC that specializes in manufacturing trucks and SUVs. Founded in 1912 on the basis of the Rapid Motor Vehicle Company, this American brand managed to develop a strong reputation in the industry, offering class-leading vehicles with unique features and a variety of trim levels.
The supreme quality of GMC products has been proven over the years. The list of GMC's most prominent models includes such vehicles as the Yukon, Sierra, Terrain, Acadia, and Canyon. GMC trucks are well-known for their aggressive appearance, great utility, and powerful capabilities.
Truck steps are among the most popular truck accessories created for easier access into the vehicle. When shopping for GMC truck steps, you are probably looking for solid parts that can emphasize your truck's bold stance and reliably carry out their functions for years to come. We offer you the products of the type. Among our GMC truck steps, you can find side steps and step bars that come in a number of options. Made of either stainless steel or aluminum, these stylish accessories will ideally fit your vehicle.
RAM Truck Steps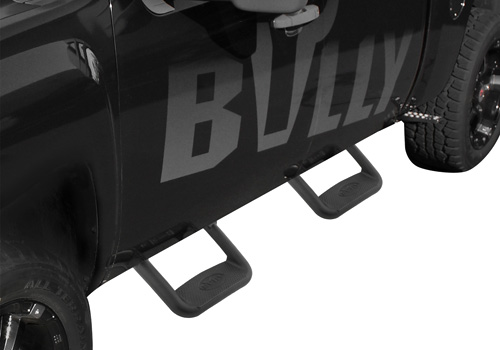 RAM, formally known as the Ram Truck Division, is an American brand of commercial vehicles. This rather new subsidiary of Chrysler was established in 2010 and was meant to popularize the company's line of trucks. The name of the brand refers to a successful pickup truck model marketed since the 1980s, the Dodge Ram. Aimed to attract "real truck customers", RAM mainly offers heavy-duty full-size pickup trucks endowed with a true American spirit. RAM positions itself as a manufacturer of America's longest-lasting pickups. Featuring great towing capacity, outstanding performance, and proven dependability, RAM trucks stand out among competitors. The current lineup features such models as the Ram 1500, 2500, 3500, Promaster, etc.
For the owners of Ram trucks, we offer a wide array of aftermarket products that includes Ram truck steps among other parts. These products are custom-designed to provide maximum utility. Our Ram truck steps possess a reliable construction made of top-grade materials to ensure high durability. The installation of these components won't require much time or efforts and your truck will at once gain a new enhanced look. Choose from side steps and step bars, depending on your needs, and enjoy their ultimate functionality.
Best Truck Steps
Bully Truck Steps Reviews
Bully Truck Step
Average rating:
3 reviews
Jun 17, 2019
Location (Sity, State): Atlanta, GA
I have a set of your LED side-lit Bully bars on my 2006 Lincoln Mark LT pickup. I realize you no longer make/offer
this bar. I wish I could get another set for my second truck! Great product!
Feb 4, 2018
Location (Sity, State): Pottsville, PA
They really make it easier to get in and out. I had them installed at the local body shop, so I can't say anything about ease of installation but the quality is good and the price is reasonable.
Jul 15, 2017
Location (Sity, State): Akron, OH
Installed these on my 2011 Ram 2500 and I like how they look and how strong they are. Fit great and function well so far.