Bully Step Bars, Nerf Bars and Running Boards
Step bars are some of the coolest accessories you could ever add to your vehicle. Bully step bars are the most sought-after truck accessories thanks to their rugged look and superior durability. Make your favorite truck or SUV look ultra-functional with a pair of top-notch Bully step bars that can take a beating and provide comfortable footing for you and your passengers. They feature tubular metal construction and can either provide a discreet look that blends in or make a bold statement when finished in polished stainless steel, chrome, etc. Bully step bars ensure a perfect fit and trouble-free installation right out of the box.
Features:
Provide safe, secure footing;
Add style and functionality to your vehicle;
Built with premium quality materials;
Strong and lightweight construction;
Easy installation and a perfect fit.
Trucks are pretty big, let alone lifted trucks that are even bigger. If you're an owner of a big vehicle, you may be looking for ways to make it a little more personal and more convenient. Step bars are a sleek and subtle way to quickly boost your vehicle's style and functionality.
They will give you a safe lift and make your truck or SUV look awesome. If you're looking for the highest quality add-ons to make your vehicle stand out, Bully step bars are a step above the rest. They are crafted from superior materials and feature a strong yet lightweight construction, providing sure footing and increased safety. Having a set of step bars on your vehicle means you won't have to watch your step. These great add-ons will make entry and exit much easier for you and your passengers, especially if your vehicle is higher than normal.
Bully step bars will make a stylish statement on any vehicle. They come in a variety of styles, so you can choose the best pair of step bars for your rig. Bully step bars have pretty easy installation. Besides, they are backed by Bully's "no-hassle" warranty, which is a great bonus and added peace of mind. Our prices are not sky-high, so you'll get a good bang for your buck from a trusted manufacturer. If your vehicle lacks functional accessories that will also add a stylish and sporty look, Bully step bars are the way to go!
Access our store as a guest!
Chevrolet Step Bars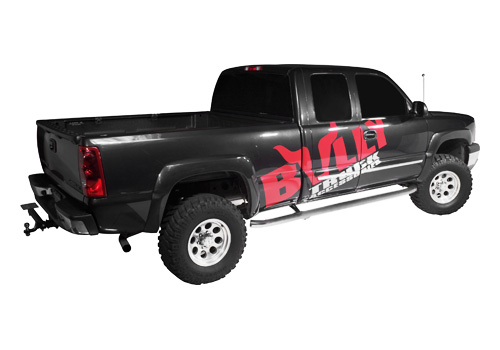 Over a 100-year-long presence on the market, Chevrolet produced more than 500 million vehicles. Among the iconic cars that helped define the brand on the U.S. market are the 1957 Bel Air Nomad, the 1964 Impala, the 1969 Camaro, the 1970 El Camino SS, the 1996 Impala SS. These autos embody a true spirit, dependability, and style of Chevrolet; most of them are nowadays a matter of pride for numerous passionate auto collectors and Chevy fans. Today, vehicles with a well-recognized Chevy "bowtie" can be seen on the roads of 2/3 of the world.
The Chevrolet Suburban is a remarkable representative of Chevy's SUV family. It is the longest-running nameplate in the history that debuted on the market in 1935. Aiming to deliver a great level of passenger comfort and cargo capacity, the model remained a solid choice on the SUV market.
Whether you own the Suburban or any other Chevy SUV or truck, our collection of Chevrolet step bars might come in handy. This accessory, as one of the types of truck steps, will be a perfect add-on for your Chevy, making it more functional and giving it a complete look. Featuring a solid construction, our Chevrolet step bars are thoroughly designed by our specialists to serve you for years to come.
---
FITMENT: AS-500 • AS-500S • AS-550 • AS-550BLK • AS-600 • AS-600S • AS-600SB
Dodge Step Bars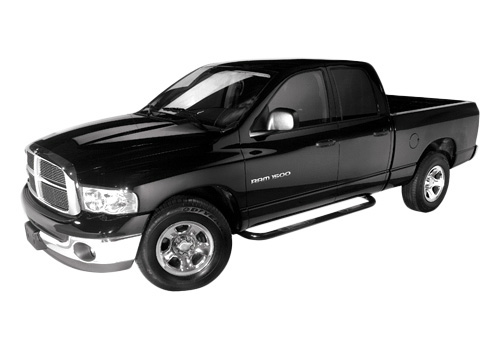 Dodge was founded more than 100 years ago by two brothers, John and Horace Dodge, who had a great experience in the automotive field as they started from manufacturing auto parts for various makes such as Oldsmobile and Ford. The company was incredibly successful from the very beginning and despite the fact that only five years after the debut of the first model the Dodge brothers died from illness and the company was passing from one owner to another, its sales were still rather high and it was sustainably developing. In 1928, it was bought by Chrysler for $170 million, having become its division. Over the years, Dodge gained a solid reputation for luxury, innovation, and power and nowadays it markets globally a wide range of vehicles, including cars, trucks, SUVs, and vans.
The main function of a step bar is to make it more comfortable to get in and out of your truck, SUV, or even van. This accessory can be a perfect solution for high clearance issues: with our Dodge step bars, you won't have to jump into your vehicle any longer. Step bars possess a specially molded surface for better grip without slipping, which is particularly important on a snowy or rainy day. Developed to suit your taste and needs, our Dodge step bars come in a number of options for you to choose from.
---
FITMENT: AS-500 • AS-500S • AS-550 • AS-550BLK • AS-600 • AS-600S • AS-600SB
Ford Step Bars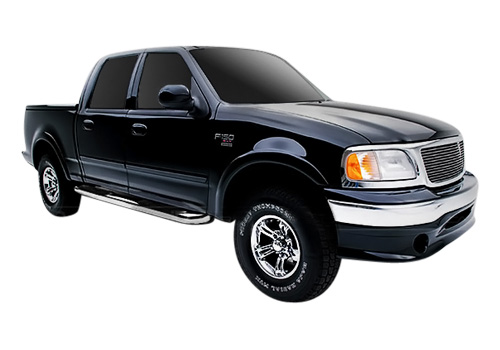 Henry Ford founded Ford Motor Company, that is nowadays globally recognized, back in 1902 with a starting capital of $28,000 sourced from twelve investors. The company's first plant was located in Detroit, Michigan. Originally, the brand was naming its models in alphabetical order, starting from the Model A. However, it wasn't until the Model T, a full-size economy car designed by Childe Harold Wills and two Hungarians, that the brand took the market by storm, becoming one of the most influential manufacturers in the industry.
Since the introduction of the world's first vehicle assembly line, Ford has always been a pioneer in innovative technologies that move the automotive industry forward. Nowadays, Ford is considered the second-largest American auto brand that markets products in more than 100 countries worldwide.
The Ford step bars we carry provide ample foot support and are developed for easier access into your truck or SUV. We offer smartly designed Ford step bars of supreme quality that are easy to install as no drilling is required. With their curved ends and shiny finish, these accessories will give your Ford a stylish look. We ensure that with our products your Ford truck will become even more functional.
---
FITMENT: AS-200 • AS-500 • AS-500S • AS-550 • AS-550BLK • AS-600 • AS-600S • AS-600SB
GMC Step Bars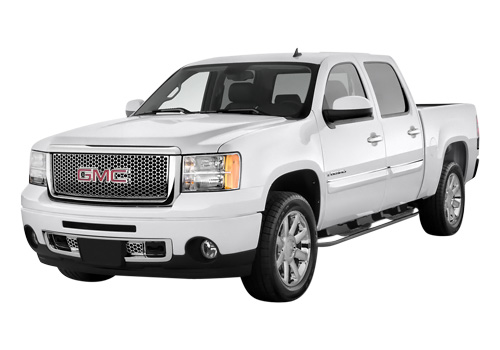 Synonymous with first-class pickup trucks and highly versatile SUVs, GMC has been leading the industry for 100 years. Its origins trace back to the Rapid Motor Vehicle Company owned by Max Grabowski that made some of the earliest commercial trucks. In 1912, the nameplate "GMC" first appeared on vehicles presented at the New York International Auto Show. It stood for "General Motors Truck Company" and, as its name implies, was GM's division that focused primarily on the manufacture of capable trucks.
Over the century, GMC has been constantly developing to offer the products that would precisely meet the needs of customers, making its automobiles more fuel efficient without compromising performance. The current lineup of GMC models includes such powerful SUVs as the Terrain, Yukon, Acadia and such capable pickup trucks as the Canyon, Sierra 1500, Sierra 2500HD.
A step bar is an area on which you plant your foot to get in or out of a tall truck or SUV. This exterior accessory has proved to be highly functional, no wonder it's so popular on the aftermarket. We offer high-quality GMC step bars to help you upgrade your vehicle. We ensure the long-term durability of the GMC step bars available in our catalog: they won't crack or fade over time as they're made of strong, UV-resistant materials.
---
FITMENT: AS-500 • AS-500S • AS-550 • AS-550BLK • AS-600 • AS-600S • AS-600SB
RAM Step Bars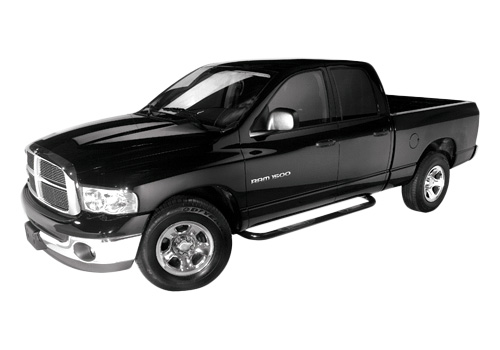 Although Ram is a rather new brand, its name was on everyone's lips for quite a while. A well-recognized full-size pickup truck, the Dodge Ram has been conquering American roads since 1981. In 2009, after Fiat acquired Chrysler, Ram Trucks was launched as a separate division with one goal: to produce and market the toughest trucks and commercial autos in the industry. Bearing a logo with a ram's head, Ram vehicles are meant to catch fancies of those customers that choose powerful capabilities and reliability over elegant appearance. Ram lineup of vehicles includes various light and heavy-duty trucks aiming to meet the needs of a great number of workers. Today, the Ram 1500, 2500, and 3500 are some of the most popular trucks on U.S. roads.
Step bars, or as they are also called nerf bars or running boards, are quite popular exterior accessories for trucks and SUVs. Apart from being highly functional as they make it easier to get in and out of a vehicle, step bars can also significantly enhance its appearance. The Ram step bars we offer are made of tough materials such as stainless steel to provide long-lasting service life. They are custom-designed to precisely fit your vehicle, so you can get one of our Ram step bars leaving all doubts behind.
---
FITMENT: AS-500 • AS-600
Best Nerf Bars & Running Boards
Bully Step Bars Reviews
Bully Step Bar
Average rating:
1 reviews
Feb 1, 2018
Location (Sity, State):
Pittston, PA
Ordered these nerf bars for my 2015 Chevy Colorado crew cab truck. Seem quite sturdy, good quality finish and look. Overall, a nice product from a good brand.