Toyota Bull Bars
For truck and SUV owners, we offer a line of superior quality Bully bull bars for Toyota that are professionally crafted to ensure your satisfaction. Possessing a solid construction and an attractive design, the available Toyota bull bars will become great protection for your vehicle, enhancing its bold appearance.
Best Bull Bars for Toyota
Bull Bar with Skid Plate for Ram 1500

with skid plate holds 2 lights;

comes with installation hardware.

Stainless Steel Bull Bar with Skid Plate for 2004 - 2008 Ford F-150

mandrel bent 3 inch mirror polished stainless steel tubing;

includes removable mirror stainless steel skid plate;

pre-drilled holes for optional auxiliary lights.

Black Bull Bar (Ford Superduty)

IP68 Waterproof and Submersible;

compliant with DOT standards;

trailer light kits has everything included.
---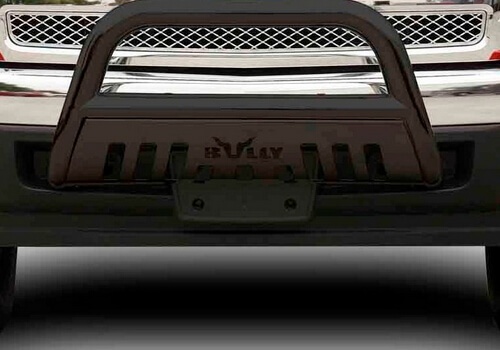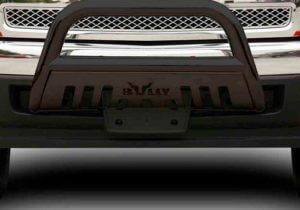 A Japanese company founded in 1937, Toyota is the world's largest auto manufacturer that annually produces over 10 million vehicles. It's a multinational corporation with almost 350,000 employees worldwide. The brand has earned a rock-solid reputation in the industry for its highly refined, well-crafted vehicles. Toyota is synonymous with quality, reliability, and durability; the features that characterize each of the 200 million automobiles released by the brand throughout its history. The current Toyota emblem first appeared in 1989 for the 50th anniversary of the company. It consists of three ovals that on one hand, symbolize "T" which stands for Toyota, and on the other hand, represent a trusted and beneficial relationship between the company and the customer.
Toyota stands at the forefront of the development of environmentally-friendly technologies, aiming to build a better future with its line of hybrid, plug-in hybrid, electric, and fuel cell vehicles. The Toyota Prius C, a full hybrid gasoline-electric car, was chosen as the 2016 Eco-Friendly Car of the Year by numerous respected sources.
---
Bully Bull Bars Reviews
Average rating:
7 reviews
Jun 5, 2022
Location (Sity, State):
Plattsburgh, NY
Bought this for my 2020 Silverado WT. I'll start by saying that I really like the look. I didn't want a full grille guard with light bars and stuff. It's minimal and looks great. So, with installation, it should be a straightforward 1-hr job.
Jun 5, 2022
Location (Sity, State):
Owensboro, KY
The bull bar is very well made and was not difficult to install. The product is truly well worth the cost paid.
Jun 5, 2022
Location (Sity, State):
Houston, TX 77077
A good fit for my 2014 Ford F-350. My bull bar arrived well packed and in perfect condition. All the hardware and instructions were included. Great packaging, as the bull bar was not scratched or something.
Jun 5, 2022
Location (Sity, State):
Nutley, NJ
These things came with a ton of extra stuff for connecting to many types of vehicles. The installation for mine was pretty straightforward forward I did not need anything other than a couple of bolts and screws.
Feb 2, 2018
Location (Sity, State):
Watertown, wi
I have a Bully Stainless bull bar on the front of my 2001 Silverado. This morning I hit a deer at 55 mph,the only damage is it bent the center of the bull bar. This Bully product saved the front clip on my truck!! I have had other brands ,but this one is the real deal! Not only looks great ,but actually did the job.Thank you Bully for a superb product!