Bully Tonneau Cover
Add more security and style to your pickup truck! Install one of Bully tonneau covers that will protect the contents of the truck bed from rain, snow, and sun, conceal your valuables, and complement the look of your vehicle. Tri-fold and soft top designs are easy to put on and take off. Tonneau covers by Bully are custom made for specific trucks for a snug fit. If you want to stylize your rig, trust Bully, a recognized manufacturer of quality truck accessories.
Features: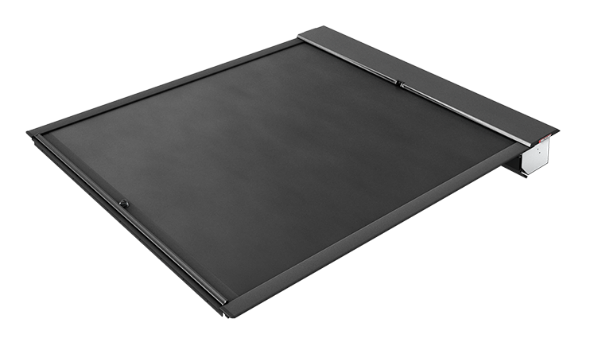 Premium all-weather protection;
Made specifically for your make and model;
Completely assembled and ready to put on;
Simple no-drill installation with clamp-on tracks and plastic snaps;
Quality automotive grade materials;
Lightweight construction.
Upgrading your truck with a tonneau cover is a smart move, considering all the benefits it will give you. It will prevent the elements from doing harm to your truck bed's contents. If you often transport tools, equipment, and other valuable cargo, a cover will conceal the contents, protecting them from thieves. You may have not known it, but adding a tonneau cover reduces drag and improves aerodynamics, resulting in better fuel mileage. Finally, your truck will get a sleeker look!
Bully tonneau covers are custom designed for each specific application to fit the first time. They require no drilling and no assembly for an easy, trouble-free installation. When you need access to the bed, you can easily fold up or roll up a Bully tonneau cover with absolutely no hassles of alignment. Tri-fold covers are made from 3 ply vinyl for quality weather protection and durability. A lightweight aluminum frame adds to the ease of installation / removal. Three center support bows eliminate water pooling and ensure a clean, neat look. Protect the cargo and make your rig look great with a quality tonneau cover by Bully, the manufacturer that truck owners know and trust!
Access our store as a guest!
Chevrolet Tonneau Covers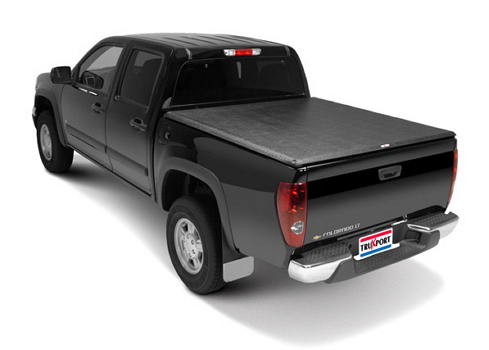 A world-known American company established back in 1911, Chevrolet takes one of the leading places on the automotive market, offering an impressive range of vehicles, from subcompact sedans to full-size trucks and SUVs. Officially known as the Chevrolet Division of General Motors, the brand has developed a strong reputation as a manufacturer of affordable and innovative vehicles. Among the company's flagship models are the Camaro, Impala, Silverado, Colorado, Tahoe, etc. For more than 100 years, Chevy autos with their "bowtie" logo have been defining the U.S. automotive industry, being successful both on the American roads and on the racetrack.
Chevy trucks are praised for their functionality and versatility, however, there is always a way to make your vehicle even better. Among a wide range of pickup truck accessories available on the market today, a Chevy tonneau cover can become your ultimate choice, possessing both functional and aesthetic benefits. Our Chevrolet tonneau covers feature a smart and beautiful design, protecting the truck bed and giving your Chevy a desired look. The quality and durability of our products will definitely impress you, no matter what material or design of the cover you choose.
---
FITMENT: TNS-1001 • TNS-1002 • TNS-1003 • TNS-1004 • TNS-1005 • TNS-1006 • TNS-1007 • TNS-1008 • TNS-1009 • TNS-1011 • TNS-1012 • TNS-1014
Listed as a perfect fit for Chevrolet: C1500 1988-1998; C2500 1989-1998; K1500 1988-1998; K2500 1989-1998.
Truck Bed Type: Fleetside, 6.5 inch Short Bed. Truck Bed Length: 78 inch.
Dodge Tonneau Covers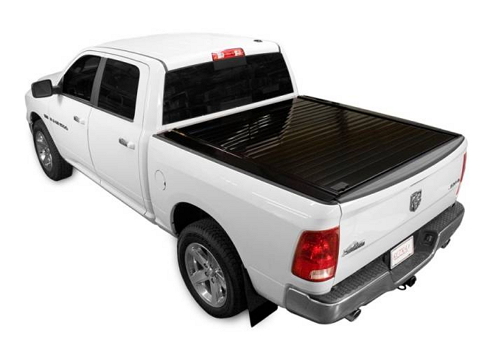 Dodge has gone a long way from the dawn of the automotive industry till the present day, remaining a successful company for more than 100 years. Dodge, a division of FCA US, is one of North America's most recognized automotive brands that mainly markets performance-oriented vehicles with a bold and aggressive style.
In the last years, Dodge has been primarily focusing on the production of more practical vehicles, putting the overall quality and performance in priority. Such outstanding models as the Dodge Ram, Challenger, Charger, Avenger, and the Grand Caravan have brought a tremendous success to the company that keeps surprising its followers even nowadays.
A tonneau cover is meant to keep the valuable items in your truck's bed protected. If you're worried that the goods you're transporting might fall out of the bed or get wet because of rain or snow, a tonneau cover is a perfect solution for you. Our Dodge tonneau covers, all featuring high quality and long-lasting durability, are designed to protect your belongings and give a finished look to your truck.
The installation won't require much time or efforts and you can be sure that the Dodge tonneau cover we offer will precisely fit your truck.
---
FITMENT: TNS-2001 • TNS-2002 • TNS-2003 • TNS-2004 • TNS-2005 • TNS-2006 • TNS-2007
Listed as a perfect fit for Dodge: Ram 1500 2002-2008; Ram 2500 2002-2008; Ram 3500 2003-2007.
Truck Bed Type: 6.3 inch Short Bed, w/o Spoiler. Truck Bed Length: 75.9 inch 76.3 inch.
Ford Tonneau Covers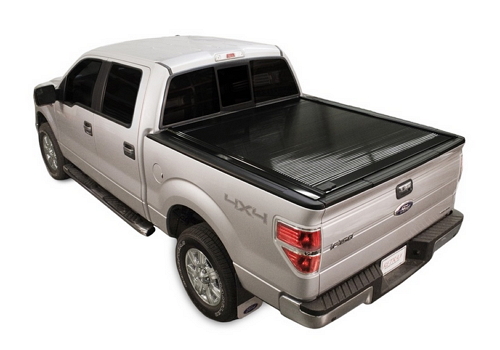 With a 100-year-long experience serving the transportation needs of people all over the globe, Ford Motor Company is the second-largest auto manufacturer in the USA. Founded by Henry Ford back in 1903 and headquartered in Dearborn, Michigan, Ford represents a true American spirit offering a wide range of vehicles of unquestionable quality. Ford's lineup includes family cars, luxury autos, commercial vehicles, and even hybrid cars. The company is known as one of the Big Three American manufacturers, having millions of loyal customers in numerous countries. Ford's F-150, the most popular representative of the F-Series range of trucks, has been the best-selling vehicle in the U.S. for decades. Among other renowned Ford models are the Focus, Fiesta, Mustang, Flex, and Transit.
If you're thinking about upgrading your Ford truck with a tonneau cover, then we can assure you that it's a smart thing to do as this accessory provides a number of advantages. It's a well-known fact that tonneau covers protect your truck bed and keep your cargo safe. However, apart from that, bed covers make your pickup more aerodinamic, consequently, reducing fuel consumption. Our collection of Ford tonneau covers will certainly meet your needs as we offer products of superior quality, designed in several styles. Pick one of our Ford tonneau covers and be sure that the goods stored in your truck's bed will be reliably secured.
---
FITMENT: TNS-3001 • TNS-3002 • TNS-3003 • TNS-3004 • TNS-3005 • TNS-3006 • TNS-3007 • TNS-3008 • TNS-3009 • TNS-3010
Listed as a perfect fit for Ford: F-150 1997-2003; F-150 Heritage 2004.
Truck Bed Type: Styleside, 6.5 inch Short Bed. Truck Bed Length: 78 inch.
Nissan Tonneau Covers
Nissan has been manufacturing vehicles since the early 1930s and today it is an internationally-renowned brand, part of the Renault–Nissan Alliance. The Alliance is the fourth largest automaker in the world – one out of ten cars sold today is produced by this company. In 2013, they sold more than 8 million units together. As for Nissan alone, it is the world's sixth largest carmaker.
The Nissan model line is wide and comprehensive, it also includes pickup trucks that are so popular nowadays, especially among American drivers. The current range of pickup trucks includes full-size models, the Frontier and Titan.
If you are the owner of the Titan, the Frontier, or other Nissan pickup truck, consider upgrading your workhorse with a tonneau cover. This accessory combines style and function. It protects your cargo from bad weather conditions like snow or rain as well as from the prying eyes of thieves and makes your pickup truck more stylish. Our tonneau covers for Nissan trucks feature unique plastic snaps that allow you to easily put on the cover and take it off when not needed. Manufactured from high quality materials, they effectively protect your stuff from unfavorable weather conditions. If you want to make your access to the bed or cabin easier, take a look at our inventory of Bully truck steps.
---
FITMENT: TNS-4001 • TNS-4002 • TNS-4003 • TNS-4004
Listed as a perfect fit for Nissan: Titan 2004-2012.
Truck Bed Type: Crew Cab, 5.5 inch Short Bed, w/o Cargo Management System. Truck Bed Length: 67.1 inch.
Toyota Tonneau Covers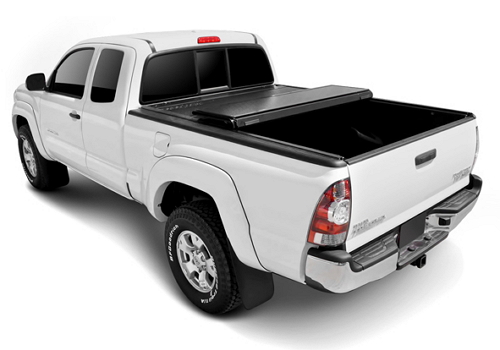 Toyota is a worldwide-known vehicle manufacturer that holds one of the leading positions on the automotive market nowadays. In 2012, the company manufactured its 200-millionth vehicle and was the largest automaker in the world. Besides, it is the world's first carmaker to manufacture over 10 million vehicles a year and the leader of the hybrid electric vehicles market segment with more than 9 million hybrid models sold as of 2016. Pickup trucks are among the pillars of Toyota's lineup today.
The automaker entered this crowded market segment back in 1947 and is still a strong competitor. Current Toyota's pickup truck line is represented by the full-size Tundra and Tacoma and compact Hilux. Though, earlier models still have some visible presence on the road as well.
Using your Toyota pickup regularly, you most likely want your cargo in the bed to be protected from the elements and theft. A tonneau cover will be a great solution in this case. Apart from keeping your cargo covered from sun, rain, snow, etc., it will hide your stuff from the eyes of thieves. Besides, this useful accessory will add a touch of style to your pickup truck. We offer quality tonneau covers for Toyota trucks made from only premium materials. For more protection of your cargo in the truck bed, you can use a Bully tailgate lock.
FITMENT: TNS-5001 • TNS-5002 • TNS-5003 • TNS-5004 • TNS-5005 • TNS-5006 • TNS-5007
Listed as a perfect fit for Toyota: Tacoma 1995-2004.
Truck Bed Type: Std/Ext Cab, Short Bed. Truck Bed Length: 74.5 inch.
GMC Tonneau Covers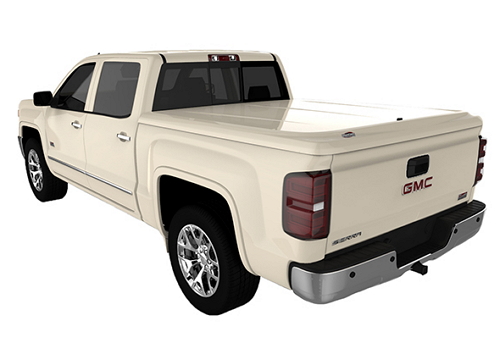 GMC is the division of General Motors that currently specializes mainly in trucks and sport utility vehicles. GMC trucks became popular quite fast. In 1916, a GMC truck crossed the United States from Seattle to New York City in 30 days and ten years later, in 1926, another GMC truck traveled from New York to San Francisco in just a bit more than 5 days. Besides, during World War II GMC produced over 600,000 trucks for the military needs. Nowadays GMC vehicles are still popular, especially the Sierra, Yukon, Terrain, and Denali line.
Owners of pickup trucks know that it is very important to protect the cargo from sun, rain, snow, and other weather conditions and keep the truck bed clean and dry. When you're away from your truck, it is a good idea to cover your stuff to keep it hidden from opportunistic thieves.
That's where a tonneau cover will be useful, as it performs both of these functions well. Plus, installing a tonneau cover, you will add style to your GMC truck. Made from automotive grade materials, our GMC tonneau covers ensure superior protection to your valuables and high durability. Apart from GMC tonneau covers, here you can also find Bully truck steps, hitch steps, and other accessories for your truck.
---
FITMENT: TNS-1001 • TNS-1002 • TNS-1003 • TNS-1004 • TNS-1005 • TNS-1007 • TNS-1008 • TNS-1011 • TNS-1012 • TNS-1013 • TNS-1014
Listed as a perfect fit for GMC: C1500 1988-1998; C2500 1989-1998; K1500 1988-1998; K2500 1989-1998.
Truck Bed Type: Fleetside, 6.5 inch Short Bed. Truck Bed Length: 78 inch.

Best Tonneau Covers
Bully Tonneau Covers Reviews
Bully Tonneau Cover
Average rating:
3 reviews
Feb 4, 2018
Location (Sity, State):
Albany, GA
I ordered it for my 2005 Silverado 1500. It fit my truck bed tightly as advertized. Didn't have to adjust anything, overall it looks great and offers good quality for the price. No reason to look further and pay more, that's what I think.
Jul 7, 2017
Location (Sity, State):
Los Angeles, CA
The cover attaches easily and fits precisely. Keeps things inside nice and dry. Well made for the money.
Jun 24, 2017
Location (Sity, State):
Birmingham, AL
Very simple to install and remove. It fits tightly without flapping in the wind and looks great. Nice quality tonneau cover, thanks a bunch.