Bully Trailer Hitch Balls and Mounts
Both Bully hitch balls and Bully hitch ball mounts are manufactured from solid stainless steel hot forged for maximum strength. Each one is designed to meet or exceed V-5 specifications and comply with VESC-5 and SAE J 684 ratings. When you need strong hitch accessories for safe and comfortable towing, rely on Bully, a renowned manufacturer that stands behind each and every product.
Features: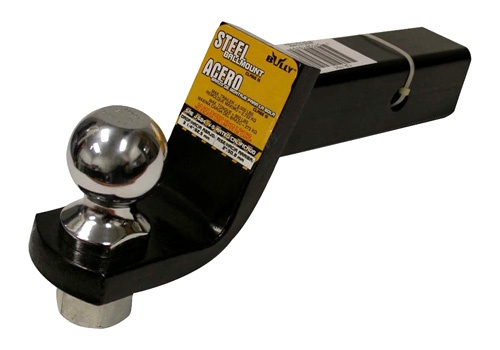 1-7/8 in. or 2 in. hitch ball;
2 in. drop Class III stainless steel ball mount;
Hot forged steel construction for durability and strength;
Complies with VESC-5 and SAE J 684 regulations;
Stainless steel and chrome finish options.
When it comes to towing, you have to make sure your vehicle is equipped with quality accessories that ensure the load behind your rig is pulled safely and securely. We at Bully never skimp on quality and carefully select materials and use precision production methods to create accessories that are worth installing on your trailer-hauling machine.
Regardless of your destination and load, we offer a complete selection of quality hitch balls and mounts made from hot forged stainless steel and covered with a reliable warranty. Bully hitch ball mounts and hitch balls feature strong and durable material construction. They are tested to meet safety specs of SAE J684 VESC regulations V-5. Every Bully hitch ball has wrench flats for simple installation. When choosing a hitch ball for your vehicle, keep in mind that hitch load rating should exceed or at least be equal to trailer gross vehicle weight specifications (GTWR).
Access our store as a guest!
Chevrolet Hitch Balls & Mounts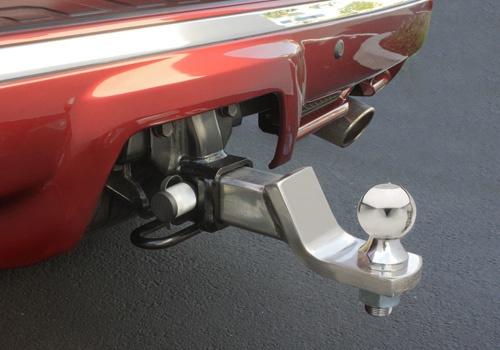 The history of Chevrolet started in 1911, when the racer Louis Chevrolet and GM founder William C. Durant decided to establish a new company that very fast gained a strong reputation on the automotive market for durability, quality, and functionality of its products. Due to the introduction of revolutionary technologies that allowed for creating affordable highly-performing vehicles, the brand quickly found its followers. Among numerous innovations adopted by Chevrolet were safety glass, anti-lock brakes, fuel injection, and electronic stability control system.
Through the years, Chevrolet autos became true American icons. The 1963 Corvette Stingray was praised as one of the most beautiful cars ever, the 1957 Bel Air was a vivid symbol of the Jet Age. The Suburban, an SUV that has been on the market since 1935, is the longest-running nameplate in the automotive history. Chevy keeps impressing drivers all over the world, putting a premium on comfort and performance. When you opt for Chevrolet hitch balls & mounts, pay attention to the material the accessories are made of as it's highly important for the firmness and strength of the whole construction. Our hitch balls and ball mounts are produced of steel to ensure safe towing. Select the needed products from our Chevrolet hitch balls & mounts category and be sure to get the job done.
Dodge Hitch Balls & Mounts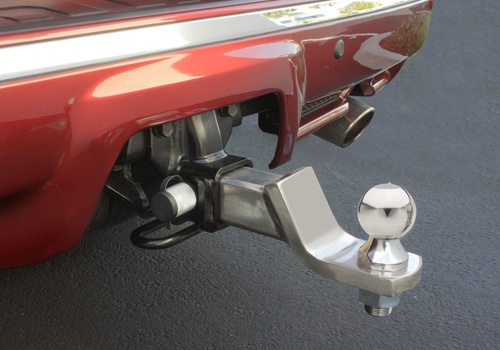 The Dodge Brothers Company, known as Dodge nowadays, has its roots in the late 1900 in a Michigan city called Auburn Hills. The founders of the brand, John and Horace Dodge, started as machinists working for a variety of companies. As they entered the automotive business, they began manufacturing auto parts for a number of makes and eventually established their own brand of autos. Following a 100-year-old tradition of revolutionary innovation, Dodge vehicles possess a number of prominent features such as a stylish appearance, mighty performance, and proven reliability that make them number one choice for millions of customers all over the world.
Dodge lineup of vehicles includes the fastest muscle car in the automotive history, the Challenger SRT Hellcat. Among other remarkable models are the Dodge Ram, Charger, Durango, Grand Caravan, Dakota, etc. To tow safely and efficiently, your truck should have just the right equipment for the job. Hitch balls and ball mounts are some of the essential components of the hitch system. Our Dodge hitch balls & mounts are made of sturdy stainless steel and are carefully designed to precisely fit your vehicle, complying with VESC (Vehicle Equipment Safety Commission) regulations. Our Dodge hitch balls & mounts come in various sizes and designs, featuring different capability and functions, so you will certainly find what you need.
Ford Hitch Balls & Mounts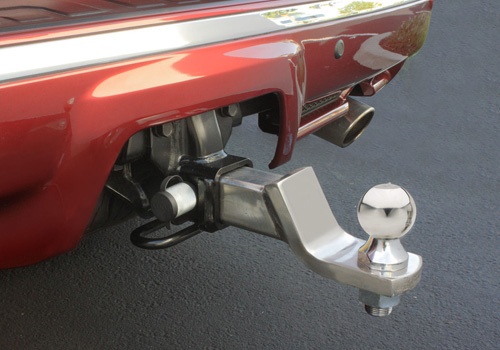 Since its inception in 1903, Ford has been an innovator in global industry. Starting with $28,000 of initial investment, Ford put great efforts into building its status on the market, turning into a major auto company considered nowadays the fifth most valuable auto brand in the world. The company's main goal is to make lives of people all over the planet better through automotive technologies. Ford is committed to producing quality vehicles, taking care of customers' safety and comfort and sustainability of our planet. Having over 50 manufacturing facilities all over the world, Ford markets a wide range of cars, crossovers, SUVs, pickup trucks, and vans, all designed to serve the needs of customers, offering great design, performance, fuel economy, and safety features.
Every Ford truck, whether it's the F-150, Super Duty, Transit, Ranger, or any other model, is developed to reliably carry out its functions for years to come. When it comes to towing, you might need additional equipment such as Ford hitch balls & mounts to set up your vehicle with everything necessary to cope with the job. We offer products of top-class quality, thoroughly tested to meet your strictest requirements. You won't have any difficulties equipping your truck with the Ford hitch balls & mounts available in our assortment; for instance, our hitch balls possess wrench flats for easy installation. So choose the appropriate part and enjoy all its advantages.
GMC Hitch Balls & Mounts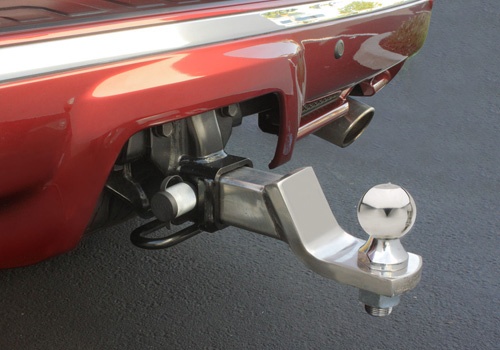 Although GMC was officially established in 1912, its history began with the 1902 Rapid truck, introduced by the Grabowsky brothers, the owners of the Rapid Motor Vehicle Company. The model attracted the attention of General Motors, so ten years later, the company was acquired by the American corporation and the name "GMC Trucks" was first presented at the New York Auto Show. Since then, the brand has been associated with power, capability, and performance. GMC specializes in producing SUVs, pickup trucks, and vans, trying to keep up-to-date with the latest technologies the industry can offer. Only a few know that GMC was one of the first manufacturers to build the world's earliest electric vehicles in the period between 1912 and 1917. Over the years, GMC developed a number of outstanding models, including the GMC Sierra, Denali, Yukon, Terrain, and Acadia.
Towing utilizes every muscle of your GMC truck, so it's important to make sure every mechanism of your vehicle works properly and the hitch system is solid and reliable. Our inventory of GMC hitch balls & mounts would be of great use if you want to equip your vehicle for trailering. These accessories possess a rigid construction and will reliably carry out their functions. The GMC hitch balls & mounts we offer are thoroughly designed to help you install them without any difficulties.
RAM Hitch Balls & Mounts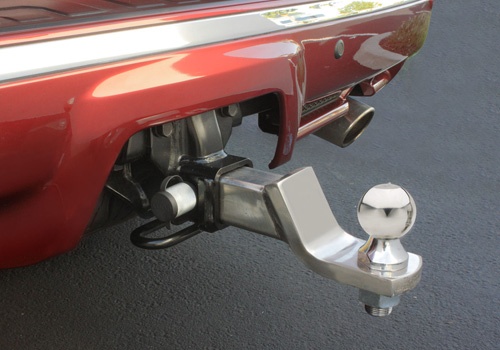 Ram Trucks is an American company headquartered in Auburn Hills, Michigan that focuses on the production of commercial vehicles. Established in 2010 as a division of Chrysler, the brand received the name of the world-known Dodge model, a sturdy truck that gained its unrivaled reputation for dependability and outstanding capabilities, being on the market since 1981. Ram vehicles bear a logo that depicts a ram's head, the emblem previously used by Dodge. Ram trucks are developed for true truck lovers who value power and functionality.
No doubt, you can rely on the precise engineering of your Ram truck when you put it to hard work. It requires sturdy and rigid equipment to be installed on it for an efficient job and we can help you get just the right parts. We offer you the towing products of supreme quality that are meant to help your beast carry out its duties. Our Ram hitch balls & mounts are made of steel to ensure everlasting durability and come in the variety of designs and sizes, so you can choose the component according to your needs. The hitch balls we offer feature a durable chrome finish and have wrench flats for the ease of installation. Look through our collection of Ram hitch balls & mounts and select the required product with confidence.
FITMENT: SR-750 • SR-751 • SR-752 • SR-753 • SR-757 • SR-760 • SR-761 • SR-701 • SR-702 • SR-705 • SR-706 • SR-707 • SR-709 • SR-713 • SR-714 • SR-790 • SR-791
Best Hitch Balls and Mounts
Bully Hitch Balls & Mounts Reviews
Bully Trailer Hitch Ball
Average rating:
3 reviews
Jan 22, 2018
Location (Sity, State):
Brook Park, OH
I pulled trailers everywhere this summer with this hitch. It is strong and well-welded and overall works great for me. If you are looking for a good hitch for a good price, don't hesitate.
Aug 24, 2017
Location (Sity, State):
Branchburg, NJ
This is a solid unit with decent construction and quality finish. Maybe the last one I will ever have to buy.
Jul 18, 2017
Location (Sity, State):
New York, NY
It is a well-made hitch ball. The chrome finish is high quality and matches chrome trim on my truck.