Chevrolet Hitch Covers
In case you use your truck or SUV for towing, take a look at our range of Chevrolet hitch covers that combine style and function. Hitch covers protect the trailer hitch from corrosion and debris buildup and, available in various color and logo options, complete the look of your vehicle. Find a wide range of truck accessories for Chevrolet models here, including hitch steps, trailer lights, etc.
Best Hitch Covers for Chevy
Universal Fit Truck Hitch Step with LED Brake Light [Bull Series]

fits 1.25" and 2" hitch receivers;

easy access to truck beds, roof racks and SUV interiors;

the lighted hitch cover features LED brake light.

Universal Truck Hitch Step Fits 2" Hitch Receivers

fits 1-1/4" and 2" receivers;

requires use of a 5/8" hitch pin.

Receiver Hitch Mount Step with LED (Chrome)

features LED brake lights;

LEDs flash along with hazard lights.

Universal Fit Truck LED Brake Light Hitch Cover

wiring harness plugs into standard 4-pole plug;

provides function and finish when hitch is not in use.

Dodge RAM Logo Hitch Cover

fits 1.25" and 2" hitch receivers;

material: triple plated chrome metal;

Dodge emblem covers basic hitch;
---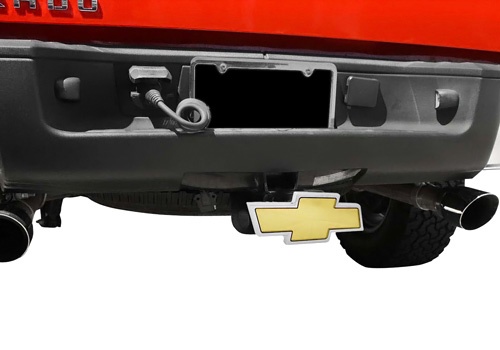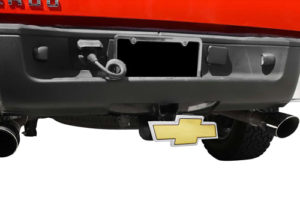 Chevrolet is a division of General Motors founded in 1911. A famous "bowtie emblem" was introduced in 1913 and appeared on vehicles the next year. The first automobiles to receive the "bowtie emblem" were the Baby Grand and Royal Mail (H series models) and the Light Six (L Series Model). Today this logo is known in 140 countries worldwide.
Chevrolet is also famous for its engines. Its small-block engine is the longest-running mass-production engine in the world and it is still in production.
Chevrolet (also known as Chevy) manufactures a wide range of vehicles, from subcompact cars to medium-duty trucks. Pickup trucks and SUVs are an important part of the company's model range. The lineup includes the Silverado, Colorado, Tahoe, Suburban, and others.
---
Customer Reviews
Average rating:
4 reviews
Jun 5, 2022
Location (Sity, State):
Southfield, MI
Purchased this LED brake light hitch cover based on other user reviews. Got it in 2 days. Installed in about 10 minutes. Super easy installation.
Jun 5, 2022
Location (Sity, State):
New Castle, DE
I bought your Dodge RAM Logo Hitch Cover. Install was easy and looks clean.
Feb 5, 2018
Location (Sity, State):
Hartford, TN
Installed the hitch cover two weeks ago and it's perfect. Looks really cool, especially at night when the emblem lights up.
Aug 8, 2017
Location (Sity, State):
Lincoln, NE
It is really nice, looks classy. A good way to show your pride! Would recommend to anyone interested.