Dodge Hitch Covers
Protect your trailer hitch from corrosion, debris buildup, and rust. Take a look at our range of Dodge hitch covers – made from quality materials, they will provide reliability and durability. Besides, a variety of colors and finishes allows you to get the cover you like most and make your truck different. For example, you can get a hitch cover with the logo of your favorite college sports team. And apart from protecting your trailer hitch, you will also be able to customize your vehicle's look.
Best Hitch Covers for Dodge
Universal Fit Truck Hitch Step with LED Brake Light [Bull Series]

fits 1.25" and 2" hitch receivers;

easy access to truck beds, roof racks and SUV interiors;

the lighted hitch cover features LED brake light.

Universal Truck Hitch Step Fits 2" Hitch Receivers

fits 1-1/4" and 2" receivers;

requires use of a 5/8" hitch pin.

Receiver Hitch Mount Step with LED (Chrome)

features LED brake lights;

LEDs flash along with hazard lights.

Universal Fit Truck LED Brake Light Hitch Cover

wiring harness plugs into standard 4-pole plug;

provides function and finish when hitch is not in use.

Dodge RAM Logo Hitch Cover

fits 1.25" and 2" hitch receivers;

material: triple plated chrome metal;

Dodge emblem covers basic hitch;
---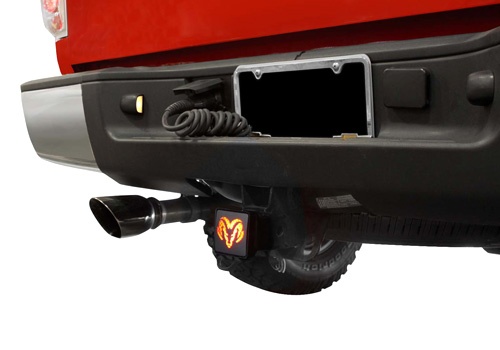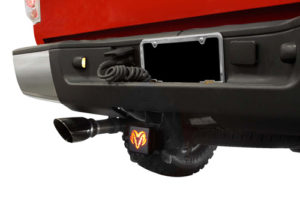 Dodge was founded at the very beginning of the 20th century, in 1900, by two brothers, John and Horace Dodge. Originally, the company manufactured precision components for other Detroit-based carmakers, though by 1914 they were ready to produce their own automobile, which was named the Model 30. It came with a 4-cylinder engine rated at 35 hp and connected to a sliding-gear transmission.
Thanks to its innovative features, like a 12-volt electrical system and all-steel body construction, and the excellent reputation of the Dodge brothers, the vehicle was well accepted. In 1916, the Dodge Brothers company was the second-largest carmaker in the U.S. by sales.
Since 1928, Dodge has been a division of Chrysler. Its current model line includes such famous vehicles as the Ram, Viper, and Caravan.
---
Customer Reviews
Average rating:
4 reviews
Jun 5, 2022
Location (Sity, State):
Southfield, MI
Purchased this LED brake light hitch cover based on other user reviews. Got it in 2 days. Installed in about 10 minutes. Super easy installation.
Jun 5, 2022
Location (Sity, State):
New Castle, DE
I bought your Dodge RAM Logo Hitch Cover. Install was easy and looks clean.
Feb 5, 2018
Location (Sity, State):
Hartford, TN
Installed the hitch cover two weeks ago and it's perfect. Looks really cool, especially at night when the emblem lights up.
Aug 8, 2017
Location (Sity, State):
Lincoln, NE
It is really nice, looks classy. A good way to show your pride! Would recommend to anyone interested.