Ford Hitch Covers
Don't leave your trailer hitch exposed to the elements; get a Ford hitch cover. This useful accessory combines function and style. Protecting your trailer hitch from debris buildup, corrosion, and rust also looks attractive and makes your vehicle more stylish.
Best Hitch Covers for Ford
Universal Fit Truck Hitch Step with LED Brake Light [Bull Series]

fits 1.25" and 2" hitch receivers;

easy access to truck beds, roof racks and SUV interiors;

the lighted hitch cover features LED brake light.

Universal Truck Hitch Step Fits 2" Hitch Receivers

fits 1-1/4" and 2" receivers;

requires use of a 5/8" hitch pin.

Receiver Hitch Mount Step with LED (Chrome)

features LED brake lights;

LEDs flash along with hazard lights.

Universal Fit Truck LED Brake Light Hitch Cover

wiring harness plugs into standard 4-pole plug;

provides function and finish when hitch is not in use.

Dodge RAM Logo Hitch Cover

fits 1.25" and 2" hitch receivers;

material: triple plated chrome metal;

Dodge emblem covers basic hitch;
---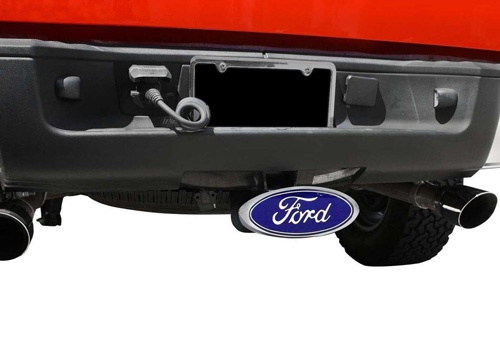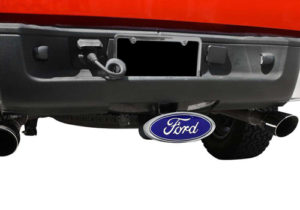 The company that first made automobiles affordably was established in 1903 by Henry Ford and succeeded very soon – its legendary Model T became a huge hit and it still is on the top ten list of the best-selling cars of all time. The Ford Model T is considered the first vehicle that a majority of Americans could afford and the first car to be marketed in various countries simultaneously. About 16.5 million units were sold during the Model T's production run. Today Ford is still a successful automaker, being part of the "Big Three" and the fifth largest vehicle manufacturer in the world and in Europe alone.
Ford's pickup trucks are worth a special mention. The current range includes the F-150 and Super Duty series (former F-Series) that are highly praised by numerous drivers in the U.S. and worldwide. The F-Series by Ford was launched in 1948 and is still produced nowadays, for the thirteenth generation as of 2016. The model has been the best-selling pickup truck since 1977 and the best-selling vehicle in the U.S. since 1981. In 2013, Ford produced its 33-millionth truck of the F-Series.
---
Customer Reviews
Average rating:
4 reviews
Jun 5, 2022
Location (Sity, State):
Southfield, MI
Purchased this LED brake light hitch cover based on other user reviews. Got it in 2 days. Installed in about 10 minutes. Super easy installation.
Jun 5, 2022
Location (Sity, State):
New Castle, DE
I bought your Dodge RAM Logo Hitch Cover. Install was easy and looks clean.
Feb 5, 2018
Location (Sity, State):
Hartford, TN
Installed the hitch cover two weeks ago and it's perfect. Looks really cool, especially at night when the emblem lights up.
Aug 8, 2017
Location (Sity, State):
Lincoln, NE
It is really nice, looks classy. A good way to show your pride! Would recommend to anyone interested.