Pickup trucks feature their own body styles, as they combine features of a truck with benefits of a passenger vehicle. Types of truck cabs depend pretty much on the number of doors and seats placement in the vehicle.
Good to know, that pickup truck body styles may differ from a carmaker to carmaker. In other words, the same type of cab produced by different car brands can be called in a different way. Many truck parts and accessories will fit specific cab type, so it is crucial to know, what is the cab type of your truck.
Pickup Truck Cab Styles
| | | | |
| --- | --- | --- | --- |
| CHEVY / GMC | Regular Cab | Double Cab | Crew Cab |
| DODGE | Regular Cab | Quad Cab | Crew Cab |
| FORD | Regular Cab | Super Cab | Super Crew |
| NISSAN | Regular Cab | King Cab | Crew Cab |
| TOYOTA TACOMA | Regular Cab | Access Cab | Double Cab |
| TOYOTA TUNDRA | Regular Cab | Double Cab | Crew Max |
Regular Cab
The name of this truck speaks for itself, as this is the smallest cab type available. It features 2 doors and 2 seats. Regular cabs do not feature any seats in the rear.

This cab type is truly the traditional variant for the real American pickup, as this configuration may be seen on the very first US-built pickup trucks. Another variant of the regular cab is access cab.
Access Cab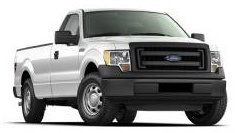 This is the second smallest pickup truck on the U.S. roads. Like the regular cab, it features only 1 row of seats. Yet access cab trucks come equipped with suicide doors, which give access to the area behind the seats, hence the name. Ford used to offer their F-150 truck in such configuration.
Having not become popular enough, the F-150 with suicide doors was discontinued.
Extended Cab
Trucks that feature extended cab configuration have 2 rows of sitting, yet for the older truck models they came equipped only with 2 doors. And, to access the 2nd row seats, one has to enter the truck through the front door, fold the back of the seat and only then access the 2nd row area.

The newer models of the extended cab trucks feature 2 small doors in the rear that open from inside, like suicide doors. This makes entering the truck more convenient for the 2nd row passengers. Yet, all versions of the extended cab feature limited leg space for the second-row passengers, which is a definite disadvantage for long trips. Cabs that feature 3 doors (2 full-size fronts and one small behind) are also considered to be extended cab. Though, every car maker has got its own name for these trucks:
Ford – Supercab;
Dodge – Quad cab;
Dodge – Club Cab;
Toyota – Xtra Cab;
Mazda – Cab Plus;
Nissan – King Cab.
Crew Cab
Originally, crew cabs were developed to transport people, rather than cargo, hence the name. Such pickup trucks feature 2 rows of seats and 2 full-size doors, hinged like the doors of the regular passenger vehicles.

These trucks feature more functions for people, than for hauling cargo. Ford F-150 with four full-size doors are labeled supercrew, while the other F-series trucks are crew cabs. Toyota calls such trucks double cabs.
MegaCab
Mega Cab is the extended version of the previous cab type, and features 2 rows of seats and 4 full-size doors. But unlike the previous cab type, MegaCab features more room behind the 2nd row seats to transport more cargo. Crew Max is another name for Toyota trucks in this body style. These trucks are the biggest ones out of the whole truck range.

Vehicle Manufacturer Cab Name List
| MAKE | MODEL | CAB NAME |
| --- | --- | --- |
| Chevy | Colorado | Regular Cab, Extended Cab, Crew Cab |
| Chevy | Silverado | Regular Cab, Extended/Double Cab, Crew Cab |
| Dodge | Dakota | Regular Cab, Extended Cab, Quad Cab |
| Dodge | Ram | Regular Cab, Extended Cab, Club Cab, Quad Cab, Mega Cab |
| Ford | Explorer Sport Trac | Crew Cab |
| Ford | F150 | Regular Cab, SuperCab, Super Crew |
| Ford | SuperDuty | Regular Cab, Super Cab, Crew Cab |
| Ford | Ranger | Regular Cab, Super Cab |
| GMC | Canyon | Regular Cab, Extended Cab, Crew Cab |
| GMC | Sierra | Regular Cab, Extended/Double Cab, Crew Cab |
| Honda | Ridgeline | Crew Cab |
| Isuzu | I-Series | Regular Cab, Extended Cab, Crew Cab |
| Mazda | B Series | Regular Cab, Extended Cab |
| Mitsubishi | Raider | Regular Cab, Extended Cab, Double Cab |
| Nissan | Frontier | Regular Cab, King Cab, Crew Cab |
| Nissan | Titan | King Cab, Crew Cab |
| Toyota | Tacoma | Regular Cab, Access Cab, Xtra Cab, Double Cab, Crew Cab |
| Toyota | Tundra | Regular, Access Cab, Double Cab, Crew Max |