What do you value the most in wild conditions of life protections? Introducing landlord of the world's first automatic content that will protect your Kong and transform into a camping tent in in the matter of seconds. Convenient and easy with wireless remote is included into the kit.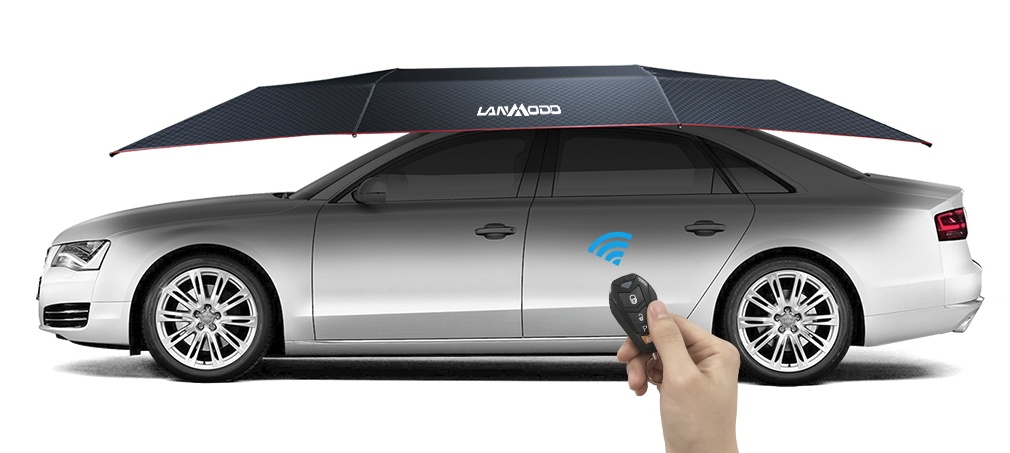 Control land motor is the best partner for outdoor activities. Headaches setting up a beach umbrella instead of enjoying your time with friends is really frustrating. Struggling with assembling and fighting with the wind are not the best fun. Though, there is another and less time-consuming option available. Even a bear can bare, so forget your beach umbrella nightmare!
Car umbrella: Installation and features
Okay let's get serious. It takes just 30 seconds to install a car umbrella. Its rechargeable battery will work independently up to 45 days and allow automatic umbrella setup up to 500 times, once charged. Supported by ropes from both sides of the car, this umbrella creates a solid protective shield.
Besides, it features anti-theft protection. Its temperature control feature will also keep your car cool, and hot weather is capable of dependably sustaining a temperature inside the car of up to 35 degrees lower than under the hot sun.
A quality car umbrella kit normally includes:
| ITEM | QUANTITY | EQUIPMENT |
| --- | --- | --- |
| Umbrella car tent | 1 | Basic |
| Car charger | 1 | Basic |
| Wall charger | 1 | Basic |
| Remote controller | 1 | Basic |
| Bag | 1 | Basic |
| Stand | 1 | Optional |
| Pull Ropes | 4 | Optional |
| Tent Pegs | 4 | Optional |
| LED lamp | 1 | Optional |
| Side canopies | 8 | Optional |
What vehicles is car umbrella made for?
Car umbrella fits any vehicle regardless of the body style:
SUV
sedan
convertible
station wagon
full-size truck.
Convenience and protection
The soft surface of the car umbrella is created to protect your car from scratches. Innovative design also prevents unwanted damage from bird droppings. Smart structure of the car umbrellas make this device portable, and its four adjustable ropes will prevent the car from the wind up to 13 meters per second.
Car umbrella can be a convenient camping tent
When the car umbrella needs to be transformed into a camping tent, insert supporting pole into the ground and installed just like you install it on the car, just attach tent using all zippers on the sides. When used as a camping tent, it becomes spacious, comfortable and big enough for up to 7 people. This car tent also comes with USB port that may charge your devices or can be used as a power source. This is a great addition for the outdoor activities and is a great addition for keeping your digital toys charged even when you are outdoors.
The car umbrella can be customized and look exclusively the way you want. You may pick any color, any prints, no limitations. Literally no limitations, as many manufacturers offer custom prints, inscriptions and features for the car umbrellas.