Regulatory markers, also known as informational markers, are used to inform the boaters of the directions and warn on the specs of the places they approach to. Traditionally, regulatory markers are orange signs made on white background. As a rule, they can be found on the top and at the bottom of the buoys. Here are just some meanings regulatory markers in the US have:
speed zones;
swimming areas;
shoals;
anchoring place;
rocks;
information;
directions, etc.
Which symbol on a regulatory marker is used to mark a swimming area?
Swimming area is usually noted as a white square sign with orange frame and orange outlined crossed diamond shape inside. The sign is normally positioned on the top and bottom parts of the buoy. In the same sign there may be explanation for the sign, saying 'swimming area'.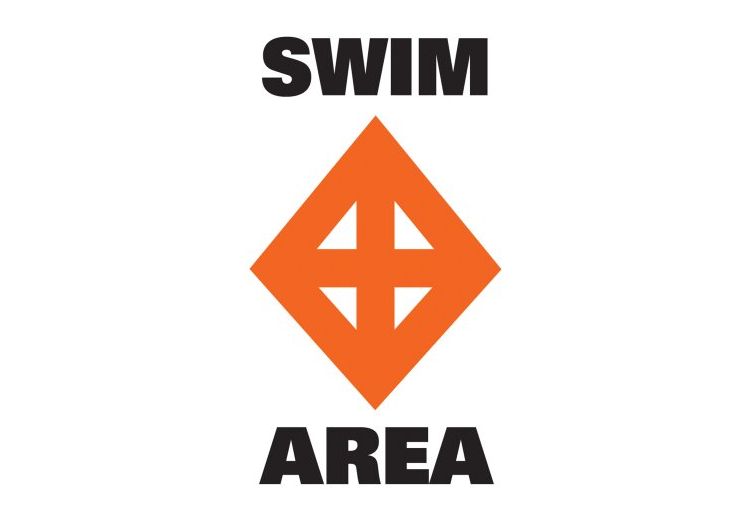 Types of regulatory markers
There are 4 major regulatory markers that have to be recognized in order to be informed on the situation around.
Controlled area
Danger
Boat exclusion area
Information.

Regulatory markers explanation: Swimming, Danger, Directions, etc
Below is the detailed description on each of the 4 regulatory markers with explanation on what each of them means.
| Sign | Name | Description | Types of regulations |
| --- | --- | --- | --- |
| 1 | Controlled Area | White square sign with orange frame and orange outlined circle inside. The type of control will be indicated inside. | slow, no wake, anchoring, etc. |
| 2 | Danger | White square sign with orange frame and orange outlined diamond shape inside. The nature of the danger will be indicated in the diamond shape. | rock, wreck, shoal, dam, etc. |
| 3 | Boat Exclusion Area | White square sign with orange frame and orange outlined crossed diamond shape inside. Explanation is normally placed inside the square outside the crossed diamond. | dam, rapids, swim area, etc |
| 4 | Information | White square or rectangular sign with orange frame and information inside. | directions, distances, locations, etc. |
People also ask
See more: How to Build a Kayak Rack for Truck