When it comes to lifted or dually trucks, stock mud flaps are not always enough to protect your rig. If you use your truck to tow a trailer or transport a boat or camper, it is a good idea to protect your investments from getting damaged by road debris. If that's what you are thinking of, you definitely need a pair of heavy-duty full-size mud flaps. Hitch-mount mud flaps allow easy access to hitch, and wide splash guards keep stones and road debris away from what is towed.
Truck Mud Flaps: Types & Specs
When comes to fitment, modern aftermarket offers 2 main types of hitch mount mud flaps:
Vehicle specific;
Universal.
Vehicle specific mud flaps are designed to fit the specific shape and dimensions of the truck bumper. Such design ensures the most precise fit and maximum protection.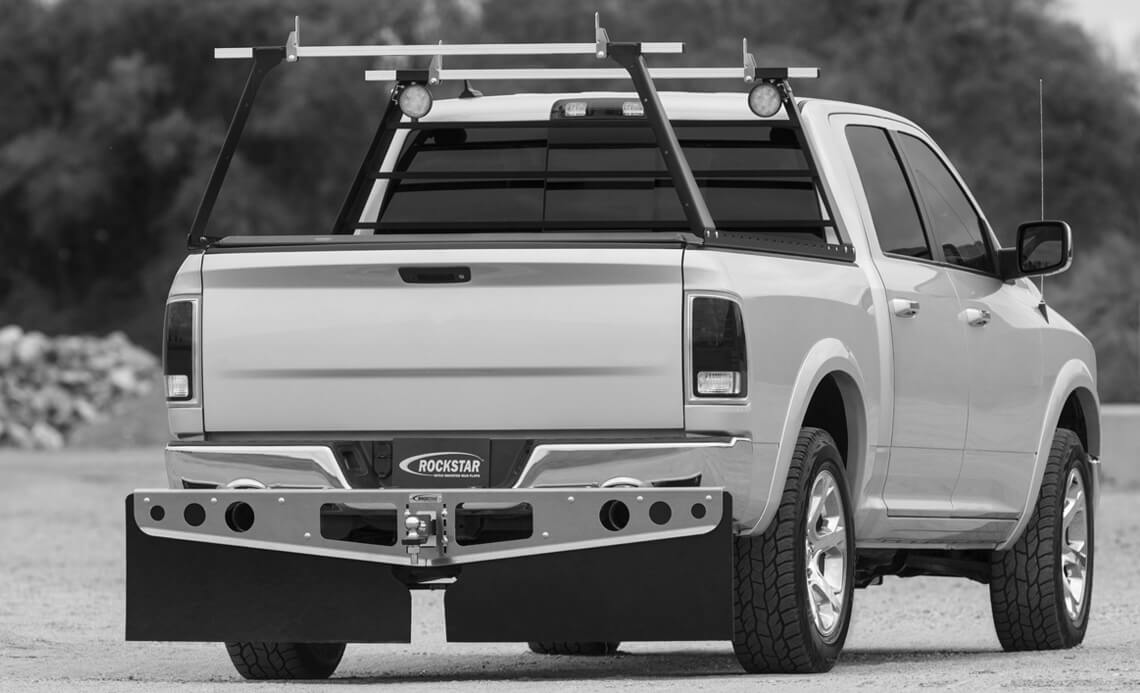 Universal, or dimension-specific mud flaps are made to fit several vehicles that feature similar bumper and hitch setup. They are to work right, yet because they are developed for several vehicles at once, such mud flaps are less expensive.
Truck Mud Flap: things to know
When shopping for mud flaps for your truck that you plan using for towing, make sure you are taking a set that will stay in place at higher speeds. In other words, you do not want your mud flaps to sail, because 70 mph + is exactly where you need that protection from road debris, stones and interstate mud. The majority of heavy-duty mud flaps that you can find on the market are made to fit standard 2-inch hitch receiver. However, it's always a good idea to check on specs, especially if you consider non-vehicle-specific splash guards for your towable.
The best truck mud flaps: Top-7
| Mud Flaps | Features | Fitment | Price |
| --- | --- | --- | --- |
| Inventive Removable Mud Flap | Includes wall mount | Dimension-specific | CHECK PRICE |
| Husky Liners Hitch Mount Mud Flaps | Non-Folding | Vehicle-specific | CHECK PRICE |
| Roadmaster 4400 RoadWing Mud Flap | Smooth exterior | Dimension-specific | CHECK PRICE |
| Access Hitch Mounted Mud Flaps | Rustproof aluminum frame and stainless steel hardware | Dimension-specific | CHECK PRICE |
| Magnum Truck Mudflaps Heavy Duty | Fits almost any full-size pickup truck or SUV | Dimension-specific | CHECK PRICE |
| Roadmaster (4400-73) Roadwing Mud Flap | 73 inch length with mounting hardware | Dimension-specific | CHECK PRICE |
| Luverne Textured Black Rubber Tow Guard | Steel frame and 3/8" thick rubber | Dimension-specific | CHECK PRICE |
How to install truck mud flaps
The installation itself may be slightly different depending on the vehicle application, hitch specs and the mud flap specs. However, the process of putting the hitch-mount mud flaps on your truck is pretty much the same. Furthermore, the mud flaps usually have everything needed for installation.So you will not need to buy some specific tools or pay the installer, as that's the job one can pretty much do on his own, assuming they have basic technical skills. Normally the installation takes around 25-35 minutes.
Install the yoke of the mud flaps on the 2-inch hitch receiver of your truck.
While flaps are not on the truck, mount the stainless steel strips or other decorative elements (if any) to them. Once you install the flaps, it will be more difficult to install such things.
Prepare the bolts or clamps (or the other mud flap retention device you've got on the yoke) to mount the mudflaps. If your mud flaps feature screws that hold mud flaps in place, make sure to screw them in now.
Pre-fit the mudflaps and make sure they are of right size. Some universal mud flap may have to be cut a bit to fit your truck the right way. If cutting is required, just mark where you need to do that and cut the rubber part of your kit.
Attach the mud flaps to the tube and mount them in place.
Don't forget to attach protective plastic caps to the tube sides, if you've got them in the kit.
Hitch Mounted Mud Flaps Installation Video
(Source: ROCKSTAR)

Truck Parts & Accessories
SHOP NOW