Advanced drivers can expect to see a reduction in their motoring costs because they are thinking ahead more than most. This means that – statistically speaking at least – they are less likely to crash, making for lower insurance premiums. It also means that they are equipped to drive more efficiently, by spotting hazards and delays on the road ahead and adjusting their driving style accordingly.
As such, advanced driving and a thrifty mindset often go hand in hand. If you are looking for a car that offers good value, then why not extend that idea to the way you drive it and enrol on an advanced driver training course, as well? Equally, if you are looking for a car that deals with safety seriously, like the innovative Honda Jazz, which has brake assist on all models, then it is a good idea to become an advanced driver and improve the safety of your driving, too.
The Japanese manufacturer has a long history of innovation with safety measures, something that cannot be said of all Asian car makers. Advanced drivers know the problems that cars can cause pedestrians – even at low speeds. In 1998, Honda developed the industry's first crash test dummy that was designed to replicate a pedestrian. The dummy allows Honda to think in new ways about how a new car deals with impacts caused to pedestrians and to minimise potential injuries by adjusting vehicle body design.
Honda's Occupant Position Detection System
Passive safety systems, such as airbags, are something that many manufacturers now offer. However, many car drivers do not know about Honda's Occupant Position Detection System which gauges the height of both the driver and the front passenger. This system helps to minimise injuries that can sometimes be caused by the deployment of the airbags themselves. Curtain airbags are also fitted in many Honda models. These deploy along the length of the vehicle from within the roof and are designed to afford the maximum protection to rear passengers as well as those in the front.
When considering a car that has been designed with safety at the forefront of the engineers' minds, it is worth remembering that all of Honda's models are built with G–Force Control – a vehicle body technology. This is another passive safety feature which, when collisions occur, enables the car to absorb the impact of the crash and disperse its energy with a greater efficiency. This means that the force of the impact is kept away from the car's occupants. Indeed, Honda have a rolling programme at its crash test facility to constantly refine and improve this technology so that it can continue to set the standard in car safety technology.
Collision Mitigation Braking System
Many car makers are now focussed on the next generation of safety measures which will assist the advanced driver and casual road user. One such technology that is in development at Honda – is the radar driven Collision Mitigation Braking System, which is designed to warn a driver of an impending calamity. The system uses audio and visual prompts to help focus a driver's attention.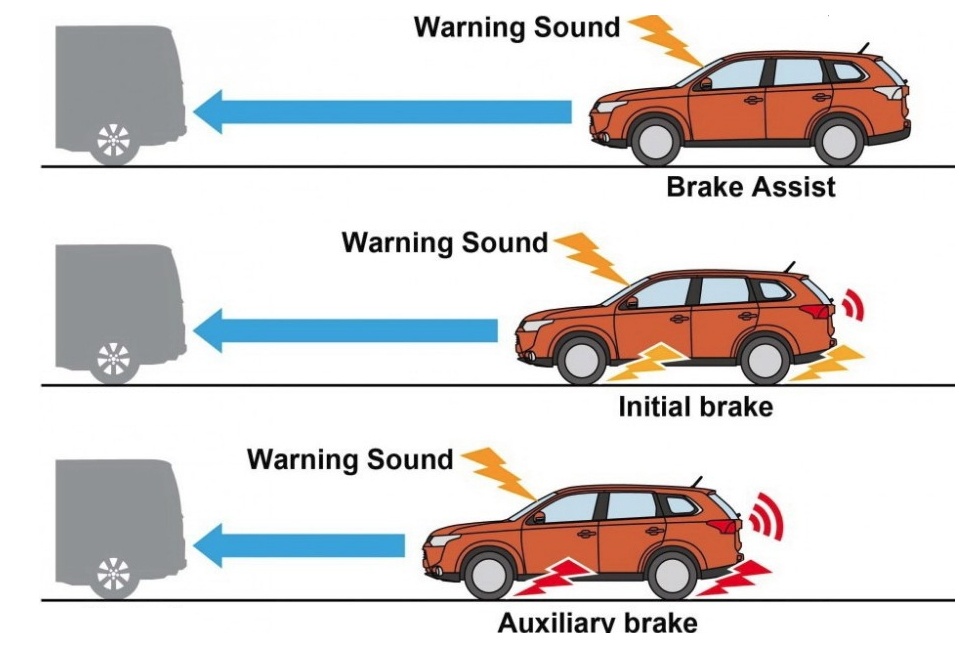 However, if a collision cannot be avoided, the innovative gizmo automatically retracts the front seatbelts and reduces the car's speed. Of course, it is no substitute for attentive and safe driving, but technologies like these can only add to the safety of motoring in the USA.