GMC Hitch Covers
Our GMC hitch covers are available in various styles and different finishes, so you will surely find something special here. For instance, a cover in the form of a skull or a propeller or a classic cover with the logo of your favorite college sports team, with or without LED lights. Covers with the automaker's logo are available too. If you need some other accessories to make your towing experience better, check out our step bars, hitch balls, etc.
Best Hitch Covers for GMC
Universal Fit Truck Hitch Step with LED Brake Light [Bull Series]

fits 1.25" and 2" hitch receivers;

easy access to truck beds, roof racks and SUV interiors;

the lighted hitch cover features LED brake light.

Universal Truck Hitch Step Fits 2" Hitch Receivers

fits 1-1/4" and 2" receivers;

requires use of a 5/8" hitch pin.

Receiver Hitch Mount Step with LED (Chrome)

features LED brake lights;

LEDs flash along with hazard lights.

Universal Fit Truck LED Brake Light Hitch Cover

wiring harness plugs into standard 4-pole plug;

provides function and finish when hitch is not in use.

Dodge RAM Logo Hitch Cover

fits 1.25" and 2" hitch receivers;

material: triple plated chrome metal;

Dodge emblem covers basic hitch;
---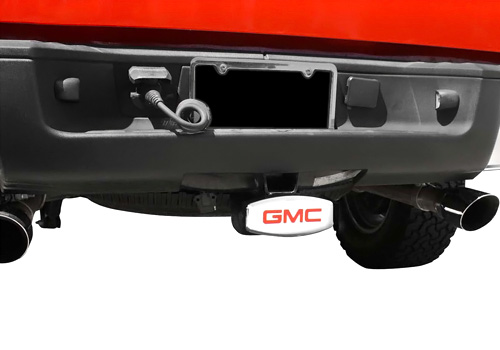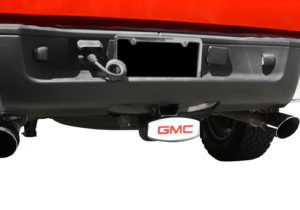 GMC, a division of General Motors, has been manufacturing vehicles since 1912, mainly specializing in trucks and utility vehicles. It was established on the basis of two truck makers, Reliance and Rapid, that were purchased by GM and then merged. Today, apart from trucks and SUVs, GMC also manufactures vans and commercial vehicles, though earlier they also produced buses, heavy-duty trucks, military vehicles, and even motorhomes.
Exposed to the elements, and uncovered trailer hitch can start to rust. Leaves and other debris can clog up its tube. A hitch cover is a worthy investment, as it will protect the trailer hitch of your GMC from rust and debris buildup. Manufactured from premium materials, our hitch covers for GMC vehicles will ensure long-lasting protection.
---
Customer Reviews
Average rating:
4 reviews
Jun 5, 2022
Location (Sity, State):
Southfield, MI
Purchased this LED brake light hitch cover based on other user reviews. Got it in 2 days. Installed in about 10 minutes. Super easy installation.
Jun 5, 2022
Location (Sity, State):
New Castle, DE
I bought your Dodge RAM Logo Hitch Cover. Install was easy and looks clean.
Feb 5, 2018
Location (Sity, State):
Hartford, TN
Installed the hitch cover two weeks ago and it's perfect. Looks really cool, especially at night when the emblem lights up.
Aug 8, 2017
Location (Sity, State):
Lincoln, NE
It is really nice, looks classy. A good way to show your pride! Would recommend to anyone interested.